How the Apple Watch changed my dog walks forever
Starting a workout without touching the screen.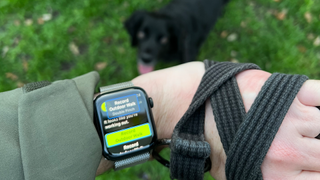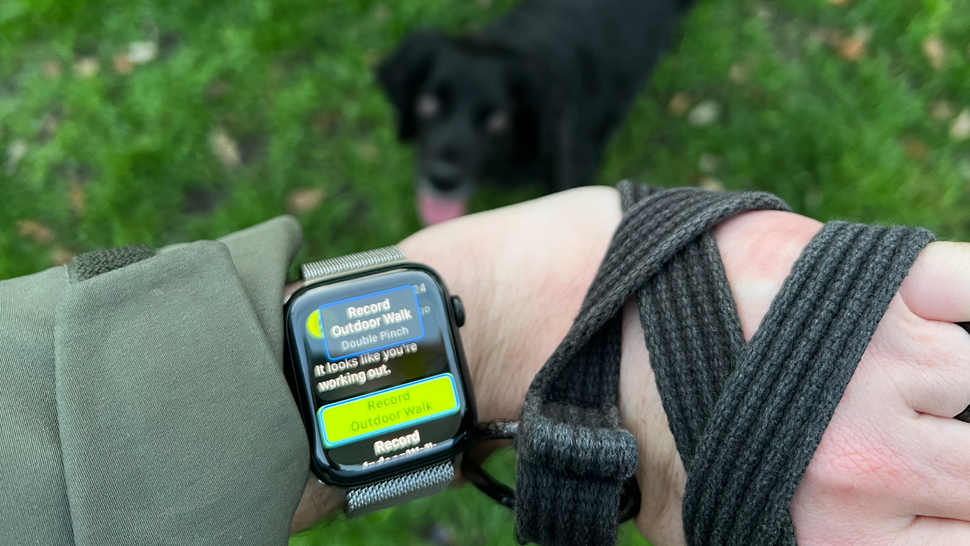 (Image credit: iMore)
Here in the UK, the Spring season has finally arrived. The sun is shining, and, at last, its warm rays are finally making an effect, so much so that my coat is unzipped. But this is also where our dog Jolly comes in, and his desperate need to sniff everything.
The routine usually goes like this - I'll have a couple of podcast episodes on my iPhone, ready to go with Overcast alongside my AirPods Pro fully charged. My Apple Watch usually recognizes that something is playing, so I can pause or skip certain moments if needed.
However, Jolly loves to pull against the lead – especially if he sees ducks. Like Sherlock Holmes and Moriarty, Sonic and Robotnik, and the 90s battles of Blur and Oasis, Ducks are Jolly's nemeses. This usually means that if I want to use my Apple Watch, I can't as I'm pulling against Jolly. Worse still, when there are cold days and I'm wearing gloves, it's even trickier to interact with it.
Until that is, Assistive Touch changed how I use my Apple Watch forever.
No need to use my right hand anymore
Day 222. Assistive Touch for the Apple Watch works like magic. It lets you use your watch with gestures with the hand of the same arm you are wearing your watch on. No need to use your nose! If you don't have it on, is because you don't know about it. #365DaysIOSAccessibility pic.twitter.com/B6BONvx4gnDecember 28, 2022
We've all been in a situation where you need to take your device out of your pocket to respond to a message, and you have to take your gloves off. Even worse when it comes to a smartwatch – after all, you can't use your watch hand to tap the screen. Unless you wear it on your ankle. No judgment here.
I came across Assistive Touch on Apple Watch thanks to the above tweet from an iOS engineer. You can switch this on by going to Settings > Accessibility > Assistive Touch. While I was aware of the feature on iOS and watchOS, I was under the impression that it was a small menu you could access anywhere on the Watch.
How wrong I was. Instead, it uses a series of gestures to navigate your Watch. For example, say you get a tap from the Workout app that detects you're on a walk, and it gives you the option to start a workout. With two taps of your finger and thumb, Assistive Touch recognizes this as an input, and will select 'Start Workout' - and it feels like magic.
The first time I did this, I was as surprised as I was when I first used an iPhone, or when I wore a VR headset back at University with a hacked version of Portal 2.
It was incredible – and straight away, I realized that it could be perfect for when walking with Jolly.
Assistive Touch in a jolly style
I've left this feature on ever since. It's never distracting to me, as I use the Watch for fitness and notifications. There is a moment when a blue border flashes, letting me know that Assistive Touch is on, and if I want, I can clasp my fist and tap my fingers to select a Complication on my watch face.
It's never distracting, and when it comes to walking with Jolly, I don't have to stop, use my right hand for my Watch to start a workout. Instead, I see the notification, double-tap my finger and thumb, and it begins.
Of course, Assistive Touch wasn't made for dog walks - it's mainly for users who have disabilities, and this is where Apple Watch shines. Users with physical or visual impairments could use this feature to select certain menus when they're notified by taps of when to choose something for instance. It helps those who want to use the best products available that everyone else is using at the same time, and that's a wonderful thing.
It's a great example of Apple at its best when it comes to design, innovation and ease of use. For a future update, I'd love to customize certain gestures - perhaps a clap of the hands to enable a scene in HomeKit for example, or waving a hand to select an Apple Shortcut or a specific app. The possibilities are endless, and it makes me excited for where accessibility on Apple Watch can go, and not just for how it can help me for walks with Jolly.
Master your iPhone in minutes
iMore offers spot-on advice and guidance from our team of experts, with decades of Apple device experience to lean on. Learn more with iMore!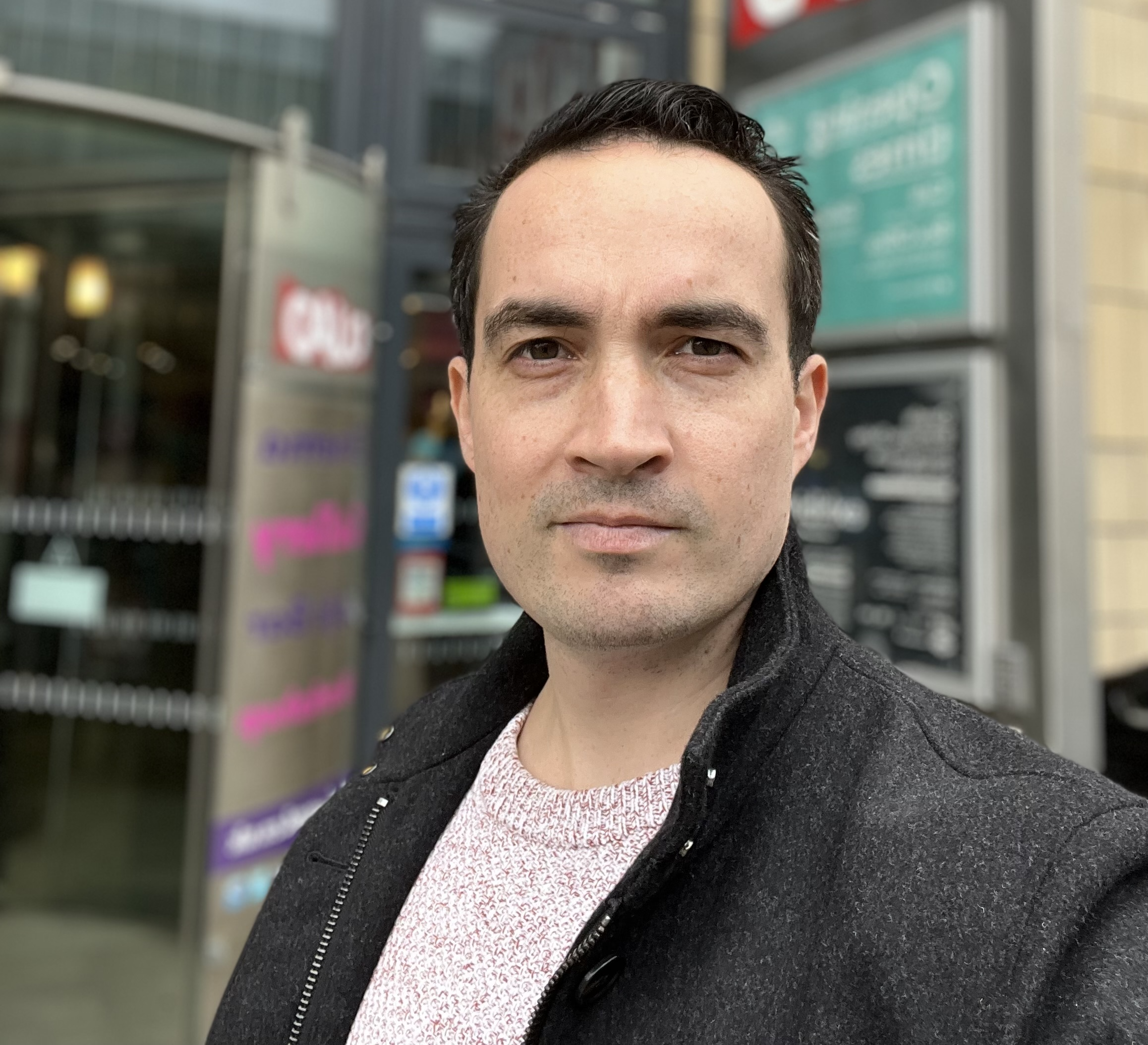 Daryl is iMore's Features Editor, overseeing long-form and in-depth articles and op-eds. Daryl loves using his experience as both a journalist and Apple fan to tell stories about Apple's products and its community, from the apps we use everyday to the products that have been long forgotten in the Cupertino archives.
Previously Software & Downloads Writer at TechRadar, and Deputy Editor at StealthOptional, he's also written a book, 'The Making of Tomb Raider', which tells the story of the beginnings of Lara Croft and the series' early development. He's also written for many other publications including WIRED, MacFormat, Bloody Disgusting, VGC, GamesRadar, Nintendo Life, VRV Blog, The Loop Magazine, SUPER JUMP, Gizmodo, Film Stories, TopTenReviews, Miketendo64 and Daily Star.
Back in the day when our house was full of dogs, I can see how this would be such an awesome benefit!

Reply