Apple Watch Series 3 and why it's time for you to upgrade if you're a fitness buff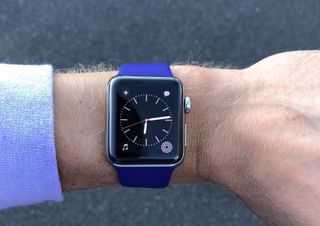 I've had my Apple Watch Series 0 since it launched three years ago. It's significantly improved my personal fitness. I recently upgraded to the Apple Watch Series 3 GPS + Cellular and wow, what a difference it has made!
With the Series 0, there are some glaring omissions that make it less than perfect. When exercising, I still had to have my phone with me when tracking any kind of outdoor workouts. I couldn't really rely on it for music as much as my iPhone. The battery life of the Series 0 is ok, but it often led to me babying it because it might run out of juice before I was ready to recharge it.
Upgrading from a Series 0 Apple Watch to a Series 3 has been an amazing leap for me. With the addition of an on-board cellular connection, better performance thanks to the faster dual-core S3 processor, and amazingly long-lasting battery life, if you're currently still working out with the first-generation Apple Watch, the Series 3 is going to revolutionize your experience.
Apple Watch Series 3 has tons of new features
Apple Watch Series 3 GPS + Cellular has more sensors, faster processing, and tracks your fitness data better than the Series 0 every could. The ability to see elevation changes without needing your phone thanks to the barometric altimeter inside makes it great for hiking, runs, and even biking uphill. Swim tracking, something I didn't have with Series 0, has encouraged me try swimming as a workout method simply because I can more easily quantify those results. With the new heart rate data results, I can tell when I'm more relaxed or when my heart is beating fast even though I'm not exercising (like, when I'm full of anxiety).
That battery!
The biggest improvement with Apple Watch Series 3 over Series 0 is its battery. My Series 0 had been used every day for nearly three years and it was definitely showing. Of course the CPU was aging, but the battery itself was not doing so well. I would use my external HR strap I have for working out as a way of saving battery, even when my routine wasn't very long. I'd be careful to not use all of the Apple Watch features in an effort to extend the battery life until the end of the day. I wasn't into the idea of carrying a battery pack around just for my Apple Watch.
With Apple Watch Series 3, I no longer have to worry about battery drain. This thing is a tank when it comes to staying juiced up! Recently, I went to the gym and spent 45 minutes in spin class, wore it throughout the rest of the day, tracked a short 20 minute bike ride with GPS, and then later tried out a cellular call — I still went to bed with 35% battery remaining. On Sunday, I went for a 4-mile run with GPS on, tracked an hour-long outdoor hike, and still had battery life to spare throughout the rest of the day. The hike, despite being an hour, didn't seem to affect the Apple Watch's battery life at all. I'm more encouraged now to track activities that I might have avoided before out of fear of an inevitable dead Watch.
Location tracking is like magic
Thanks to GPS and LTE connectivity, the Apple Watch Series 3 is significantly better at tracking long, strenuous hikes and provides much more accurate and useful data. I can just hop into my gym clothes and go out for a run without strapping an iPhone to my arm, but am still able to get the data I want from my runs.
I'm excited about the upcoming Apple Music streaming feature coming in watchOS 4.1, though I'm not sure how much I'll use it. Currently, my Apple Watch automatically syncs playlists that I listen to frequently while its charging overnight. It works so well that I'm not sure streaming Apple Music is even necessary.
There's one missing feature (and it's a big one)
One of my favorite activities to close all of my rings, or get motivated on weekend mornings, is to go on a longer walk than normal and listen to one of my favorite podcasts. Unfortunately, there isn't a dedicated podcast app for Apple Watch. This is one of those glaring omissions missing from the first-generation Apple Watch that Apple, unbelievably, hasn't yet fixed.
A dedicated podcast app on Apple Watch could work similar to the way playlist syncing currently works — new episodes of shows I subscribe to would sync to my Apple Watch while its on the charger. That way, when I'm ready for my weekend walk, all I have to do is put on my Apple Watch and go. No iPhone needed.
I've also not yet found any third-party apps that make the Apple Watch more useful. As Serenity Caldwell pointed out in her review of the Apple Watch Series 3 GPS + Cellular, there are still a ton of apps that need to be updated to even work over cellular without your iPhone. There are also apps that are either being discontinued or delayed, making the developer story on the Apple Watch still surprisingly blank.
I'm excited to see what that developer story ends up being, but for now I'm focused on Apple's built-in apps because they're doing the job just fine.
If you're wondering if you should upgrade, the answer is yes
Having an Apple Watch has been the motivation for why I've tried new workout routines from the start.I only got into indoor spin classes because it was a workout option on the watch, which I found out I really enjoyed. Now that I have a Series 3 with swim proofing, I'm ready to test out the swimming pool at my gym to see how much of a workout I can get.
The Series 3 is a major upgrade from the Series 0. The workout types, Activity coaching and features, and music upgrades are stellar. The fact that I can stay connected without relying on my iPhone for every little thing is, in a word, freeing.
Master your iPhone in minutes
iMore offers spot-on advice and guidance from our team of experts, with decades of Apple device experience to lean on. Learn more with iMore!