How to clean up your News Feed with Facebook for iPhone and iPad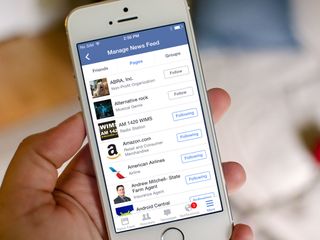 Have a friend that's particularly vocal on Facebook that you wish you could just hide? Or how about all those groups and pages you joined that now spam your timeline with nonsense that you really don't need to see every day? As luck would have it, there's an easier way to silence them than manually visiting each page, group, or profile. While doing some digging through the settings in the Facebook for iOS app, I found an interesting section that actually lets you clean up your entire News Feed in just a few taps. You just have to know where to look!
How to quickly follow and unfollow people, pages, and groups with Facebook for iOS
Launch the Facebook app on your iPhone or iPad.
Tap on More in the bottom navigation.
Tap on News Feed Preferences — it's towards the bottom.
Use the tabs at the top to switch between Friends, Pages, and Groups.
Tap on the Following button next to a friend, page, or group that you'd like to Unfollow.
Tap it again to follow them.
That's it! Simply unfollow all the friends, pages, and groups that you don't want to see in your News Feed. Keep in mind that this is completely different than removing someone as a friend or un-liking a page. The person on the other end has no idea that you've unfollowed them. The only difference is that now you'll have to go directly to the person's profile or that particular page or group in order to see their posts. You've always had the ability to unfollow people, groups, and pages on their specific profiles but this new addition makes it much quicker and simpler to clear up things in the News Feed.
This works surprisingly well for pages, groups, and friends that are spammy with links, or let's face it, with friends that you don't want to delete but find rather obnoxious. Give it a try and let me know if the quality of your Facebook News Feed seems to improve or not!
Get the best of iMore in your inbox, every day!
iMore senior editor from 2011 to 2015.
Thanks... But how do you change the priority with which you receive notifications... E.g. Most popular, most recent? Sent from the iMore App

http://www.imore.com/how-find-most-recent-newsfeed-facebook-100-ios :)

If only they would allow you to sort your newsfeed by "most recent" like you can on the website, instead of the ridiculous "top stories".

You can, Facebook is just dumb and made it more of a pain in the ass. http://www.imore.com/how-find-most-recent-newsfeed-facebook-100-ios

Cool, thanks! I thought they had completely removed it.

Woww! What a finding.. :D Thanks, Ally. Can you also tell me which tool do you use to capture the snapshot? I have asked this in the past but I forgot the name of the tool.. Lol :) Sent from the iMore App

I think the use Napkin: https://macappsto.re/us/bywRI.m

Yep napkin for Mac Sent from the iMore App

Thanks for another good tip. I have not checked that in a wile.

This is a life saver! However does Facebook use a unfollow limit? I was going through pages, unfollowing essentially all of them, and now it gives me the "sorry there was a problem unfollowing _______ please try again" notification. Sooooo annoying! Sent from the iMore App

UPDATE: if you close the app and reenter (or just give it some time) it allows you to continue unfollowing. Thanks for the tip Ally!

For friends and pages (but not groups) you want to follow you can also make custom lists, e.g. fashion, best friends etc, that have the added benefit of being ordered by most recent post. I think it has to be done from a desktop browser though.