How to control what data you see in Health for iPhone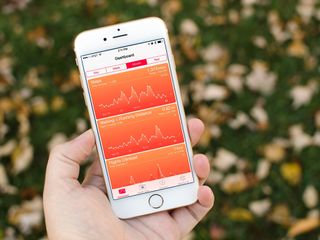 (Image credit: iMore)
You can collect all kinds of data inside the Health app but if some of it is more important to you than the rest, you'll want to make sure that's what you see on your Dashboard, which functions as the main view in Health. You can also remove stats that you don't care about from the Dashboard altogether. Here's how!
Before continuing, remember that certain types of data points will require or work better with the use of external accessories. For example, if you want to automatically track and monitor your blood sugar levels with Health, you certainly can but you'll most likely want a compatible monitor that connects with your iPhone and feeds into Health. You can plug in data manually, but that won't be as convenient or as easy to remember.
Other types of data such as step count and calories can be automatically tracked using the motion sensor, or with a fitness tracker that integrates with Health. That being said, continue on to learn how to configure Health to hide and show the data you care about most...
How to add data to the dashboard in Health for iPhone
Launch the Health app on your iPhone.
Tap on Health Data in the bottom navigation.
Tap on the type of data you want to add, if you aren't sure what category it's in, tap on All at the top.
Tap on the specific activity.
Turn On the option for Show on Dashboard.
How to remove data from the dashboard in Health for iPhone
Launch the Health app on your iPhone.
Tap on Dashboard if you aren't there already.
Tap on the data set you want to remove.
Turn Off the option for Show on Dashboard.
Get the best of iMore in in your inbox, every day!
iMore senior editor from 2011 to 2015.
I haven't started using health and fitness apps yet, so I have a question. I've heard of some privacy concerns about using the Health app with 3rd-party health or fitness apps, allowing them to exchange data. Does anyone know if the 3rd-party apps are sending the data they collect to their servers, i.e., if we allow the Apple Health app to send data to the 3rd-party app, does that company have the data on their servers? I guess it would depend on the app, but does anyone have enough experience with various apps to say if they usually tell us what they do with the data--clearly and in plain sight?

Different companies are very different. Some do share your information, yes. So be aware of that before hand. I wrote this article and explained some of that: http://www.imore.com/how-let-app-store-apps-access-health-app-iphone Hope that helps!

Now that's interesting. I've had the Health app in my "Unused" folder and I opened it up just because of this article. The thing has been counting my steps, albeit that most of the time I do not have the iPhone on my person when I move about. Now I'm wondering what a good healthy number would be.

They say a healthy, active person should walk around 10,000 steps per day on average. I'm sure that number may vary based on age, etc.. However, remember that you probably don't pick up your iPhone every time you take a step. My Health app always says something different than my wearable fitness tracker does, unless of course I'm using one that feeds my data into the Health app. Some do, like Garmin. Unfortunately, apps like Fitbit have yet to add Health integration.

I'm doing an experiment carrying my iPhone 6+ with me all day for a few days. I tried running in place for 100 "steps" and the health app counted exactly 100, so it is not based on movement. Also driving in the car registered zero. I want to get a baseline of reality before trying to up the ante if I decide to do so. The weather here is Michigan is starting to be kind enough to allow walks outside.

It "is" based on movement, you just aren't getting the sensor enough credit. It uses the motion coprocessor to sense the kinds of movements you're doing. It's just smart enough to tell the difference between driving and actually moving. Walking in place certain counts as walking, so it counts that. Is it possible to trick it, sure. If you try hard enough. The motion coprocessor is actually more accurate than most wrist worn fitness trackers.

Will we be able to "only" use the Apple Watch to collect health information? I'm wondering because I don't want to use the iPhone except to gather the watch data.

Pretty sure u can then when both is on wifi it should sync. Also u can organize the dashboard by holding and drap that category.

Or just turn if off totally in settings and ignore it completely!
Thank you for signing up to iMore. You will receive a verification email shortly.
There was a problem. Please refresh the page and try again.