How to disable annoying sounds in Facebook for iPhone and iPad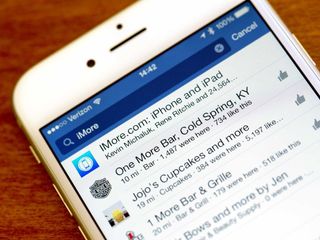 The most recent Facebook update for iPhone and iPad — version 24.0 to be exact — has added some in-app sound effects that... a lot of people are finding annoying. Luckily, Facebook does give you the option to disable the sounds and alleviate the annoyance. Here's how!
How to disable Facebook's in-app sound effects for iPhone and iPad
Launch the Facebook app on your iPhone or iPad.
Tap on More in the bottom navigation.
Tap on Settings (it's all the way at the bottom).
Tap on Sounds.
Turn Off the option for In-App Sound.
iMore senior editor from 2011 to 2015.
Here's an even easier way: 1. Tap and hold the Facebook icon until it starts to jiggle.
2. Tap the little X at the top left of the Facebook icon. Gets rid of not only the annoying sounds, but everything else that's annoying about Facebook!

Petereit sees a post about eliminating sounds from Facebook, comes in to tell everyone here that they should get rid of Facebook, and, presumably, expects everyone here to take him seriously as a normal adult person.

Petereit assumes "normal adult persons" have a sense of humor. Petereit stands corrected.

Lol nice tips Sent from the iMore App

I am actually grateful for the sounds.. For someone who has motor skill problems and visual and colour impairment they help by letting you know you have hit the screen in the right place...the sound may be annoying for some, but a boon for others.

Thank you Ally, I have had lots of complaints from family. All is well now. Sent from the iMore App

Looks like they've added some Paper sounds. Love that I can hear when I tap like. The back sound isn't so useful.

I assumed the sounds were there to attract more 8 year olds. I was happy when I found a way to kill them off (the sounds, not the 8 yo's).

THANK YOU FOR POSTING THIS!!!!
It has been driving me nuts since they added this! Who is the moron that came up with this?!

I've turned off push notifications for Facebook because it was constantly nagging me with posts that Facebook decided were relevant or interesting to me (they weren't). I would only like to get birthday reminders via push notifications, but I don't know of a way to pick-and-choose what kinds of Facebook alerts are sent via push, so I just shut it off completely.

Thanks a lot. It was really annoying and usual settings (phone) don't have anything to help. You have been a great help.

I followed this and whenever I restart the app the sounds are activated again. Anyone else have this happen?
Thank you for signing up to iMore. You will receive a verification email shortly.
There was a problem. Please refresh the page and try again.