How to downgrade from Yosemite to Mavericks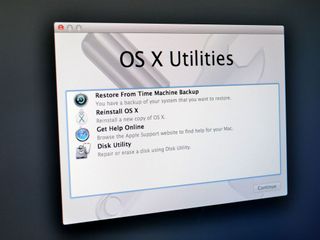 You've installed a developer preview of OS X Yosemite, and you didn't take my previous advice to partition your hard drive. Now you're in a pickle: For whatever reason, you need to downgrade to Mavericks. How do you do it? Let's take a look.
To be frank, Apple doesn't make this process consistent and easy like they do with so much else. Upgrading your operating system, whether you're using a Mac or an iOS device, is typically a one-way journey. Even Apple warns developers not to use Yosemite on a live system until it's ready for prime-time.
But many of us give in to temptation and make decisions that we later regret. Whatever the case, you can recover, though how you can recover will depend on circumstances.
Recovery System
Some folks experimenting with Yosemite have been able to boot into the Mac's recovery system (accessed holding down the command and R keys on boot) and reinstalling Mavericks from there. I've seen it written about in plenty of places, and I spoke to a few of you on Twitter who had done it too.
I tried using this method myself on my Yosemite machine, but I couldn't get it to work. Each time it would tell me it wanted to reinstall 10.10 instead. What's more, it would hang indefinitely when it got to the authentication stage.
OS X Internet Recovery
The alternative solution is to use OS X Internet Recovery instead. Mac models introduced since OS X Lion debuted in 2011 have the ability to restore themselves as long as they're connected to the Internet. Some Mac models that shipped before Lion will work with OS X Internet Recovery too (with a firmware patch) — Apple has a list (opens in new tab) on their support site.
To access OS X Internet Recovery, hold down the command, option, and R keys simultaneously on boot.
You'll know if you're in OS X Internet Recovery if you see a spinning globe on your Mac screen, with a progress bar showing a countdown in minutes. That's Internet Recovery telling you it's downloading from Apple's servers.
Because OS X Internet Recovery is, literally, restoring over the Internet, it takes longer to work, since it has to download everything from Apple's servers to get going. We're talking about the initial recovery software plus a 5 GB Mavericks installer download. So be patient.
There are a few caveats you have to bear in mind if you use this method: First of all, you'll need to be on a network that supports Wi-Fi Protected Access (WPA or WPA2) security protocol. Secondly, when the Mac restores, it will be running the version of OS X it came with, so you may actually have to upgrade again via the Mac App Store to get back up and running with Mavericks. You can read more on Apple's support site (opens in new tab).
The bottom line
Once you've restored your system, use your preferred backup method to restore your files and applications.
One way or the other, rest assured that you can dial back your Mac to Mavericks if you run into Yosemite show-stoppers that keep you from using the new operating system software, at least for now.
Got questions? I have answers. Fire away in the comments!
Get the best of iMore in in your inbox, every day!
So I followed the instructions for Internet Recovery exactly, and now I get the No symbol after reboot after Lion downloads on my 2012 15" Retina MBP. What did I do, and what can I do?

I got the same thing. Have you heard anything back? I am trying to reinstall it through the internet again.

Did you see any 2012 products in the list?

I've downgrade my iMac by creating a bootable hard drive. I've downloaded a copy of Mavericks from the Mac App Store and then, with the free app Lion Disk Maker, create the bootable drive. When I rebooted the iMac, a menu asked me for the boot drive, so I chose the bootable drive I made before.
No backup needed, since this job doesn't erase the startup disk.

Thanks man. Wait so you just installed over the beta drive and it doesn't make you lose any data. Just want to check before I do it.

Had some troubles with admin account after the downgrade. Problems with ghosts from Yosemite, like the light type in the search bar of Safari or "Extensions" tab in Preferences. Had to make a clean install to better performance and troubleshooting.

I've used internet recovery mode to go back to Lion and then installed Mavericks. Took me a while but I got there. Only problem I have now is that my iPhone thinks I have 2 Macbook Air's and not one. That is because on Safari on my iPhone, it shows me my iCloud tabs from the safari tabs I had open on Yosemite just before I erased the disk. May sound stupid, but it's actually annoying me now and I can't get rid of it. Any help please? Even if you know why this happening, please let me know asap.

This actually happened to me with my iPhone, I later figured out that Apple has no set way to do this manually it's just automatic. iCloud automatically deletes the non-active tab after I think 14 days it may be longer but I'm not sure.

Will using Internet Recovery to revert from Yosemite to Mavericks delete all my data? Why is there a line in the last paragraph asking to "use your favourite method to restore your files and applications"?
(I have a MacBook Air that came with Mavericks pre-installed)

PS - I installed Yosemite replacing Mavericks without creating another partition.

I loaded Yosemite without partitioning...dumb, I know. But in the attempts to restore, I keep getting a message that says I cannot access my files either on the Mac Hard Drive or on my Time Machine drive, due to an error in File Vault. (I have the 'legacy' version from Snow Leopard days, never did update to FV2) Can't find a way to overcome this obstacle *yet*.

The command + R worked with me

would this work on a mid 2010 mac?

If you do not know why update to Yosemite DO NOT!!
It is full of faults, Safari do not work with many pages anymore, Mail does what it like, for example if you forward a letter it might change bold, font type or size or line space, mouse is not working as before and the outlook is horrible!

Help!
I Installed Yosemite over Mavericks on my mac. I have a time machine backup from Yosemite (it was the latest) on a partition inside my Mac HD. I have a bootable pen drive with Mavericks that I was able to get from an old Mac Mini that I have here. I know I can just erase yosemite and instal mavericks from the pen drive, but I am not sure if I should (or can) restore my files and applications from a Yosemite Time Machine Backup to Mavericks. MacWorld says I can, but I tested with the mini using Migration Assistant and I got a warning that it was from an earlier OS so i couldn't do it. What should I do!?? Is it possible to restore this Yosemite backup to a fresh installed Mavericks?? I can't loose anything!
Thank you for signing up to iMore. You will receive a verification email shortly.
There was a problem. Please refresh the page and try again.