How to Get MagSafe on your New MacBook Pro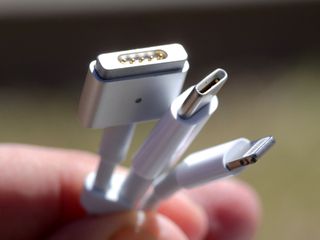 (Image credit: iMore)
Apple's latest MacBooks and MacBook Pros don't have the MagSafe power cable that previous iterations did. That means that if your power cable gets tripped over and pulled, your laptop is probably going with it. If the lack of MagSafe is preventing you from purchasing a new MacBook Pro, or you're having a hard time adjusting to life without MagSafe, check out these adapters and breathe a sigh of relief.
Upmely USB-C magnetic adapter
Power and data transfer

The Upmely USB-C magnetic adapter attaches to your existing MacBook Pro power cable and then connects to the magnetic plug you place in any one of the four USB-C ports. It can deliver up to 100W of power — which is more than enough to charge even the 16-inch MacBook Pro — and it can also be used for data transfer.
Snapnator magnetic charging connector
Fits on any cable

Snapnator's 87W adapter has a connector that's quite reminiscent of the MagSafe of yesteryear, and it'll work with both your MacBook and MacBook Pro. You can get it in gold, rose gold, and silver, and this is just the connectors, so you can use whichever USB-C cable you like. This one's got a reversible design, so it'll work no matter which way you plug it in, and you can get worldwide shipping for free.
Griffin BreakSafe Magnetic USB-C power cable
13-inch MacBook only

The Griffin BreakSafe Magnetic USB-C Power Cable has a regular USB-C connector on one end and a detachable magnetic connector on the other. The magnetic end is actually in two pieces. At the tip is the USB-C connector that plugs into your MacBook, and right behind it is the magnetic part that can easily break away from the end of the cable. All this means is that, just like with MagSafe, if the BreakSafe cord is accidentally pulled for any reason, the cable will break away at the magnetic portion, leaving the USB-C connector in your computer and eliminating the risk of damage to the port. Unfortunately, this cable only delivers enough power for the 13-inch MacBook Pro.
Great for 4K video

With 100W of power delivery and data-transfer speeds of 10GBs per second, the Knaive KD3 is perfect for any MacBook Air or MacBook Pro. The 20-pin gold plate magnetic connector is strong enough to stay firm in place when gently moving around but works like a charm to break free in case you trip over your cable.
Hope isn't completely lost
Although it's been a few years now since Apple switch to using USB-C ports on their MacBook lineup, and thus killing MagSafe, the ability to accidentally trip on your power cord hasn't gone away. Speaking from experience, MagSafe was a beloved feature for Mac users because accidents happen, and knowing your laptop wasn't going to go crashing to the ground if you bumped into the power cable provided plenty of comforts.
While there aren't a ton of options out there for MagSafe lovers to have the same feature on their new MacBook, MacBook Air, or MacBook Pro, some companies are still making quality solutions.
The Upmely USB-C magnetic adapter is as simple as it can be. Just plug in the magnetic end into the USB-C port on your MacBook and slip on the adapter to your existing MacBook Pro charging cable, and you're good to go! It transfers enough power to charge up any MacBook pro — including the 15-inch MacBook Pro — and it will give you peace of mind when you accidentally trip over your power cord. Plus, you can even attach the adapter to your favorite external hard drive or another USB-C device because it supports data transfer, unlike any of the competition.
Get more iMore in your inbox!
Our news, reviews, opinions, and easy to follow guides can turn any iPhone owner into an Apple aficionado
Mick is a staff writer who's as frugal as they come, so he always does extensive research (much to the exhaustion of his wife) before making a purchase. If it's not worth the price, Mick ain't buying.