How to change the color of the digital crown on your Apple Watch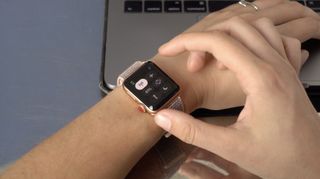 You love the look of the new Apple Watch Series 3, but for some reason that red crown on the cellular model is rubbing you the wrong way...
Or maybe you have an Apple Watch Series 2 and you'd like to add a red crown!
WatchDots are known as the original digital crown and side button style accessory for your Apple Watch, allowing you to add custom colors that match or or contrast your Apple Watch's band color.
With these little dots/stickers that are made for everyday wear, you can truly customize and accessorize your Apple Watch to fit your everyday style and personality.
Here's how you can hide or add the red digital crown dot to your Apple Watch!
WatchDots
WatchDots are little accessories for your Apple Watch that are the true combination of fashion and technology. These little precision cut dots are designed to fit on both the Digital Crown and side button using a specialized die cutting process.
These American-made Apple Watch accessories are designed for everyday wear and can last through a variety of different weather conditions. The dots are made from a durable, commercial-grade vinyl that not only has UV protection (they won't fade due to exposure to sunlight) but are also pressure sensitive, with its adhesive only getting stronger over time.
The best part about WatchDots? The color selection! You can choose from red, black, white, midnight, orange, antique, fog, walnut, yellow, blue, green, pink, gold, magenta, scuba, and royal blue.
You can pick up your WatchDots in sets of 3 for $9.99.
What do you think?
Are you someone who isn't particularly picky about their Apple Watch's digital crown and what color it is, or would you prefer to customize and change the color to something unique and different?
Let us know what your thoughts are in the comments below!
Updated February 2018: WatchDots are still your best option for transforming your Apple Watch!
Get the best of iMore in in your inbox, every day!
Cella writes for iMore on social and photography. She's a true crime enthusiast, bestselling horror author, lipstick collector, buzzkill, and Sicilian. Follow her on Twitter and Instagram: @hellorousseau
Watchdots are terrible. Their customer service is awful and the product is decent at best. I've ordered from them and the first order took nearly a month (I live in the US) to get here and when it arrived the dots wouldn't stick to anything. They sent me replacement ones but took over a month that time for them to send them out. I would not recommend and their customer service is awful
Thank you for signing up to iMore. You will receive a verification email shortly.
There was a problem. Please refresh the page and try again.