How to stop Facebook from making your iPhone run like crap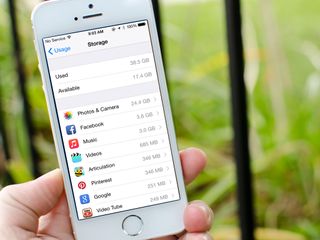 Updated March, 2017: Updated screenshots and steps with most recent version of iOS.
Not only can it eat tremendous amounts of storage, but some of the things Facebook does in the background also seem to chew through battery and make your iPhone run like crap in general. It's an issue countless friends and family members run into over and over again. From freezing issues to "out of storage" messages to constant battery drain, Facebook almost always seems to be the culprit.
The problem is that Facebook constantly caches information, and its data stores can grow on your iPhone, taking up precious space and background CPU.
While I can't make the Facebook app better, I can give you some tips on what you can do to make sure Facebook isn't taking your iPhone hostage like it did hers.
See how much storage Facebook uses on your iPhone
The very first thing you'll want to check is how much storage space Facebook is using on your iPhone. If you want to potentially free up a few GIGABYTES of storage space, I highly suggest following these steps:
Launch the Settings app on your iPhone.
Tap on General.
Tap Storage & iCloud Usage
Tap Manage Storage under the Storage section of the screen.
Tap on Facebook.
If it's eating a good amount of storage, tap on Delete App.
How to easily use Facebook on iPhone without the actual app
Now I suggest never downloading the Facebook app again and using the web version via Safari instead. Using Facebook with Safari instead of the official app gives it zero control over your iPhone and therefore eliminates all the issues that come with it.
If you add a bookmark to your Home screen, you'll barely notice the difference anyways!
Launch Safari on your iPhone.
Go to facebook.com and sign in.
Tap on the Share button
Tap on Add to Home Screen.
Tap on Add in the upper right hand corner.
The webpage will now appear on your home screen.
You now have easy access to Facebook on your iPhone without any of the issues the app is causing. Sure, you won't receive notifications anymore, but honestly we all could use some more time interacting with real life people and less time socializing on Facebook.
However, if you insist on using the Facebook app, there's some things you need to do...
How to disable location services for Facebook
Background app refresh and location settings are a huge issue with the Facebook app. The first thing you should do is completely turn these things off by following the steps below. You should also be checking the two areas mentioned below regularly to make sure no apps that shouldn't have constant access to resources are disabled.
You may be surprised how much battery life you save!
Launch the Settings app on your iPhone.
Tap on Privacy.
Tap on Location Services.
Find Facebook in the list and tap on it.
Tap on Never.
How to disable background app refresh for Facebook
Launch the Settings app on your iPhone.
Tap on General.
Tap on Background App Refresh.
Turn Off background app refresh for Facebook.
Keeping Facebook in check in the future
If you still feel you need to use the Facebook app instead of a web clip, you'll need to check your storage space and make sure Facebook isn't eating into it again — which it most certainly will over time. You'll regularly have to repeat the process of deleting and re-installing the app to claim back your storage.
The only permanent solution here, at least until Facebook gets its act together, is deleting the Facebook app and not re-installing it. So take your pick and then let me know in the comments what you decided to do!
Questions?
Let us know in the comments below.
Get the best of iMore in in your inbox, every day!
iMore senior editor from 2011 to 2015.
That explains so many issues I had with the 4s and my current GS4 mini. I delete my Facebook account and all apps and noticed issues on GS4 mini disappeared. So as many Boucher wpuld say "is the devil". Oh and haven't looked back from deleting it.

The delete/reinstall trick has helped with certain games and the like too.

Deleted the Facebook app some time ago and just use FB through Safari now.

Given that FB was created by an IT professional it's ironic how buggy it is, be that the website or, worse, the mobile versions. But the app that holds the record for chewing battery on my phone is WhatsApp. Recently re-installed it and battery life went down 50%. Uninstalled and battery went back to normal again.

It's pretty much the same for most of these instant messenger and/or VOIP type apps. The day I uninstalled WhatsApp and Line was the day I stopped worrying about battery life. Could even afford to disable the battery percentage display in the statusbar after that. I don't even have a Facebook account so can't comment on the actual topic.

The solution to Facebook in general is really simple - just delete it and forget it exists. If you want to share photos, use Flickr, G+, or iCloud Photos. If you want to waste your life reading social media bilge then try Twitter. If you want to talk to a relative or friend try the telephone.

I use the Paper FB app instead. It says app is 84M and uses 208M. Backgrounding is completely off. I don't miss it. The weather extensions just take a second to update when i open notification center. And i can update my podcasts manually. Tip: In downcast you can set default to stream all if you are always on wifi or have unlimited data. Why waste time and space on downloading? I allow location to 'while using' if the app truly needs it and the option is available. If it isn't i choose 'never' or consider deleting the app and leaving a rating explaining the need for the dev to include 'while using'. My battery is rock solid. Sent from the iMore App

Also go to Settings -> Facebook and turn off access to Calendar and Contacts. Sent from the iMore App

I just deleted the app and set up a shortcut via Launcher to the website using Safari. I'll see how much difference it will make. I've always had the Facebook app.

Did you experience any difference in performance/battery life?

I deleted Facebook app months ago just because of the size issue. I was tired of re-installing it over and again. Since then, I am using FB in Safari and I happy with it. Facebook app sucks! Sent from the iMore App

There is also the option to use Facebook paper. It doesn't have many features, not even background refresh. Sent from the iMore App

I've been half tempted to actually delete my Facebook account considering just how little I've actually been using it as of late. And yes, the Facebook app on iOS is the buggiest thing I've ever seen.

Facebook does not know how to program for mobile. I gave up on their mobile apps on all of my devices ages ago for these very reasons, it's just not worth it. Solve all of your Facebook problems by deleting the app and using the web site. For inter-app integration, iOS has some FB functions baked in. Feed it your FB login info in Settings, and you can share to FB from almost anything with the Share Sheets.

I don't know how the author manages to get so much storage usage on Facebook. I use it a lot, and only have 186MB tied up. It is pretty easy to recover this space, just delete Facebook, and reinstall it. And, yes, Facebook will fun in the background if you don't remove it from the 'recents' list when you stop using it. They try to do too much and end up not doing things well.

I don't. Facebook on my iPhone only takes up a little less than 200MB, like you. The point is that it shouldn't happen. We shouldn't have to do these things. This seems to be an issue for people that browse lots of photos and videos on Facebook, since they love to cache things.

Better yet get rid of the stupid app. It is a waste of time.

I use the app Friendly. It's basically Facebook's mobile site but you still get notifications and can set 'Most Recent' as the default view.

While I haven't really had a problem with Facebook, I realised just the other day how much Twitter also uses up my battery on my iPhone. I had forgotten to turn off background refresh when I installed it and was noticing that it was constantly my top app for battery drain, despite me rarely opening the app. It is always good to check time and again what apps have that feature activated and deal with them accordingly. By the way, "run like crap" in the title of this article? Maybe showing a little bit of professionalism would be a good idea, no?

When Facebook separated messaging into a separate app I got angry and deleted Facebook from my iOS devices. I now only access Facebook from my Mac. I don't know of any problems that fixed, but I've been very happy having done so.

I completely agree with your recommendations regarding the Facebook app. I happened to have already done these things on my own and have never experienced issues with Facebook. I also checked the storage it's using and it's only at 152 MB (half of that is the app). I am using an iPhone 6 running iOS 8.2. I've had Facebook installed since I bought the device in late September 2014.

I've never had issues with the FB app Sent from the iMore App

Two days now. Deleted Facebook and Whatsapp. If people really need me they can call or use iMessage.

Thanks for the tips ally..

Ally, this was a great article. I also had the FB woes on my iPhone. I like using FB in Safari for another reason: you can do messages without their second app for messaging. Or, you can use Paper. It's beautiful and much better done. Also does messaging. This is a very practical and useful review. Thanks.

To clear off cache storage space being used up by Facebook on iOS for unjustified reason, you simply need to logout your Facebook account from the app. Then, force close the app by swiping it off the app switcher. And, relaunch the app again. You will see the cache storage space was reduced significantly. This works for me most of the time. And, you don't need to delete and reinstall the app every time.

I personally hate Facebook and got rid of it about 9 months ago. However, It has never dawned on me why my wife phone (my old 5s) can barely make it to lunch without a charge. Thanks Ally I will pass this along.

I rarely use the Facebook app, from my phone. It's only using 139mb of storage. Should it act up while I'm using it, I'll delete it. Anyone I need to be in touch with can use FB Messenger to get in touch with me. I don't use that much either. I usually access it from my computer on a browser.

My wife's 32gb ipad mini keeps on geeting a message that "storage almost full" for quite sometime and just the other day it froze/bricked and cannot be turned on. I press the power and home button together for about 10-12 sec nothing happened so i let it go and after about 5sec it turned on. I checked in settings to see the remaining storage and its down to zero.... Nada. I checked around some more and see what's the app that's eating up all the storage space and shocked that facebook has 10.6 gb on it. You see my wife has a hobby/business of buying/selling stuff online and facebook is her main tool of business. So she capture's a lot (like AAA LOT) of pics to post and i think that's the one causing all this storage-space-eating-facebook-app bricking. What i did next was quite simple... I just updated the app to latest version and viola! It's now down to 1.5gb. I read this article and its quit helpful and verified that it was really the facebook app that caused it. My suggestion is (in addition to this article), keep on updating your apps to latest version. Hope this help. Let me know if it does. Thanks

I was running an older version of FB that still had messaging baked in. At some point, the app started bloating itself until it was using up every free megabyte of space that I had. I had to update and lose the in app messaging ability for it to stop. I'm angry about them trying to force me to use a separate approach message people. I'm thinking about uninstalling the app and just using the mobile version. Sent from the iMore App

"Approach" should be "app to."
Dang autocorrect. Sent from the iMore App

I canned the Facebook app a long time ago, after I saw how much it was hogging my iPhone's resources. I use Safari if I'm going to check it on my iPhone, but now I usually only check it from home on my laptop.

I've been using the FB Paper app since it's release. I prefer the UI. Plus it's much less of a storage hog. As the saying goes "pigs get fat, hogs get slaughtered".

My battery has been seemingly draining much more slowly since removing the Facebook app and using the mobile site!

Please don't judge: iPhone 5s here & text tone stopped. Not a whiz but know enough to go to settings & the craziest thing: press my tone once, doesn't work. Next tap, works. On off on off - you get it. Soft reset, no change. No laptop or desktop to like save it over to. All updates complete. Next am going directly to storage & will be deleting much, in particular. FB, can't wait. Apologies - not whiz enough to find the correct place to ask this. And thank God I found this place. Thanks -

You can clear iOS Facebook cache without deleting and reinstalling the app. On the iPhone, and presumably iPad as well, click on More --> Settings --> Account Settings --> Browser. On this screen, you'll find a button to clear Facebook's browser cache.

Here I would like to introduce iMyfone which is a special application designed to find exact appropriate answer to how to free up space on iPhone query available on that site http://www.imyfone.com/iphone-space-saver/free-up-iphone-space/ .

so yeah, had that message popping up constantly on my ipad pro. I literally have nothing on it that might have any files except adobe sketch. It was saying i had no memory left. I originally thought it was Apple pulling some bullshit programming code to just delete my memory every-time i checked it ( cause i went back and forth and kept looking at available memory and every time i check within a period of 1 sec it dropped by like 10 -50 mb which was weird) I added up the memory being used by apps and although i had 0GB left i should have had 20GB so just deleted Facebook and Messenge and immediatley got 18GB of memory. So crap, why does facebook do this? Stupid ***... Don't use facebook (and never will now) on the ipad anyway so no problem,

Thanx for the information

So...the message here is that Apps are the best thing about the iOS ecosystem...don't use them, use the browser instead? Pretty much been the argument of every Blackberry & Windows Mobile user for years now.

Thanks this was really useful. I noticed in checking the storage that Twitter is actually using more. They are both bad offenders.

Thankfully for Twitter there are alternative clients, I use Tweetbot

Yet, Twitter actually allows you to clear the cache. Facebook STILL doesn't offer an option for clearing its cache. Really **** stupid if you ask me.

I honestly never had issues with Facebook on my iPhone or iPad Pro but then again i do have a 256GB 7+ and a 128GB iPad Pro so i never run into the issue of Facebook depleting my storage or bogging down my phone but i do have a friend who has the 5s and has noticed a drain in his battery life as well as a huge chunk of his storage taken up and this rememdied the issues he was having.

"How to stop Facebook from making your iPhone run like crap." Is this intentionally hyperbolic or do you find that the Facebook app negatively impacts the performance of your phone to the point that is it noticeably bad? I ask because I run the Facebook app on my iPhone SE and find that my phone still flies along with nary a problem.

Went to check on Facebook's usage and holy-bleeping Garage Band batman!!! Almost 2G for an app I'd shoved into a folder and forgotten about! Tumblr was over DOUBLE Facebook, I knew when I got this phone to go ahead and spend the money on storage - I was NOT living with storage issues again!

I deleted FB app on my iphone7 - problem is, when i go to FB and try to read Messenger/ messages - I get prompt to install FB app !
Thank you for signing up to iMore. You will receive a verification email shortly.
There was a problem. Please refresh the page and try again.