How to switch carriers on the iPad Air 2's Apple SIM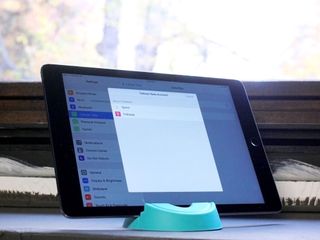 For those of you who like to surf cellular networks on your iPad over the Wi-Fi variety, the Pad Air 2 and iPad mini 3 come with a special bonus: Apple's self-titled Apple SIM. The nano-SIM is identical to your typical iPad cellular SIM, with one key difference: It supports on-the-fly connections to multiple different cellular carriers.
That's right: You no longer have to decide before you buy your tablet which network you'd like to use it on, and can change it at any time. (Well, mostly. We'll explain in a sec.)
The Apple SIM and you
The Apple SIM supports three networks in the United States: AT&T, Sprint, and T-Mobile. (In the U.K., EE is Apple's sole launch partner.) Each has a variety of plans you can choose from, including ones that hook up to an already-existing phone contract, and you can cancel the pre-paid plans at any time and switch carriers.
Well, unless you choose AT&T. Once you pick AT&T as your carrier in the System Preferences selection screen, the Apple SIM is locked to that network; you'll have to get another Apple SIM if you want to cancel that plan and instead use T-Mobile or Sprint. (Likewise, once you sign up for either Sprint or T-Mobile, AT&T is taken off the table as a potential option.) For more information, check out Apple's support document on the matter (opens in new tab).
And then there's Verizon. The carrier has decided it wants no part in the magic of the user-friendly Apple SIM; instead, if you'd like to use your iPad on Verizon, you'll either have to purchase your iPad directly from the carrier or an Apple Retail Store, or pick up a Verizon nano-SIM card for your already-purchased iPad Air 2.
Set up an Apple SIM
The initial cellular setup is as easy as it's ever been — except this time you have three carriers from which to choose from. Visit the Settings app, select the Cellular menu, and tap the Set Up Cellular Data button. From there, you can choose which carrier you'd like to sign up with.
I am a little sad that Apple hasn't been able to integrate Apple Pay into this selection screen, as I had to pull out my decidedly-now-old-fashioned wallet to enter in credit card information for my plan, but other than that, signing up is simple as can be.
Switch plans or carriers on the Apple SIM
Switching carriers and plans after you've set up your initial decision is also decidedly simple if you want to switch between any carrier that supports open switching (Sprint and T-Mobile).
Visit Settings > Cellular Data > Data Plan > Add a New Plan
Select either Sprint or T-Mobile from the drop-down. (This is also where you can go to change your current carrier's data plan.)
Choose which carrier and plan you'd like to add.
The first time you switch carriers, you'll have to re-enter your registration information to set up an account with the other carrier; any subsequent switches should only require your carrier username and password, however.
If you've had enough of T-Mobile or Sprint and want to switch to an AT&T or Verizon plan, you'll have to venture outside your iPad's Settings app and into your carrier retail store of choice; at the store, you can request a nano-SIM for the iPad Air 2. From there, use the SIM removal tool that came with your iPad to pop out the Apple SIM and insert your replacement.
Carrier switch-a-roo
As a longtime AT&T customer, I've actually been really excited to play with the Apple SIM—I haven't used T-Mobile's network in decades, and I've never tried Sprint before. It's a neat way to see coverage areas on a different network, and pick the best carrier based on my current location. What about you, folks? Is Apple's new SIM technology awesome or a feature you'll never use?
Get the best of iMore in in your inbox, every day!
Serenity was formerly the Managing Editor at iMore, and now works for Apple. She's been talking, writing about, and tinkering with Apple products since she was old enough to double-click. In her spare time, she sketches, sings, and in her secret superhero life, plays roller derby. Follow her on Twitter @settern.
I'll use it once I get mine to test out Sprint. I don't know yet if I'll ever try the ATT side.. I may do that, and keep the ATT locked sim and get another Apple SIM so I can still swap between all 3 of them. LOL Honestly, Apple should have just included an extra just to thumb a finger at ATT so people could still swap. HA! At the moment though, I have T-Mobile and happy with them so far..

Hi, I was wondering if you can get an Apple SIM for an older iPad. Is this feature only available on the iPad Air 2 and iPad mini 3 or can you go to your local Apple store and get a SIM for older iPads? The other question I had was if you had a newer iPad and you choose AT&T, can you go to your local Apple Store and get another Apple SIM for use with T-Mobile or Sprint? Thanks...

This is one of the big features that is steering me into trading in my current iPad 4 WiFi for an Air 2 64GB Cellular. Then if I plan to take a trip or vacation I can pick the carrier that will keep me connected without breaking the bank. No more hunting for Wifi Hotspots. As for AT&T & Verizon, oh well, just carry around 2 to 3 chips to switch. Serenity thank you for this article, I have been waiting for it. Imore does it again! Oh and by the way, I hope your feeling better. Drink lots of vitamin C.

So basically it's a choice between two weak carriers. Glad they make a wifi version.

So what good is the Apple-SIM anyway? It won't work with Verizon; you "choose" AT&T and you are locked out of T-Mobile and Sprint; you choose either of those two and you are locked out of AT&T. So basically you can go back and forth between the two weakest and smallest footprint networks? Nothing to see here - move along folks...

Thanks, Serenity. I'm a long-time AT&T customer, too, and I've been pleasantly surprised with the quality of T-mobile data service in my area. Their signal is strong both in my house and in the office building where I work. Their download speed is almost as fast AT&T, and for me, T-mobile's upload speed is faster than AT&T.

An old posting but you don't need to buy an iPad Air 2 from Verizon to use it on Verizon. This is a bunch of hogwash people were getting from Verizon stores with personnel there refusing to put an iPad Air 2 onto the Verizon network if it wasn't purchased there (and had an Apple SIM in it). The hardware is the same. The difference is the SIM card. All it needs is a Verizon SIM instead of the Apple SIM. An Apple store can provide a Verizon SIM if someone gets an Air 2 with an Apple SIM in it, just like replacing an Apple SIM that AT&T has locked to its network. You can also request a VZW iPad SIM for an Air 2 or Pro from Apple's web site just by using their chat. It's apparent from what I've read elsewhere that Verizon store employees (and not all stores are company owned) are not very well trained on how to put an Air 2 onto Verizon's network if it has an Apple SIM in it by replacing it with a VZW SIM. Bottom line: it's much, much easier to get a iPad Air/Air2/Pro VZW SIM from Apple than it is to get one from VZW! I just got off of chat with Apple and they're sending me VZW SIM for an Air 2 that was just purchased (and didn't ask for one when I bought it).

Having just spent several hours trying to resolve this yesterday at three different Sprint stores, here is the full drill: 1) In spite of the "agreement" between Apple and the carriers to support a universal, fully transferable SIM card, once you select your carrier at setup, your SIM is now locked to that carrier, as is your iPad serial number (DON'T SAY NO, IT's TRUE). 2) If you want to change carriers you have two steps you need to accomplish: 1) get your current carrier to unlock your iPad device. Assuming you don't owe any money on your plan OR your payments on your device, you can call and ask them to unlock the iPad, which releases the serial number into a general access database for any carrier to find when searching. 2) You need to go to your NEW carrier of choice and get a SIM for that specific iPad on that carrier. If any of the carriers are like Sprint, the SIM may only be available at a corporate store, not a kiosk or a partner store. It will be serialized to the device itself (must be a SIM for the iPad Air 2). 3) Assuming you have an unlocked device and your new carrier has a SIM in stock that will work with your iPad, they can set it up on your account. Carrier service and activation fees may apply. Good luck!
Thank you for signing up to iMore. You will receive a verification email shortly.
There was a problem. Please refresh the page and try again.