How to use Notification Center on iPhone and iPad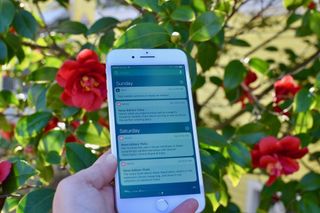 So, you just got a buzz or a ping on your iPhone, but when you grab it to see what the noise was all about, it just disappears from your lock screen because that dang Touch ID now works so lightning fast that you can't read it before you unlock your screen.
Not to worry. Notification Center is always there, whether your screen is asleep or awake and whether your iPhone is locked or unlocked. Here's how to use it.
How to access Lock screen notifications on your iPhone and iPad
The Lock screen is the screen you see when you first wake up your iPhone, whether it's by pressing the Sleep/Wake button or by lifting your iPhone to wake it up. It's also where your notifications pop up. So, even if you're sitting on the couch and your iPhone is on the coffee table, your screen will wake up just long enough to show you a text message, email notification, weather alert, or other notification.
You have complete control over what apps send you notifications. You can disable them entirely, select specific apps to receive notifications from, and even set up how much of a text message you want to be viewable on your iPhone.
From your Lock screen, even if your iPhone is still locked, you can respond to text messages and a few other notifications. If you have 3D Touch on your iPhone, you can do even more! Note that in order to view and respond to messages while your phone is locked, you will need to have message previews turned on, otherwise your device will prompt you to unlock your phone beforehand using your passcode, Touch ID, or Face ID.
To access a notification from your Lock screen:
With your iPhone screen awake, tap the notification. If you have 3D Touch, force touch the notification.
Swipe to the left to access your Lock screen options. If you have 3D touch, the options are already there.
Tap View to see your available response options, like archiving an email, saving a news story for later, or tapping the "X" to clear the notification.
Tap Clear if you simply want to clear the notification without responding to it.
How access Notification Center on your iPhone or iPad
Notification Center is available from any location on your iPhone, whether you're on your Lock screen, Home screen, or even inside an app.
Place your finger at the very top of the screen, where the bezel meets the screen.
Slide your finger downward. You'll see a little tab under your finger.
To hide Notification Center, place your finger at the bottom of the screen and slide upward.
If you are already looking at the Today View on your Lock screen, you can also swipe to the left to view Notification Center.
How to access Notifications from a banner or alert on iPhone and iPad
If you have your notifications set up to receive banners on your Home screen, you can respond to them from anywhere, including while in an app.
Temporary banners are notifications that appear at the top of your screen for just a moment. If you don't think you need to address a banner, you can simply wait for it to go away.
Persistent banners are notifications that appear at the top of your screen and stay there until you respond to them or clear them away.
To respond to a banner or alert, pull down or press deeply (depending on whether or not your iPhone has 3D Touch) on the notification. You will then either be able to respond to the notification in a pop-up window or be directed to the related app.
To dismiss an alert, swipe up on the notification.
How to clear notifications in Notification Center on iPhone and iPad
If you don't clear notifications as soon as you get them, you can clear them manually in Notification Center.
Navigate to Notification Center on your iPhone or iPad.
Tap the X next to Recent or a specific day.
Tap Clear to clear that section of notifications.
Repeat steps 1 - 3 for all days.If you have 3D Touch, you can force-press the X next to Recent and then tap Clear all notifications.
Any questions?
Do you have any questions about how to access Notification Center or notifications on your iPhone or iPad? Put them in the comments and we'll help you out.
Master your iPhone in minutes
iMore offers spot-on advice and guidance from our team of experts, with decades of Apple device experience to lean on. Learn more with iMore!
Cella writes for iMore on social and photography. She's a true crime enthusiast, bestselling horror author, lipstick collector, buzzkill, and Sicilian. Follow her on Twitter and Instagram: @hellorousseau