How to use Picture-in-Picture anywhere on your Mac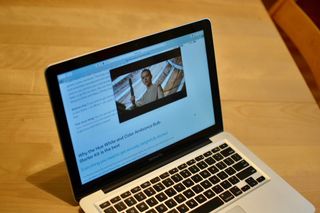 If you've been using Picture-in-Picture on your Mac, you've probably noticed that it defaults into one of the corners of your screen. When you want to get it out of the way in one corner, it will automatically float into another corner. It doesn't have to stay in the corner, though. You can move your Picture-in-Picture window anywhere you want.
How to move the Picture-in-Picture window anywhere on your Mac
Select a video from your favorite media watching outlet, like YouTube, Vimeo, or iTunes.
Enter Picture-in-Picture mode.
Press and hold the Command key while simultaneously selecting the PiP window with your cursor. Don't let go of the Command key.
Move the video to its new location.
Let go of the Command key and cursor to place the video.
Repeat steps 3 - 5 any time you want to move the video window to a new location. If you forget to press and hold the Command Key, the video will float to the nearest corner.
Any questions?
Were you unable to move your PiP window anywhere you wanted? Let us know what happened and we'll help you fix it.
Get the best of iMore in your inbox, every day!
Lory is a renaissance woman, writing news, reviews, and how-to guides for iMore. She also fancies herself a bit of a rock star in her town and spends too much time reading comic books. If she's not typing away at her keyboard, you can probably find her at Disneyland or watching Star Wars (or both).
There's also a Safari plugin you can install if you want to use PIP for pretty much any video file played in Safari, it's called PiPifier. For example the Plex web video player. While it doesn't natively support PIP, the plugin allows it to. https://itunes.apple.com/us/app/pipifier-pip-for-nearly-every/id11603744...

Is there a way to adjust the transparency of the PiP? I used to use Helium and loved being able to see through the video a bit.

Another handy guide! Quick note for anyone reading, this is for macOS Sierra only. If you need a hand getting into picture-in-picture mode, check out this guide.

Step #2 is a critical step, and one that lacks detail: HOW to enter PIP mode. For those reading, here's how (I'm using Safari and YouTube for this example): Right click on the YouTube video screen, then RIGHT CLICK AGAIN. THERE will be the Picture in Picture option. You're welcome.

Step #2 lacks any instructions at all, it's like saying "To use YouTube full screen, press the full screen button" without any picture or direction as to where it is. Also reminds me of some video games where they used to say "Press the action button to press the switch" as if you're supposed to know what the "action" button is. That being said, it seems to be pretty inconsistent at the moment as to how to activate it. On a standard HTML5 video, you just right click once and click Picture-in-Picture. With YouTube, you have to right click twice to get that menu. On Vimeo, you won't get that option if you right click once or twice, there's a button at the bottom right which activates Picture-in-Picture. If all else fails, get the plugin mentioned in the first comment

Thanks for your comment. I actually included a link to our basic how-to guide in the first paragraph. Please check it out if you need more help.

oh wow i had no idea this was possible. awesome tip!