How to setup and use Notification Center widgets on iPhone and iPad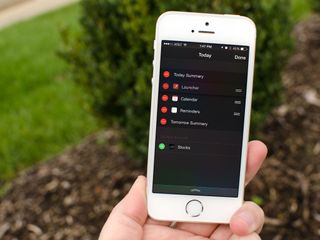 Notification Center changes things up in iOS 8 and one of the newest abilities iPhone and iPad users have is the option to add widgets to the Today tab. This means that if app developers decide to include a widget with their app, you can access information they provide right through the Today tab in Notification Center. This information could be sports scores, weather data, and lots more. To get started, just enable the widgets you'd like!
How to add and remove widgets in the Today view of Notification Center
Swipe down from the top of the screen on your iPhone or iPad running iOS 8 or higher.
Tap on Today if it isn't already selected.
Scroll towards the bottom and tap on Edit.
Add and remove widgets as you'd like by tapping on the plus icons or the delete icons next to a widget's name.
You can drag widgets up and down to change the order in which they appear in the Today tab of Notification Center as well.
It's a good idea to check Notification Center periodically to see if some of your favorite apps have added support for widgets. If they have, an option to add it to the Today tab will show up. Simply add them and remove them on demand whenever you'd like!
If you've found some awesome apps that already support widgets in Notification Center, be sure to let us know which ones in the comments!
Get the best of iMore in in your inbox, every day!
Girl gamer, bookish sort, sci-fi and fantasy lover and writer. Now creating helpful content for Mobile Nations.
Allyson, what Launcher application is that? I don't see anything in the app store with that icon. Would love shortcuts for Messages and phone from the notifications tray. Thanks!

I want to know as well. Is that apart of iOS8?

That launcher looks great. Cannot find it in the App Store. Please let us know or send a link to get the app.

I agree. Can you please let us know what launcher app that is? I have launch center pro but that's not it. Thanks

It wasn't that hard to find:
https://itunes.apple.com/us/app/launcher-favorites-at-your/id905099592?m...

It's hard to find because Apple removed it from the App Store for "misusing" the Notification Center http://9to5mac.com/2014/09/28/launcher-removed-app-store-widget/ Too often time Apple takes a step forward, then takes a puzzling and unnecessary step back.

Those are NOT widgets... At best, they are advanced notifications. Posted via the iMore App for Android

I wish Apple would let us move the "today summary" and "tomorrow summary" notices around or even better yet, make them one and have it show today's info until a chosen time and then show tomorrow. It's always seemed odd to check notifications at night and have to scroll down to the end to see tomorrow's info. Sent from the iMore App

keep trying to remove (hide) the Today Summary and Tomorrow Summary from the Today view. Why would the edit provide the delete/remove function (circle with red dash inside) and yet not honor the control. Is this just me, where there is no way to remove those sections?
Thank you for signing up to iMore. You will receive a verification email shortly.
There was a problem. Please refresh the page and try again.