How to view your iOS 9 Notes on your OS X Yosemite Mac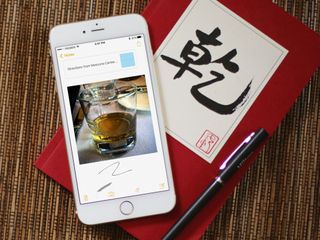 If you've recently upgraded to iOS 9, you may find that you can no longer sync your beautiful new Notes app with your Mac. This is because on OS X Yosemite, your Notes app is still the same sad, pre-attachment version that you had in iOS 8—and they can't talk to each other.
Good news: OS X El Capitan has an iOS 9-compatible Notes app. Bad news: OS X El Capitan doesn't ship until September 30.
But don't worry, friends: You don't have to rush to install the OS X El Capitan beta if you're relying on getting your notes from iOS to OS X. Instead, you can use iCloud.com for your syncing needs. Unfortunately, this does only talk from iOS 9 to iCloud.com—so you'll have to do your notes-writing in one of those two places, and leave the OS X Notes app alone until you upgrade to OS X El Capitan.
Note: This only works for Notes you're syncing through iCloud.com; if you're syncing them through a different service, you won't be able to see them.
How to view iOS 9's Notes on a Mac running OS X Yosemite
Open Safari on your Mac.
Visit iCloud.com and enter in your username and password.
Click on the Notes app.


From there, you should be able to edit your current notes, add checklists and text, and delete any unwanted information.
Get the best of iMore in in your inbox, every day!
Serenity was formerly the Managing Editor at iMore, and now works for Apple. She's been talking, writing about, and tinkering with Apple products since she was old enough to double-click. In her spare time, she sketches, sings, and in her secret superhero life, plays roller derby. Follow her on Twitter @settern.
Trying to access the Notes app through icloud.com using FireFox on Windows gives me an error and I cannot open it. Hopefully there will be a fix soon.

It may be that Firefox is the culprit for you. When I used a Windows PC I really looked Firefox a lot. But it would sometimes not work with certain websites, ect. See if you have better luck using Chrome or IE, or whatever MS is calling it these days.
Good luck.

Thanks. It works on Chrome but not Firefox as of right now. I'll just use Chrome.

Firefox shows the Notes app for me, but the app doesn't show the note I added to my iPod yesterday. Perhaps iOS6 is too out of date and Apple has stopped supporting syncing from it?

Unacceptable! Glad I have not updated to 9 yet. Come on Apple you used to be so good but it seems the last 4 years you have really been slacking, yes thanks for all the "goodies" however the core functionality etc you keep phoning it in and making us wait for fixes some which never come or come in a new version of the OS which is BS.

can i doodle on notes for the 4s

I am exercising some patience in that I will wait to hit the upgrade in notes on IPhone and iPad until El Cap appears on the 30th.. No big deal really.

You don't actually have to upgrade to the new version of Notes when you install iOS 9 - it's optional. So you can have the benefits of the OS without the headache of incompatibility. Same as how you could hold off on iCloud Photos until all the ecosystem was aligned again.

when i upgraded notes on my iphone, it only said something like "your notes will look different" and all the benefits for upgrading, it did not warn about the incompatibility, that's not cool! how the hell am i supposed to know?
i just logged to icloud.com, and the notes app no longer shows up. and i don't want to upgrade to el capitan. yes i tried, but i didn't like it. as a matter or fact, i am sticking with mavericks for now. that means notes no longer sync between my ios devices and macs, and i can't even view my notes on icloud.com. does that sounds right to you?
apple can easily update the notes app on the mac side but chose not to.
Thank you for signing up to iMore. You will receive a verification email shortly.
There was a problem. Please refresh the page and try again.