What will you have to pay your carrier to use Apple Watch Series 3?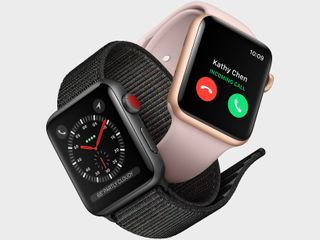 Apple will soon launch the Apple Watch Series 3, which offers some improvements over previous Apple Watches and, for the first time in the product's history, cellular networking. Naturally, the major U.S. cellular carriers are eager to get in on the action, and all of them will have plans in place for the Apple Watch Series 3 when it launches on September 22.
It should be noted that carriers are only offering Apple Watch cellular service as an add-on to your existing service plan that you use with your iPhone. So far, Verizon, T-Mobile, and AT&T have announced that they will be offering cellular service for the Apple Watch Series 3 for an additional $10 per month on top of your current service plan. Sprint has yet to offer any details.
Despite offering the same monthly price, there are details for each carrier that help differentiate them from each other. Here's what you need to know about how each carrier is approaching the Apple Watch Series 3.
With Verizon, you'll need to pony up another $10 per month on your existing service plan to use the Apple Watch Series 3 on the company's network. However, the carrier will be offing the first three months of Apple Watch service for free, and will apparently waive activation fee and upgrade fees. Based on Verizon's past history with wearables, you'll probably need to pay full price for your Apple Watch Series 3 with cellular networking, which starts at $399 for the 38mm aluminum model.
Like Verizon, the Apple Watch Series 3 on T-Mobile will run you an additional $10 per month, with the first three months of service available for free with Apple's help. Additionally, T-Mobile is the only major U.S. carrier that has announced an installment plan for the Apple Watch. While you can pay the $399 up front price for the aluminum 38mm watch ($429 for the 42mm model), you can also pay the watch off in monthly installments starting at $16.67 ($17.92 for 42mm) with no down payment.
Once again you'll need to add $10 per month to your existing plan. AT&T will also offer three months of free service through a $30 bill credit applied over three payments, as well as a $25 activation fee credit. You'll need an eligible service plan for your iPhone to take advantage of these credits, which means having a plan that costs a minimum of $50 per month. You'll also be paying the full up front price for your Apple Watch Series 3, starting at $399 for the 38mm cellular model.
Sprint…hasn't announced anything with regards to the Apple Watch Series 3, except that it will carry the wearable. It's likely that we'll see similar pricing for adding the watch to your service plan.
Questions?
If you have any questions about how your carrier is handling the Apple Watch Series 3, be sure to let us know in the comments.
Joseph Keller is the former Editor in Chief of iMore. An Apple user for almost 20 years, he spends his time learning the ins and outs of iOS and macOS, always finding ways of getting the most out of his iPhone, iPad, Apple Watch, and Mac.
Someone on AppleInsider reported Verizon confirming a $5/month add-on price. Perhaps they were misinformed.

Can anyone think of a way that an Apple Watch could be used with its own wireless number? I'd like to get a cellular watch for my child and think this would be perfect. Better than a phone because she could play with her friends while wearing the watch—not so with a phone.

Buy a cheap phone and add the watch to it? Unfortunately you'll have to pay access fees for both. About the only way I see to do it though.

Will the Nike watch not ship until Oct?

Nope, should ship alongside the others this year.

Mac Rumors reported that it's not coming out until Oct 5. Confirmation?

What about Canadian carriers?

The T-Mobile customer rep is telling me that I'll need a separate phone number for the new Apple Watch. Is he confused? Are these phone carriers ready for tomorrow night's pre orders? If I order the watch directly from Apple, how do I activate the SIM?

The rep is wrong. I'm sure that it will activate itself during the setup process like a new iPhone does.

Do you think it will wirk when I pair the watch or we have to contact the carriers?

It'll probably detect your carrier when you pair it and ask if you want to add the watch to your plan.

What if you're with US Cellular? Will they be offering a plan also?
Thank you for signing up to iMore. You will receive a verification email shortly.
There was a problem. Please refresh the page and try again.