Huawei MateBook (2017) hands-on preview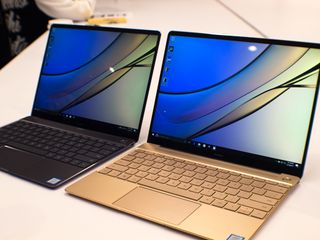 Most U.S. consumers won't have heard of Huawei, the Chinese brand which currently occupies the number three spot in smartphone market share. But it's growing internationally, and slowly expanding outside of its phone-sized comfort zone.
Last year gave us the original Huawei MateBook, an imperfect hybrid device that nevertheless established a presence for Huawei in the PC space. This year, the lineup is growing considerably, as Huawei ramps up its focus on this area: The new MateBook E is a traditional convertible, in much the same vein as the first-gen MateBook. And it's joined by the 13-inch, super-slim MateBook X, and the 15.6-inch MateBook D, with its optional NVIDIA GPU.
Image 1 of 2
They'll launch first in six markets — China, Japan, the U.S., France, Italy and Saudi Arabia — markets where Huawei believes it is the strongest, reps told me ahead of today's launch. (The U.S. is a curious choice then; perhaps Huawei hopes a successful notebook launch will help its ongoing phone efforts in that country.)
All three of Huawei's new machines boast attractive metal designs. Depending on your perspective, the MateBook E is either large for a tablet or small for a convertible. There are iPad and Surface influences, with the same Mate Pen stylus accessory supported, and a keyboard cover bundled in the box. Some markets will also get a MateDock 2 (think of it as an oversized USB-C dongle) in the box.
There's a decent looking, but not exceptionally bright 2160x1440 display, and daylight visibility isn't helped at all by the white bezel on the gold model I used. You also get dual speakers, fingerprint security via a tiny sensor on the side, and a single USB-C port for charging or data transfer.
Like the original MateBook, the new MateBook E can be used as a standalone tablet, but realistically you're going to want to use that folio case. Don't expect to casually one-hand the E like you would an iPad. Doing so is clumsy, a product of its shape and size as much as its weight.
The good news is that the leather folio is impressively sturdy, covering all the parts that need covering when the MateBook E is in a bag, with built-in, backlit chiclet keys that don't feel at all mushy. The hinge can now support the device at up to a 160-degree angle, allowing for more versatility when it's propped up. (Which, let's face it, will be most of the time.)
Image 1 of 4
Huawei's second-gen convertible is, as you'd expect, more powerful on the inside. You get the choice between a seventh-gen Intel Core m3 or i5 CPU, 4 or 8GB of RAM.
While I can't say anything about raw performance just yet, there was no noticeable slowdown in the barebones Windows 10 setup preloaded on the MateBook E. I'm a little concerned about potential battery life, though, as the E pack the same 33.7Wh power pack as the original, with the same quoted battery life of 9 hours. The longevity of the original was a bit underwhelming, so here's hoping more efficient components can make up the difference.
As incremental upgrades go, the MateBook E is all well and good — but not massively exciting or unique. How effectively it'll be able to compete with the iPads and Surfaces of the world will likely come down to price, which Huawei isn't commenting on at the time of writing. If you're in the market for such a device, it's probably because you're already happy with the Windows ecosystem and are unconvinced by the compromises of an iPad Pro compared to a traditional computer. (By the same token, the MateBook E probably won't turn the heads of anyone whose heart is set on an iPad Pro purchase.)
But it's the duo of actual laptop laptops — the X and D — are seriously going after potential Apple customers. Aside from the one or two obvious visual similarities, Huawei is looking to capitalize on MacBook spec ennui with seventh-gen Intel Core i5 and i7 chips in the X — a marked upgrade on the Core M parts powering Apple's 12-incher.
Image 1 of 3
What's more, the two larger models also come with Dolby-designed Atmos speakers — an exclusive among PC makers, and yet another example of Huawei going after strategic partnerships with better-known names to grow its brand awareness. (On the MateBook E, you'll get Dolby audio software alongside a standard set of cans.) I can confirm that both pumped out loud, clear, appropriately bassy audio, and that even the E sounded pretty decent in my brief time with it.
The MateBook X is the "flagship" device of the trio, with a svelte frame, not unlike Apple's 12-inch MacBook (and its countless imitators, like the ASUS ZenBook). While it is undeniably very similar, it's not a total carbon copy of that machine. Huawei also goes the extra mile with the addition of fingerprint scanning directly built into the home button. And even with the aforementioned Kaby Lake Core i5 and i7 processors, while still remaining entirely fanless.
Image 1 of 2
The bump in specs compared to Apple's notebooks (which are also passively cooled, but uses less speedy Core M-series chips) is made possible by what Huawei calls its "Space Cooling Technology," which uses unique materials in its heat pipe to more effectively dissipate heat. Questions remain over how well this kind of approach will handle extended heavy usage — eventually, you'll just have to ramp down the CPU — but that's a problem for another day. In every other sense, the MateBook X is a typical, well-designed Ultrabook.
There's liberal use of "diamond-cut" chamfers around the tapered aluminum unibody, which is flanked on either side by USB-C connectors — so you can plug in to charge on either side. It measures just 12.5mm thick, and weighs 2.31 pounds, putting it in the same "barely there" ballpark as the 12-inch MacBook, though with a larger 13-inch display. And speaking of the screen, the 2:3 aspect 2K IPS panel looks phenomenal, and thanks to the use of (sensible) black bezels, it doesn't suffer from the same wash-out in daylight.
The taller aspect ratio, too, will be of use to multitaskers and anyone who spends a lot of time in a web browser.
What don't you get? Well, it's mostly the same big compromise as the MacBook — no touchscreen, no tablet option. If you want either of those, you'll need to opt for the MateBook E.
Meanwhile, the MateBook D takes the core of the X, blows it up to a 15.6-inch screen diagonal, downscales the resolution to 1080p and adds the option of an NVIDIA GeForce 940MX GPU. As a result, it's bigger and chunkier, though not excessively hefty.
With RAM starting at just 4GB in some configurations (though topping out at 16GB), it's not quite as "pro" across the board as you might be expecting. However, its balance of discrete graphics, "high enough" screen resolution and a more traditional 16:9 aspect ratio may give the MateBook D legs as a "media" laptop... if there's still a market for such a thing.
This model doesn't appear to be aimed at content creators, like the MacBook Pro, or gamers, like the Razer Blade. So perhaps its purpose will become clearer once we know how much it'll cost.
Huawei remains an unproven brand outside of the world of mobile, and one release cycle alone isn't going to change that. At the risk of stating the obvious, its latest MateBook devices aren't about to unseat Apple anytime soon, however good they are, nor worry more established local rivals like Lenovo. Instead, what Huawei has done with this latest round of laptops is demonstrate that this is no longer a hobby project, but the next step in the growth of a rising global technology brand.
In terms of the broader market, MateBooks E and D may not do much to move the needle. Instead, the MateBook X is the one to watch, and a product which could foreshadow Huawei's future as a major player in the PC market.
Master your iPhone in minutes
iMore offers spot-on advice and guidance from our team of experts, with decades of Apple device experience to lean on. Learn more with iMore!