iFixit tears down the new MacBook Pro Retina 13-inch and 15-inch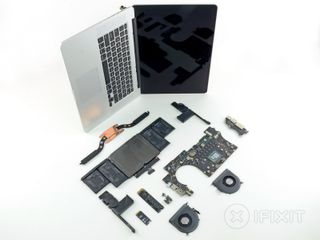 If you enjoy knowing all about the bits and bobs that go into the technology you purchase, it should come as no surprise to know that iFixIt has already got their constructively deconstructive hands on a pair of new MacBook Pro Retina's and as such, have already began tearing them down.
The 13-inch is still under way but the 15-inch has been spalyed out in all it's splendid glory and to no one's surprise, there's a lot of technology jammed into that beautiful little chassis. Some favorable highlights as noted by iFixIt about the 15-inch MacBook Pro Retina can be found below.
The 15" Retina now has a PCIe-based SSD instead of the mSATA drive of yesteryear. The new Samsung-based SSD contains the following ICs:
Samsung K4P4G324EB-FGC2 512 MB Mobile DRAM
Samsung S4LNO53X01-8030 SSD Controller
Samsung K9HFGY8S5C 32 GB NAND Flash Modules (8 chips for 256 GB total)
One of the few differences: It now has a sleekified heat sink with just a single thermal pad, thanks to the more closely integrated GPU — which we attribute to the "Haswellification" process, as we call it. Apple added a new AirPort card that supports 802.11ac Wi-Fi. The Broadcom BCM4360 on this AirPort card enables operation on the 5 GHz band at speeds up to 1.3 Gbps, while a Broadcom BCM20702 Bluetooth 4.0 Processor gets Bluetoothy things done for your convenience. Also in residence are a pair of Skyworks SE5516 dual-band 802.11 a/b/g/n/ac WLAN front-end modules.
Some noteworthy revisions come on the logic board, including the all-new Haswell Core i7 processor, Iris Pro Graphics, and Thunderbolt 2 support:
2.0 GHz quad-core Intel Core i7 processor (Turbo Boost up to 3.2 GHz) with 6 MB shared L3 cache
Intel Iris Pro Graphics
Elpida J4208EFBG 512 MB DDR3 SDRAM (16 chips for 8 GB total)
Intel DSL5520 Thunderbolt 2 Controller
Platform Controller Hub
Cirrus 4208-CRZ Audio Codec, similar to Cirrus CS4207
But of course, what most people want to know out of these teardowns is the user repairability levels and in that area Apple has, perhaps unsurprisingly, come up a little short.
The 15-inch MacBook Pro Retina was given a 1 out of 10 repairability and even gaining the notoriety of being more terrible than previous generations as now, even something as simple as replacing the headphone jack is cause for the whole logic board to be replaced.
In short, blow a headphone jack and you're looking at $1,000+ to fix it. If you're considering a new purchase, you might also want to consider that Apple Care.
Editor-at-Large at Mobile Nations, gadget junkie, energy drinker, ranter.
That's a terrible direction to be moving in. What happens after three years when your applecare runs out? None of these parts will be recycled - just more machines and more landfill. Not even being able to replace the RAM or drive is ridiculous.

I'm sure they'll be recycled the same way every other electronic device is, they'll be shipped off to China or some third world country to become someone else's toxic mess... Sadly, making a more repairable computer won't change that fact.

ifixit is full of it. They bitch and moan about repairability because thats how they make their living. Everything is going in a sealed direction to improve size and weight and battery life. get used to it.
Laptops have never been very repairable anyway.

While I do see that as a trend, and I would not mind it for more consumer-oriented MacBook Air and iPad devices, I am hating that the Pro model device is losing upgradeability. Gone are the days of changing the hard drive or upgrading the RAM yourself or AFTER you buy the machine. It's all up-front now, done at Apple's premium prices (and limited selection) only.
Thank you for signing up to iMore. You will receive a verification email shortly.
There was a problem. Please refresh the page and try again.