It's the professional grade Mac nobody knew they wanted until Apple announced. All the specs of typical of a Mac Pro — Xeon processors, ECC Ram, gobs of memory, and ridiculously fast storage — rolled up into the all-in-one chassis of iMac. And it shouldn't really work. We've been told for years that what pros want is flexibility and expandability, configurable towers and upgradeable components. But it totally works. Because there are many kinds of pros and, for some, power is best when expressed through the whisper-quiet, eye-popping form of an integrated DCI-P3 5K display.
For the last few weeks I've been testing the lowest end, eight core, starting at $4999, one terabyte configuration of iMac Pro to see if it could hold up to my existing podcast and brand new YouTube workflow better than either my regular iMac or Kaby Lake MacBook Pro.
The answer is yes, of course. It's ludicrously powerful. But how exactly it did so, and the types of limits I ran into even on Apple's new pro platform weren't what I expected.
So, here's the deal on Apple's new all-in-one for those who always wished it was hit by enough gamma rays to make it more hulkingly pro.
iMac Pro in Brief
A workstation-class all-in-one
Massive amounts of memory and ultra-fast storage
Higher-end graphics options
Whisper-quiet operations
Advanced, ARM-based encryption and boot protection.
A workstation-class tower.
User-accessible memory and storage
Nvidia graphics options
A ton of expansion slots and bays.
Touch ID/Face ID and Apple Pay
For people who love everything about the iMac, including and especially it's magnificent wide-gamut 5K display and all-in-one design, but need high-end processors, graphics, memory, and storage. If you're waiting on the future, modular Mac Pro, keep waiting. If you want ultra-elegant pro performance today, get the iMac Pro.
iMac Pro Design & Display
iMac Pro looks like… an iMac. No surprise there. From the outside, it is millimeter-for-millimeter the exact same chassis as the existing 27-inch iMac. There are some differences in the mics, speakers, ports, vents, and mounting options but you'd be hard-pressed to tell it apart. Except for this: It's anodized in space gray. And it looks so badass, I'm guessing money-is-no-object customers might buy it just for the new finish.
The biggest and most welcome change are those mounting options: You no longer have to choose between a stand mount or VESA mount at time of purchase. If you buy both, you can switch between both at any time. Hallaluja.
The Retina 5K display remains the same as the current generation iMac non-Pro, which is about as good as an ISP panel can be right now. Here's what I wrote about it in my review:
It looks as good as the iPad Pro displays — and is perfectly color-matched thanks to Apple's hardware calibration and software management — and that's saying a lot. It's about as close as you can get to full HDR without going OLED.
Speaking of which, some may be disappointed Apple didn't take the opportunity to redesign its classic all-in-one, delete the bezels, go edge-to-edge across the display, and thin it fully down to 2D.
Personally, I can't wait to see what might be next for iMac's design language. But this wasn't about making a new outside. This was about cramming the existing outside full-to-busting with all new insides. It was about making the iMac… pro.
iMac Pro Processors
The heart of the iMac Pro is neither commercial-grade Intel Core processors nor full-on server-class Xeon processors. It's something new — something that Intel intends to sit in the middle. It's called Xeon W (as in "workstation").
Commercial computers are typically like sports cars: fast and agile and super exciting if you don't need to haul a load. That's Intel's Core i7 series. Servers are more like trucks: reliable and scalable but not as zippy. That's Intel's Xeon Gold series. The new Xeon W is meant to be more like an SUV: maintain a good amount of pep but be ready to haul when you need to haul.
Apple is offering up 8-, 10-, 14-, or 18-core versions, and each of those are double threaded. Here's how their base and turbo frequencies break down:
8-core: 3.2GHz base, 4.2GHz turbo.
10-core: 3.0GHz base, 4.5GHz turbo.
14-core: 2.5GHz base, 4.3GHz turbo.
18-core: 2.3GHz base, 4.3Ghz turbo.
So, if single core is important to you, the 10-core version has the absolute fastest turbo frequencies. If massive parallelism is where you're at, you can go all the way to 18.
All of them have 1MB of L2 cache, 1.375MB of shared L3 cache and support for AVX-512 vector instructions. That provides an extra boost to both performance and throughput for intense computing tasks.
Because Xeon W is based on Skylake architecture, processor-accelerated HEVC (H.265) encoding and decoding are limited to 8-bit, not 10-bit like on the Kaby Lake-based standard iMacs. Because iMac Pro has such a resource advantage, though, Apple can still deliver software-based HEVC 10-bit much, much faster than the standard iMac can through hardware.
The new version of Final Cut Pro X that launched alongside iMac Pro, for example, now handles 360 video and up to 8K frames, and a lot of it in real time. Same with the Logic Pro X update and it's ability to handle far more tracks with far more demanding effects, including Alchemy, and play it all back in real-time.
In my time with the new iMac Pro, I came to appreciate just exactly what all the developers and pros told me when I first spoke with them about it late last year: It's all about the real time.
Even on the eight-core version, the sheer power of iMac Pro let their apps and their customers work in real-time in a way that simply wasn't possible on any previous hardware. Sure, it cut down wait times for intensive tasks like compiling and rendering, but it also removed wait times so completely on so many tasks that it allowed for an all-new, all interactive experience.
On multicam edits with several compound clips, I twice, for a brief period of time, managed to push the iMac Pro to the point where Final Cut Pro X begged me to turn the angle view off so it could keep the frame rate up. (I turned off optimized media rendering to save on that 1 TB of solid state space). And only for a few minutes.
Other than that, it handled all the 4K video I could throw at it, as fast as I could throw it. To the extent that I didn't realize how real-time it felt until I went back to editing on my MacBook Pro and suddenly felt as though I was moving through toffee compared to the iMac Pro.
That's the kind of instant velocitization — the speed that resets what you consider to be speed — that I look for in an upgrade.
iMac Pro Graphics
iMac Pro uses the new AMD Radeon Pro Vega chipsets. At the upper end, they provide up to 64 compute units with 4096 stream processors. Those stream processors can deliver up to 11 teraflops of single precision (FP32) or 22 teraflops at half-precision (FP16). All of that with high bandwidth memory (HBM2) that sports a 2048-bit wide bus and delivers 400MB/s of bandwidth. So. Much. Numbers.
You can go with either the Radeon Pro Vega 56 with 8GB of on-package HBM2 or ratchet that up to a Radeon Pro Vega 64 with 16GB of HBM2.
They're not cards; they're soldered inside the iMac Pro and the iMac Pro is sealed. That means two things: You don't get the option for Nvidia (and CUDA), and you can't swap out the card for a newer, more advanced one next year or any year after that.
Apple and Nvidia seem to be at loggerheads over who gets to own our graphics destiny, with neither willing to cede control to the other. So, AMD.
The more specific knock against Vega Pro is that it's more of a jack-of-all-trades card and not something that's optimized for hardcore gaming, for example. Yet, talking with developers like those who work on Cinema 4D, it became clear that a combination of Metal 2 and AMD produced results better than they'd seen with similar or even better graphics hardware on other platforms.
I think that can be attributed to how much Apple gets out of the way and opens up access to as much compute power as possible, something that's enabled by the company's tight integration of hardware and software, and relationship with AMD.
As of macOS High Sierra, Apple has also provided beta support for external GPU (eGPU). There's no word yet on how many you can hang off an iMac Pro but I got to see two eGPU running today and, from what the developers were saying, they'd managed more in their own testing. Once eGPU comes out of beta, concern over future internal vendors and upgrades could well become a thing of the past. Fingers crossed.
I've had a chance to see and try out several VR apps on iMac Pro, using the HTC Vive headset and controls, and they all worked tremendously well. I've used the Vive previously on PCs, and while it remains to be seen how many and how well the game situation matures, everything from design applications like Gravity Sketch, to 360 video editing in Final Cut Pro, to fully immersive creative environments like Electronaught, all ran terrifically well.
Because of both the Xeon W and the Radeon Pro, neither CPU nor GPU proved to be a constraint and the developers managed to deliver seamless VR experiences right out of the gate.
It was also whisper quiet. I don't recall hearing the fans spin up even once, even under heavy load. Maybe they're just quiet enough that my conversations with Apple and developers were enough to mask them, and maybe I'd hear them in dead-silence if I pushed hard enough. But there's really no way to overstate how much power Apple had packed into iMac Pro while preventing the traditional fan noise that goes with it.
(Now if only Apple would make its own, similarly whisper quiet, eGPU enclosures!)
iMac Pro T2
MacBook Pro had a custom T1 chipset that handled Touch ID, Apple Pay, and offered a secure enclave to lock down not only those two features but things like FaceTime camera access and indicators. But, where T1 felt like an Apple Watch-style system-in-package (SIP), T2 feels more like an iPhone-style system-on-a-chip (SoC).
First and foremost, T2 unifies many of the disparate and discrete controllers Apple had previously been using on the Mac, including the system management controller (SMC), and audio and SSD controllers.
T2 also handles security and encryption. That includes cryptographically verifying the integrity of the entire startup process, from bootloader to firmware to kernel to extensions. You can disable it if you really want or need to, but otherwise it will make sure no one and nothing has tampered with your Mac, and it'll do it so fast you won't even notice it's there at all.
Thanks to a dedicated AES crypto engine, T2 also provides hardware encryption for the SSD storage. There's a unique key for each and every iMac Pro, and if you use FileVault, your own personal key to completely lock down your data as well. In real time. As you're reading and writing it. Which is ludicrously cool tech.
T2 even includes an image signal processor (ISP) for the new 1080p FaceTime camera, so you get auto exposure and white balance, face detection, and enhanced tonal mapping.
These are all features iOS has been benefiting from for years and it's great to see them, and more custom silicon, come to the Mac.
And the best part is — you don't even notice it's there. Not once in my weeks of working on the iMac Pro have I noticed anything even resembling slowdown, including anything attributable to ecrypt/decrypt. That's the best compliment I can give it. If you want to work on a Mac that's as secure as technology allows, without anything in the way of a performance hit, you want T2.
Two of the best features enabled by T1 on the MacBook Pro are Touch ID and, by extension, Apple Pay. When iMac Pro was announced, there was some hope we'd see a Touch ID-equipped Magic Keyboard to go with it. But we didn't. Then, when iPhone X and Face ID quickly eclipsed it, there was the briefest of hopes we'd see that instead. But we didn't either.
Caught in transition, too late for Touch ID and too early for Face ID, the debut iMac Pro instead focuses all its custom Apple silicon on security. And if any biometric conveniences are to come, they'll have to come in a future generation.
iMac Pro Memory & Storage
With great power comes... great memory. iMac Pro starts off with 32GB of 2666MHz DDR4 ECC memory but you can bump that up to 64GB or 128GB — twice as much as the standard iMac. Because the memory slots are positioned higher up on the back of the iMac Pro, you can't swap them out yourself if you want more later. But, you can take them to any Apple Store or authorized service center and have them swapped out and upgraded for you.
Unlike the standard iMac, there's no fusion drive option on iMac Pro. I love that. I understand what Apple was trying to do with fusion drive — bring together the speed of solid state with the capacity of platters — but once you go pure SSD on your MacBook Pro, fusion just feels slow on your iMac.
With iMac Pro you get 1TB of up to 2.8GB/s sequential read performance and up to 3.3GB/s sequential write performance to start with. Which is jaw-droppingly impressive. So much so, our resident iT writer, Anthony Casella, didn't believe the claim and spent a good half-hour in Terminal doing read/write tests only to walk away, shaking his head, picking his jaw up off the floor.
You can configure it up to 2TB or 4TB if you want more. You should think carefully about that, though. Unlike memory, you can't get the solid stage chips changed later, so you're stuck with what you buy — but only on the outside.
Thanks to Thunderbolt 3 and 10Gb Ethernet, you can hang additional solid state drives, RAID arrays, NAS, and SAN systems right off the back and transfer fast enough that you might not need all that much storage up front.
When I originally previewed the iMac Pro, I felt like 1 TB of storage is all I'd want inside and, for additional storage, external Thunderbolt 3 drives would be my go to. (That way, in the case of storage failures, wouldn't have to worry about trying to fix something locked inside the iMac — I'd simply have to swap out enclosures and backups.)
Having lived with 1 TB for several weeks, though, I now think 2 TB is the sweet spot. Even with Final Cut Pro X optimized media turned off, I'm still filling up the drive with 4K video much faster than I thought I would. And while I have 4 TB of external storage over USB-C (technically two 4 TB drives, mirrored), USB-C and HDD still isn't as fast as ThunderBolt 3 and SSD, but Thunderbolt 3 and SSD aren't nearly as ubiquitous or affordable as I would have hoped by now. And anytime I hit USB-C and HDD, hear those platters spin up, and watch those read/write speeds plummet, I get sad.
I would still get more external storage than internal, so that when they throw errors or fail, I only have to worry about fixing or swapping the disk, not taking my entire iMac in for repairs, but I'd double what I previously considered the minimum amount of "level 1" storage I have inside.
For now, I'm using two, mirrored LaCie 4 TB USB-C HDD drives because the Thunderbolt 3 SSD drives are still prohibitively expensive to stockpile.
I'll fill them up with VECTOR episodes, then get two more.
iMac Pro Input & Output
iMac Pro, unlike MacBook Pro, hasn't gone all-in on Thunderbolt 3 / USB-C. Instead, it's kept all the legacy ports of iMac and added the newer ports on top of them. Well, technically, beside them.
You've got four USB-A (USB 3) ports for all your external microphones, cameras, peripherals, and more. But then you've got four USB-C / Thunderbolt 3 ports as well for everything from double 5K displays or quadruple 4K displays, to multiple high-speed storage devices or eGPU. Those four ports are also split between two separate controllers, so each and every port gets full-on 40Gb/s throughput.
And, yeah, if you still need FireWire, Thunderbolt 2 / mini DisplayPort, HDMI, DVI, or VGA, you can use any of your old USB-A adapters or any of the new USB-C / Thunderbolt 3 dongles.
I'm using the Apple USB-C to Digital AV Multiport Adapter to get HDMI out to the HTC Vive. (Which makes me wish HDMI was built-in or Apple made a Thunderbolt 3 version just so I could stop worrying about any possible bandwidth limitations.)
There's a 3.5mm headset jack for wired headphones or audio gear, and an Ethernet port as well. That Ethernet port, though, is now 10Gb (NBASE-T on RJ45), so it'll automatically run at the highest speed the network allows — 1Gb, 2.5Gb, 5Gb, or 10Gb, based on the cable type and length, and switch type.
It can make network attached storage seem... almost local.
There's also a new, improved, 1080p FaceTime HD camera with a new, improved, microphone system that includes two on the front, one up top, and one on the back. Thanks to the image signal processor (ISP) in the T2 chip, you get a front-facing camera that captures almost as well — if not quite as easily moved around — as the one on an iPhone.
I've now done several episodes of MacBreak Weekly using the iMac Pro, with my Heil PR-40 microphone connected over XLR to a USBPre 3 interface, which connects over USB-A to iMac, and both the internal iMac FaceTime camera and a Logitech camera, also connected over USB-A. And it's been great.
I'm in the process of switching to a USB MixPre3, which has USB-C, which will let me connect dongle-free to the iMac Pro or MacBook Pro (and record locally to SD card) but the ability not to have to worry about any of that is terrific.
Speaking of SD cards, now that I'm filming YouTube videos with Panasonic GH5 cameras, the SD card slot on the iMac Pro is a terrific convenience. I have both a dongle and a hub I can use for it the MacBook Pro but of all the legacy I/O I miss, this is the one I miss most.
Because there's no fusion drive option on iMac Pro, there's no need to devote space to old-style hard drive platters, and so there's some extra room inside the enclosure. Like with iPad Pro, Apple has chosen to fill some of that space with bigger, much better sounding speakers.
Audiophiles will still want external speakers, I imagine, but after listening to them for a while, I don't think I will. From iPad Pro to iPhone 8 and iPhone X to iMac Pro, Apple has really upped its speaker game lately and it's really appreciated.
And yes, you can AirPlay right to HomePod from the iMac Pro if that's what you want to do as well.
iMac Pro Accessories
iMac Pro doesn't just come in space gray, it comes with space gray. That includes the new, extended version of Magic Keyboard with numeric pad, and the Magic Mouse. If you, like me, you're not a huge fan of the Magic Mouse or mouses in general, you can choose to replace it with the awesome Magic Trackpad — or get both.
You can't buy the space gray versions of the Magic accessories separately, at least not yet, which is a downer for people who own the space black MacBook Pro and would love them on their desks. It also remains to be seen how or if Apple will handle replacement space gray accessories for those who somehow lose or damage the ones they get at purchase.
The iMac Pro I'm testing only came with the Magic Keyboard and Magic Mouse. I don't like mouses in general and Apple mouses in particular — it's the loose thread on the company's design afghan — so I've been using my old silver Magic TrackPad, like an animal. Aesthetics aside, they mix and match fine. I do hope Apple starts selling them separately, though. Especially because it would make docking a space gray MacBook Pro more visually appealing and less of a stainless steel lugs on a black Apple Watch experience...
All that aside, the space gray Magic accessories are otherwise identical to their silver predecessors. They work wirelessly to keep down clutter, but instantly pair and recharge with the included Lightning to USB-A cable.
Which, for iMac Pro, is black. Down to the pins. Hot. Damn.
iMac Pro Pricing & Availability
The iMac Pro starts at $4999. That's the model I've been testing. Depending on the number of cores, the graphics card, memory, and storage options you choose, you can easily double that price — or more.
While that might sound expensive, you're getting state-of-the-art components at prices not dissimilar to that of similarly equipped DIY Windows boxes. And in some cases, less. (Don't take anyone's word for that — go spec out a Xeon W and Radeon Vega PC with ECC memory yourself.)
If we break it down into units of standard iMac, you're getting roughly 3x to 4x performance for roughly 3x to 4x the price.
iMac Pro Conclusion
The definition of pro has grown and expanded over the years. For people like me who become jubilant at the thought of not just power users but empowered users, and for a company like Apple that has single-act-of-willed the democratization of computing technology from Apple ][ to iPad, it's incredible to see.
Once upon a time, it was graphics and publishing, and then eventually video and sound professionals, that defined the category. Now, developers are by far the biggest group. (Over 60% of developers submitting projects to the online code repository, GitHub, are doing so on the Mac.) And there's a whole new wave and generation of multi-faceted, multi-media pros already on their way.
And many of these pros value the characteristics of iMac — the clutter-free design, the display, and the ultra-quiet way in which it runs.
It's that combination of power and experience that feels especially compelling. For developers, it might be the ability to run three iOS simulators at once, alongside multiple virtual machines covering a range of operating system and web and browser environments (with so many tabs!), and still having headroom to spare — essentially being all-in-one on your all-in-one — will no doubt be terrific for app and web devs alike. For people like me, it's simply the ability to keep all the apps running at once without having to ever think or worry about closing some to open up resources for others.
But it also raises some important and highly individualized questions. Should you get a standard iMac and save yourself some money? Should you wait and see if a next-generation version with Face ID or the upcoming modular Mac Pro with its new pro display will even better suit your needs?
Here's how you answer that: Do you prefer the all-in-one to the tower, and would you benefit right now from all the power iMac Pro? You never know what the future will bring or how long it will take to get here. All you can do it make the best decision possible when it comes to what's right in front of you.
If a regular iMac is enough or if you want or need a desktop you can fuss with for years to come, then there's no point in buying the hot new machine just because it's hot and new.
If, right now, an iMac Pro would let you get more work done faster and pay for itself in time saved and money earned and Thunderbolt 3, external storage, and eGPU eliminates any upgrade concerns you might have — or if you have the cash to spare and you just want that space gray beauty of a beast on your desk — get it and enjoy the hell out of it.
For me, the 8-Core iMac Pro has been more than good enough to edit every episode of Vector while also running a ton of other apps to do everything else I do every day. Given how fast and convenient the internal storage is, I'd bump that up to 10 TB, and because Steam VR still isn't as slick as it needs to be on the Vega Pro 56, I'd think hard about going to the 64.
But after several weeks on the worst iMac Pro Apple currently makes, I haven't just survived. I've thrived. And at $4999 — and space gray! — that's a great point of entry to a workstation-class Mac with a 5K display.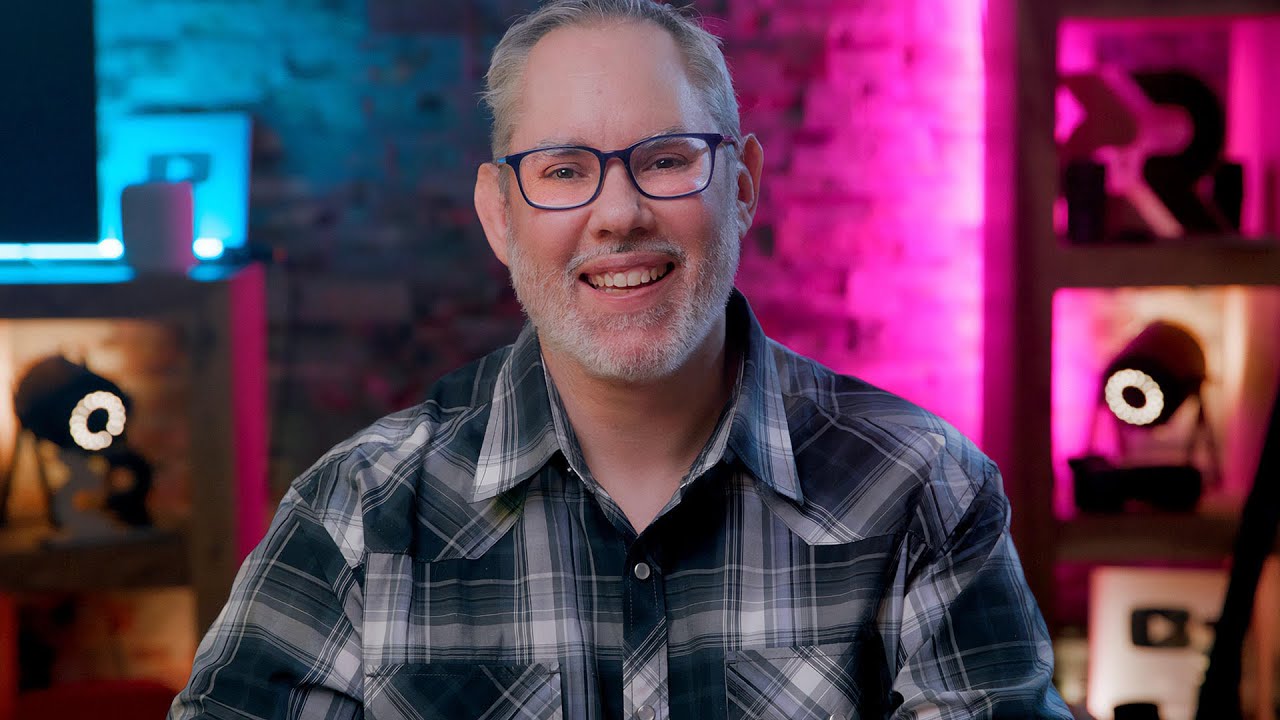 Rene Ritchie is one of the most respected Apple analysts in the business, reaching a combined audience of over 40 million readers a month. His YouTube channel, Vector, has over 90 thousand subscribers and 14 million views and his podcasts, including Debug, have been downloaded over 20 million times. He also regularly co-hosts MacBreak Weekly for the TWiT network and co-hosted CES Live! and Talk Mobile. Based in Montreal, Rene is a former director of product marketing, web developer, and graphic designer. He's authored several books and appeared on numerous television and radio segments to discuss Apple and the technology industry. When not working, he likes to cook, grapple, and spend time with his friends and family.