iMore Editors' Choice: Temple Run, Actions, HealthyOut, and more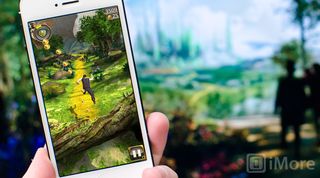 Every week, the editors and writers at iMore carefully select some of our favorite, most useful, most extraordinary apps, accessories, gadgets, and websites. This week's selections include a fun game, an app that lets you control you Mac with actions, a TV app for those in the UK, an app to help you make healthy choices when eating out, and a fun music app.
I love keyboard hotkeys. I always use keyboard shortcuts to complete tasks whenever I can. Using Alfred on my Mac, I've set up several hotkeys to open applications. Actions is an app that takes the principle of keyboard shortcuts to the next level: one button. Connecting to a Mac or Windows PC via the free Actions Server, Actions allows you to press one button to complete an action within an app. For instance, in Tweetbot for Mac, to view a conversation based on the highlighted tweet, I would press Shift-Command-C. With Actions, I simply tap the "View Conversation" button, and I'm done. Actions comes with several presets already installed for a number of Mac applications, but you can create custom actions as well. Actions is a great app, and available on the App Store for $3.99.
This week I have selected an app for UK readers which allows you to stream all of the free to air channels on your iPhone, iPad or iPod touch. TVCatchup is a free app and all you need to do load it up, it will check your location and then deliver a list of channels available to you. Because it uses location services, it will not work outside of the UK.
Once you have it setup, you will then see a long list of channels that are available to watch and that includes all of the BBC TV free to air channels as well as ITV, Channel 4 and Channel 5. There is a huge list of channels and if you are in the UK it is a great app to have on your iPhone to catch a bit of news or stream a football match when you are out and about . The channels can be streamed over WiFi and over the 3G network although you do have to toggle the option for 3G to on in the settings.
If you want to watch free to air TV when you are out and about, the TVCatchup app has you covered and it's free. Be prepared for a few seconds of adverts before each channel's stream starts; it's not too bad though!
If you're a fan of Temple Run, the delightfully fun game where you jump, slide, dodge, and avoid obstacles, you'll definitely enjoy Temple Run: Oz. I've been waiting for The Great and Powerful Oz to come out in theaters and this game has kept my attention for the time being until I can get to the theatre. Heck, I'll probably keep playing it after.
Just like the traditional Temple Run game, there's not much to learn and it's one of those pick up and play games that many people search for. Complete with flying baboons, flowers that attack, hot air balloons, and more, Temple Run: Oz is a must-have for any Temple Run or Wizard of Oz fan.
Oh, it's also a universal download for iPhone and iPad, bonus!
Ambify - Rene Ritchie
My family gave me a Phillip's Hue starter pack for Christmas that included the base station and 3 bulbs. I've bout a bunch more bulbs since then. And every day, when I take out my iPhone or iPad, tap on the Hue app, and set my kitchen, living room, or hallway to Tatooine sunset, Arakis dawn, Abyss tranquility, or some other custom combo, I delight a little.
Ambify takes that to the next level. Instead of set-in-and-forget-it, Ambify samples your music and dynamically changes your Hue lighting's color and intensity. It makes your walls dance. It makes your room party.
It's not perfect. Hue's not perfect. But it's another one of those little glimpses at the future, at homes one day controlled entirely by our whims, at our convenience. And I love it.
If you have a set of Hue lights, check out Ambify.
I gave birth to a baby 7 weeks ago and now it's time for me to get serious about losing the weight I lost which means that in addition to fitness, I need to watch what I eat. We don't eat out often, but when we do, I want to make a healthy choice, so I turn to HealthyOut for iPhone. Not only does it list good restaurants, but also actual dishes. With each dish, HealthyOut includes a photo, description, and nutritional information. Since I can't always cook a healthy home at home, I love that HealthyOut gives me some other acceptable options away from home.
Year Walk - Simon Sage
You wouldn't expect the guys that made the light-hearted, rhythm-based platform romp Sneak Beat Bandit to produce a plodding, dark puzzle game, but here we are with Year Walk. Players navigate a forest with full of hidden creatures and mysteries while embarking on a special kind of Nordic pilgrimage. Players walk through a snow-laden forest with simple up and down gestures which create really imaginative transitions between areas. The art style has this watercolored cardboard feel to it, with the occasional 3D object tossed in just to mix things up. If you're looking for something spooky and slow-paced, definitely pick up Year Walk.
LEGO City Spotlight Robbery - Chris Parsons
Alright, so this is more of a pick from my son rather than myself but given that he is almost 9 yrs old now, I often look to him and what games he plays as suggestions for others. That brings us to LEGO City Spotlight Robbery that tells the story of a daring midnight robbery of the LEGO City Museum. Kids will be entertained by the missions within the game that are mostly of the 'find and collect' nature but done so in the always entertaining LEGO way.
Aside from that, the more kids explore the areas and levels the more they can find and unlock plus, there is a few hidden goodies in the game that help keep it entertaining. If you're looking for a game for kids to enjoy in the living room or a car ride, this is certainly a good one to have them try out. As a sidenote, this isn't the only LEGO game offered either. They've been adding smaller titles more recently and each of them are just as entertaining.
Your choice?
Now that we've chosen our favorites for the week, we want to hear yours! Did you pick up a killer app, accessory, or game this week? Let us know in the comments below!
Get more iMore in your inbox!
Our news, reviews, opinions, and easy to follow guides can turn any iPhone owner into an Apple aficionado
Former app and photography editor at iMore, Leanna has since moved on to other endeavors. Mother, wife, mathamagician, even though she no longer writes for iMore you can still follow her on Twitter @llofte.