Inbox Cube for iPhone makes email visual, helps you spend less time looking for attachments and files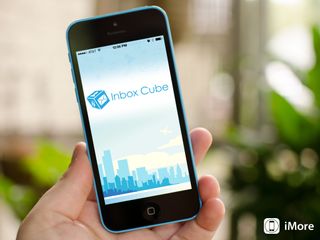 Inbox Cube is a new email client for iPhone that aims to make email more of a visual experience than a plain text one. While you have classic email views that show the inboxes we've all grown accustomed to, you can also view and sort all your attachments and files to find what you need by looking, not reading.
As of now, Inbox Cube supports Gmail, iCloud, Yahoo and AOL mail. Once you've configured your email accounts, you're taken to the main email view of Inbox Cube. This view is the traditional email inbox that we've all become accustomed to. The other views are the ones that make Inbox Cube unique from other mail clients.
The main two are attachments and contacts. Attachments feeds in all attachments in image form. You can sort them by type at the top in order to narrow results. The contacts tab smartly picks out who you contact via email the most. You can also view all contacts or add contacts to your favorites within Inbox Cube. To add a favorite, just hold your finger down on a contact to bring up the menu.
When it comes to the attachments section of Inbox Cube, the first time you search, it can take a significant amount of time to find and load all your attachments so I'd highly suggest doing it over a WiFi network. I'm an email hoarder and pretty much archive almost everything instead of throwing it away. If it isn't in archive, it's filed away in a folder somewhere. If you've got less of an issue saving emails, Inbox Cube won't take as long to load and sort all your attachments.
To interact with mail in the traditional view of Inbox Cube, slide your finger to the left over any message to bring up the action menu. Here you can reply, forward, start, delete, or move the message to any folder of your choosing. The one thing I can't get used to with Inbox Cube is that there isn't a unified inbox and for some people that manage a lot of inboxes, that could be a deal breaker.
The good
Interface is great and easy to navigate throughout
Attachments view is extremely useful for finding files quickly
Native push notifications
Smart contacts section makes it easy to pick out the people you email most
The bad
No unified inbox
The favorite contacts section is a little awkward, I would personally just prefer rows with three contacts each in alphabetical order and the current layout makes me feel like I'm scrolling more than I should need to
Loading attachments initially can take quite a long time
The bottom line
If you send and receive a lot of attachments, Inbox Cube can help you find them fast, no matter where they're filed away. Inbox Cube may not be a complete email powerhouse but it's definitely a different experience than what most of us are used to, and for some, that could be a refreshing change. No unified inbox support could be a deal breaker for those that have a lot of accounts to manage though.
If you happen to check out Inbox Cube, let us know your thoughts in the comments!
Get the best of iMore in in your inbox, every day!
iMore senior editor from 2011 to 2015.
This is a great app that I'll definitely be downloading. I use the default email app several times a day and do find it some what difficult to find what I'm looking for. So if this app will make an everyday task easier I'm all for it. Great review! Sent from the iMore App

great write up. so u point out that supports gmail, yahoo etc... so i have 2 pop3 accounts within gmail...those should show up too? or only the gmail account itself? much thanks.
ck

well the receiving is ok...but the reply seems to always be from gmail without the option to select one of the pop3 accounts....it seems like a nice app overall so far tho and i'll likely use it.

If you need to send as an alias in gmail the official gmail app or Boxer are the only 2 I personally know will work. Boxer has been pretty great other than a few minor issues. Sent from the iMore App

Does boxer still try to make you spam your friends when you use it? I gave up a few updates ago and haven't looked back.

Great review. I'm still looking for that perfect email client that supports both Yahoo and Gmail and will suit my needs. So I'm gonna give this one a try. The contacts view seems nice although I don't think that it will still look pretty if most of your contacts doesn't have their profile picture saved. Sent from the iMore App

Thanks, just downloaded it, very nice indeed Sent from the iMore App

This is great! Thanks for the review. I wish all of the calendars app would just get together and make one great app. I can't buy an app with one nice feature, it's just not worth it. Sent from the iMore App

Tried this...Molto is MUCH better!

Great app. I love the interface and ease of use. Unfortunately I won't be able to use this until it combines multiple inboxes into one, like the default mail app for iOS. I dislike having to switch back and forth between inboxes. If I only had one email account I would definitely use this as my primary email app. Sent from the iMore App

Under The Bad heading, how about the fact that they don't support plain old, *standards-based* IMAP accounts? Many of us have our own domain names and use email providers other than the big 4. Sent from the iMore App

Hi there! I'm with a company that's helping Inbox Cube out on the launch. I'm fairly positive that other IMAP accounts are supported. When asked to select an email provider, choosing "more..." and then "Other" looks to allow custom IMAP. I'm not personally able to test this out, but if you have any more questions, the development team is taking questions at @inboxcube on Twitter. Thanks!

Has anyone tried "Hop"? Originally named Ping? Sent from the iMore App

Yes I tried it and was very disappointed with it. I like Inbox Cube and Boxer the best of all the ones I've tried. I love Boxer's use of pictures from FaceBook, contacts, and email to show who is writing you. I love Inbox Cube's ability to easily swipe through emails and send them to their destinations. I wish I could combine both into one! haha

The app looks and feels great, but could use a less "dated" notification sound (an even better option would be to allow user-set sounds) -- and for Gmail users, it's great to get push back without resorting to Google's app. But like your review mentions, as a multiple-account user, I can't consider switching to it until it adds a universal inbox -- although I will admit, account switching in Inbox Cube is MUCH faster and requires fewer taps than in the Gmail app.
Thank you for signing up to iMore. You will receive a verification email shortly.
There was a problem. Please refresh the page and try again.