Inky Mail for iPhone and iPad review: A unique approach to tackling mail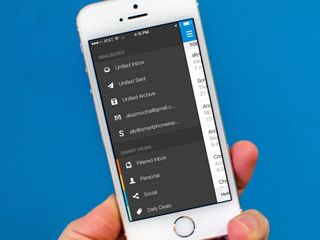 Inky Mail is a new alternative mail app for both iPhone and iPad that can help you quickly triage and get your inboxes under control. Even though Inky is new to iOS, it's been available on the Mac for quite some time. I even named it one of the best alternative Mac mail apps currently available. The thing that makes Inky so unique is not only how it sorts your mail, but how it can sort what messages are actually relevant and important to you.
The first thing you'll notice when you launch Inky on either Mac or iOS are the Smart Views. These are areas that you can use to collect different kinds of messages. The most significant of these views is the filtered inbox. This keeps all the noise and distractions away. Essentially it'll filter out any kind of newsletters, social invites, and other kinds of noise that can distract you from getting things done. In my experience, the filtered inbox works rather well. It occasionally filters something out it shouldn't, but those occurrences are few and far between. As for the rest of the Smart Views, if there is a particular one you don't want to use, you can disable it in settings.
Sorting items in Inky can be done in several ways. My favorite sort option is relevance. Over time Inky can gauge what messages are extra important to you and what ones are not. If Inky ever gets something wrong, you can correct it and it should remember your preferences. Relevance is shown on all inbox views with a water droplet. The darker blue it is, the more relevant Inky things that message thread is to you.
If you use a different mail app on your Mac or need to grab something inside a folder or label, you can easily access all your folders with Inky. For some people, not being able to easily access old folders in alternative Mail apps such as Mailbox can be a deal breaker. We've all come across a time or two that we need to dig for an older message. At times like this, you can just drill down to folders like you used to in Inky, no need to switch to the built-in Mail app anymore.
Inky also features a one click reply feature that lets you easily reply to similar emails with a boiler plater response. You can pick from a handful of already made responses or you can create your own. Anyone that spends a lot of time answering similar emails will appreciate this feature.
I did experience a few issues with Inky on iOS and my biggest one is that there is currently no contact sync. This means Inky can't look at your contacts in order to pull them in, it simply advises you to do this from your computer. It's been one of my biggest pain points with Inky and one of the things that keeps me from wanting to use it on a regular basis.
The good
Great interface that's easy to use and navigate around
Smart Views and the filtered inbox to a great job at triaging cluttered inboxes
Support for Gmail, iCloud, Yahoo! Mail, Outlook.com, IMAP or POP servers — Inky can even pull Google apps accounts with no manual setup needed on your part
Zero setup system lets you create an Inky account and only add your accounts once, after that just sign in on a new device and all your stuff is right as you left it
Real time package tracking information via Smart Views
Cloud storage support via Dropbox
The bad
I found a weird UI bug in the compose screen where the from address field kept hiding and unhiding while typing, hopefully that'll be fixed soon
No contact syncing on iPhone and iPad
Push notifications were a bit sketchy for me and didn't work 100% of the time
The bottom line
Inky Mail takes a uniquely awesome approach at helping you triage and tackle your inboxes. Smart Views work wonderfully and integrated cloud storage with Dropbox make it a decently well-rounded option. I hope the intermittent push issues I'm experiencing get worked out as that's currently a deal breaker for me when it comes to as using Inky Mail on a regular basis. Regardless, I'm excited to see what the future holds for Inky Mail as it's off to a great start on iOS.
If you try out Inky Mail on iPhone or iPad, be sure to let me know your initial impressions in the comments!
Master your iPhone in minutes
iMore offers spot-on advice and guidance from our team of experts, with decades of Apple device experience to lean on. Learn more with iMore!
iMore senior editor from 2011 to 2015.