Instagram for iOS update adds long-awaited Dark Mode support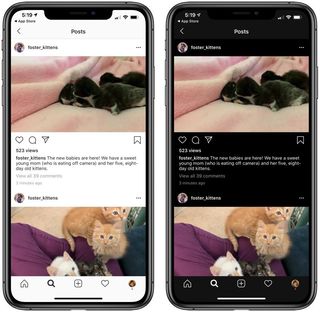 What you need to know
Instagram has added dark mode support for its iOS app.
The new interface turns the whole app dark making it much easier to use in dim settings.
The update is now rolling out to iOS 13 users.
We yearned for the day and it has finally arrived: Instagram for iOS now offers a dark mode. Instagram quietly rolled out the update today giving users a fully dark user interface to match the system-wide version.
Questions lingered as to whether Instagram was going to offer a dark mode with the release of iOS 13. As just about every app added support, Instagram remained one of the last hold outs—until today.
The update turns the entire Instagram interface dark including the feed, stories and the discover tab. It looks a bit odd a first, but it quickly grows on you. It'll make scrolling through your feed in the middle of the night much easier.
Instagram's new dark mode will also work with iOS 13's automatic system-wide Dark Mode. When your phone goes dark, so too will the popular social media app.
The Instagram update is now rolling out to users. If you haven't received it yet, go into the App Store (opens in new tab) and select the Instagram app to see if the update is available.
So a few things:
- I prefer the dark grey black-mode to the really black mode Instagram went with here. - Apps need to use a different approach to Dark Mode. There should always be 3 options:
(1) Light
(2) Dark
(3) change with OS mode. It seems just about all apps only have option 3 unfortunately. There are some apps I don't want to be dark even if I prefer iOS dark mode overall. The opposite is true I would be as well.

Some people prefer full-black, some people prefer a dark grey, it's nice to have those two options as well. For me full-black looks really nice on an OLED display, the new Weather Line app got this right and offers both a full-black and dark grey theme
Thank you for signing up to iMore. You will receive a verification email shortly.
There was a problem. Please refresh the page and try again.