Instagram for Android vs. Instagram for iPhone: Can you see the difference?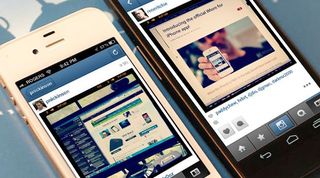 Instagram's developers hinted their new Android app might be better than their existing iPhone app. So is it, and if so, how?
While over 15 Million iPhone users have enjoyed the social photo sharing app, Instagram, for quite some time, just today Instagram for Android hit the Google Play Store. Over 430,000 Android users had registered to be notified about the app's release, and the developers even hinted it might back a few features iPhone users were without. So does it?
First off, a few tabs look a little different between the Android and iPhone versions of Instagram, and the layout has been adopted to fit the Android screen format, but noticeably missing are the tilt shift and circle blur options. Some social features are missing as well, namely Flickr and Posterous.
There has been some reports of the Android version being slower than that of the iPhone version but, realistically that all depends on which Android device and which version of the Android OS it's being run on. For what it's worth, Instagram on Android is optimized to run best on Google's Android 4.0 Ice Cream Sandwich builds, but it will run on anything Android 2.2 and above, though results may vary. Although there have been some compatibility problems, Instagram for Android has already been updated to address a few of them, though not the HTC One X.
Overall, the Instagram team did a great job of keeping mostly everything intact for their new found Android base and it will no doubt, become one of the top download in the Google Play Store despite the fact that Google and various other Android OEM's have been adding built-in filtering options to the Android camera application for quite some time now.
So what exactly were/are those features that would make the Android version of Instagram better than the iPhone version? No idea. The feature that makes both versions better is finally having a bigger device footprint for instapaper -- iPhone and Android users can share and like and comment on way more photos by way more mobile photographers than ever before. And that's a win for both platforms!
Editor-at-Large at Mobile Nations, gadget junkie, energy drinker, ranter.
Last paragraph mentions "bigger device footprint for instapaper." Typo? There's a lot of "insta-" apps today, and I have three on my iPhone's home screen (Instapaper, Instagram, Instacast). It's the new lowercase i prefix.

The removal of Flickr and Posterous from the Android app would perfect sense - IF the app had the standard share icon to share the photo on to other installed apps.
Shame sharing is missing.

Well the comment I heard about the android version is that you don't have to be in Instagram to upload to instagram. You are able to unlock and go directly into the camera app and if you want, you are able to share via android Share function to Instagram.

This is true. You can use your native camera app or any other camera/filter app you want to take the photos and directly through the gallery you can share via instagram along with virtually every other media you can possibly desire.
I have found a feature in instagram for android though that will let you turn off the instagram camera in the app and replace it with your ICS or gingerbread camera. This gives you features like white balance, ISO, exposure and much more directly in instagram. On iOS you can't do this, it gives you nothing but a shutter button.

when is it coming to Wp7 devices??
instagram will look just great on the new nokia lumnia 900!!!

what's that BB icon on the iPhone ?

I've just uploaded my review check it out to see what all the hype is about. I was only semi impressed, time will tell if the social side of it will take off with Android users. Personally I'd prefer to use Eye'em.http://www.youtube.com/watch?v=R_1H-TjI50E

You are in point of fact a just right webmaster. The website loading velocity is amazing. It sort of feels that you are doing any distinctive trick. Also, The contents are masterpiece. you have done a fantastic job on this matter!

I have been using Camera 360 for my photos and Instagram to upload them, I will say that I'm not as impressed with Instagram as all the hype leads it to be but I will say that the combination of these two programs is very formidable.

Ok so I am thinking about removing my site from Tumbler and get it to a WordPress blog. I believe this is a wordpress site right? If it is, may I ask where you got the theme? Thanks a bunch!

Hi there, You have done a great job. I'll certainly digg it and individually suggest to my friends. I'm sure they will be benefited from this site.

Workshop I use has a 1930 similar to this and the scary thing is the brakes. Mechanical Rod Brakes and were the trailers braked ??

I'm wondering if my cat would leave it alone...?

I have a IPhone 4S Which is Not Carrier Unlocked, It is a UK Model so its not AT&T but Is Vodafone Locked, I don't have the Sim for it and I get the error Please Insert a Valid Sim. If I try to Jailbreak it using GreenPoison's Absinthe it is Stuck on Beginning Jailbreak,This may take a while from the past 15 mins, any suggestions??

Hey there, You've done an excellent job. I'll definitely digg it and for my part recommend to my friends. I am sure they'll be benefited from this website.

Hi i got here more informations about Instagram I Like your post very much.Share more informations!! <a href="http://www.socialbuilders.net/">real instagram followers</a>
Thank you for signing up to iMore. You will receive a verification email shortly.
There was a problem. Please refresh the page and try again.