Instagram introduces Lux, a new way to enhance your photos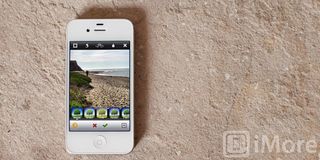 Instagram, the wildly popular photo filtering and social sharing app for iPhone, has been updated with a new enhancement feature called Lux. With a tap of a button, Lux will apply an HDR (High Dynamic Range)-like effect to your photo that lightens shadows, darkens highlights and increases contrast. It does a phenomenal job.
Apple included an enhancement feature in the iOS 5 Photos app, but it's mediocre at best. The problem with Apple's version is that it's supposed to fix all types of photos, but Lux focuses specifically on one issue and does it well. Lux is best used on landscapes that have areas that are too dark and too light -- photos that you should've probably taken with HDR turned on, but didn't, and now need to fix. Here's an example of Lux on a photo of train tracks that I took.
In addition to Lux, Instagram has also added a new filter called "Sierra", which frames and lightens a picture, and they've refreshed the look of the app in general, and the icons on the tab bar as well.
If you've taken any great shots with the new Lux enhancement or Sierra filter, share them in our Photography Forum -- we'd love to see them!
Free - Download Now
(opens in new tab)
Former app and photography editor at iMore, Leanna has since moved on to other endeavors. Mother, wife, mathamagician, even though she no longer writes for iMore you can still follow her on Twitter @llofte.
Thanks for the tip Leanna!

Lux really is great! I was surprised at how well it works.

Interesting UI refresh. The iconography is chunky but not terrible, but they didn't do much for the user experience.

Leanna, that is the best pic I've seen lux work for, maybe I'm just not as good at taking/editing lulz

Nice little update! Although I'd like to see more than just one new filter...but Lux works fantastically!

So far I've had good results using Lux on everything besides portrait shots, which does not yield good results at all.

i love instagram, but it crashed like 7/10 times when i wanna take a pic with the app on my 4s..

Cool, I have a photo in Instagram on those same train tracks.http://distillery.s3.amazonaws.com/media/2011/08/18/29dd30a4e53e46e0b4df...
Thank you for signing up to iMore. You will receive a verification email shortly.
There was a problem. Please refresh the page and try again.