Introducing the Mobile Nations Newsroom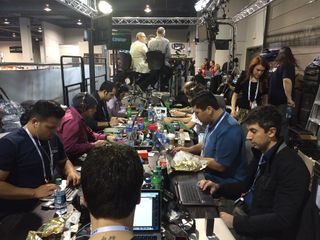 I'm excited to introduce you to a new initiative we'll be piloting on Android Central, iMore, Windows Phone Central, CrackBerry, and Smartwatch Fans this April.
Internally we've dubbed it Mobile Nations Newsroom and it represents a change to our organizational structure and workflow designed to provide you, our readers, with a better experience. The goal of Newsroom is to get you the latest news faster while doing it better, and while also allowing our talented team of writers to spend more of their day working on the original content that we know you all love.
Newsroom: What it is and why we're doing it
Newsroom is meant to operate 24/7 throughout the year, standing as the front-line "news desk" for all of the Mobile Nations communities. It is a dedicated team that is looking out for the latest news and making sure it is published more quickly and accurately than ever — across the Mobile Nations network.
This is a big change from how we used to operate. Each of our sites was essentially running their own separate news operation. Over the past few years we have significantly expanded our staff to better handle the ever increasing load of news, editorials, how-tos, and reviews that you're looking for. But with that larger staff we were still duplicating efforts on the news. We let the news dictate the pace of how we operated, and there were still gaps in our coverage.
Newsroom: Because you told us to.
Earlier this year you might recall the reader survey that we ran on our sites. When it came to news, we heard the same thing across the network: you wanted to see us be faster. In this day and age, there's little loyalty when it comes to news. We know that you love our editorial and review content, but when it comes to news, there are plenty of accurate sources to which to turn. But, like any reader, we know you'd also prefer to get your news and editorial in one place. It's just easier that way.
Over the past few years we took the approach that it was OK to be a little slower when reporting the news — it gave us time to add our insights, opinions, and analysis to those news pieces. But since then things have changed rapidly, and become rapid. All you have to do is watch Twitter and click on whichever news story link pops up first. We'll be honest — we want you to read that story on our sites. And if you've already read it elsewhere because they posted it faster, then we've failed you.
In that same survey, you also told us that you love our original content. News is news is news. The things that we do beyond the news — the things that nobody else does — are what make our sites and communities the best there are. That's what you love the most.
We want to satisfy both of those desires: faster news and more and better original content. We believe that Newsroom will be the solution. With a dedicated team responsible for news around the clock, the rest of our staff will be freed from being a slave to the news cycle and be able to offer their undivided attention to our reviews, editorials, help and how-to content, and everything else that you love about Mobile Nations.
Newsroom: What you should expect to change
The implementation of Newsroom is going to change how some things work at Mobile Nations. These changes will be for the better — it's going to enable us to bring you better news and better editorial coverage. And more of it.
Derek Kessler, our dear managing editor, is heading up this whole Newsroom project. With Derek at the helm you just know this is going to be an awesome thing.
Newsroom: News becomes a one-two punch!
Expect to see more follow-up opinion and analysis pieces when meaningful news hits. In a Mobile Nations Newsroom world, much of the news posts that are published will be brief. It won't be just straight news — we'll still have the character and perspective that we always have brought to the news — but we also won't be burdening our news stories with rushed editorial content either. When the news hits, we'll be getting it up quickly and accurately to give you the place that you wanted to discuss it.
When important news hits, news that's in need of analysis or opinion, we'll take the time to do a proper and separate follow-up piece about what this news really means. By decoupling the news from the opinion, we can get the news done faster and take our time to do the opinion justice. We like to think that the Newsroom process will be a one-two punch: the news gets out fast and hard with a quick jab, followed by a knock-out editorial punch.
Expect to see some different names in the bylines when it comes to news. Newsroom is leveraging writers from across the Mobile Nations network to help ensure continuous and effective news coverage. We are one team. So yes, you might see a news post go up on iMore with the illustrious Android Central-loving Alex Dobie as the author, and you might just see Rich Edmonds of Windows Phone Central writing news on CrackBerry.
A beneficial side effect: to be effective news writers for all platforms, we're going to have to broaden our knowledge base beyond just being platform enthusiasts.
That's not to say that our platform-specific enthusiasm and expertise is going to dry up. Newsroom will actually help to enhance our ability to report accurately and candidly on the state of mobile,
Newsroom: More news! (and more original content!)
The way that we've run our sites up to this point has included a glaring point of inefficiency: we're engaging in massive duplicative efforts. Not only did we have separate news teams for each site, but typically all of our writers were simultaneously writing their editorial content while also watching the news. Across multiple sites we were wasting time and resources.
This was especially evident when we were covering general mobile news. Take for instance a new data plan from AT&T. That post would be written four different times by four different writers on our four smartphone-focused sites. There's nothing unique about a new data plan between CrackBerry or Windows Phone Central, yet we still wrote separate posts.
With Newsroom that will no longer be the case. You can expect to see more industry news hit across all of the Mobile Nations sites. We've built a suite of tools that will help us do this faster and better than before, all to serve you better. If you're a reader of all our sites, that might mean that you'll see the same post show up on multiple sites, but they'll still have separate commenters leading unique platform discussions.
This helps us do the news faster, but it also frees up time across the network. Those that aren't working on the news can spend more of their time working on original content.
Newsroom: What won't change
"But I like Mobile Nations the way it is!" We hear you. Newsroom is going to change some things, but the stuff that really makes Mobile Nations great isn't going to change. Actually, it is. Newsroom will let us spend more time on our communities and original content.
Newsroom is structured in such a way that there will always be somebody on-hand with platform expertise to write the news when needed. So you needn't worry about some interloper from another site getting things all wrong — we'll be working together and using each other's platform expertise to continue bringing you the best news we can.
If you're concerned that this commingling of writers from the different sites is somehow going to affect the passion for the platform each site covers individually, don't be. Newsroom posts are news, and just news. Posts from Newsroom will be matters of fact, timely, and accurate. Newsroom's role is to relay the news, not comment on it. Our passionate editorials on the news will continue, in fact we'll be able to be more effective at it now.
Newsroom: So, you think you've got the chops?
With the introduction of Mobile Nations Newsroom we're also expanding our team. We're looking for dedicated news writers, people who can help us better cover the wee hours and weekends and restore a bit of that personal flexibility that we're giving up in launching Newsroom.
So if you've always wanted to get a foot in the door writing about the latest in technology as a junior news reporter for Mobile Nations, if you you've got the chops, experience, and time to dedicate, this is your chance.
News writers with a solid foundation in mobile technology. It's okay to be an expert on one platform, but you should have a strong base of knowledge on all major platforms.
We're looking for writers across the globe. While we welcome writers in all time zones, we are especially interested in expanding our coverage during the daytime hours in Asia and Europe. That doesn't mean you have to be living in those areas — if you live in the Western Hemisphere and want to work nights, we're cool with that. If you live in Spain or Japan but can write English fluently, we're likewise cool!
You must be able to quickly and accurately write a concise post that relays the news of the day, though it should be obvious by this point that speed, accuracy, and succinctness are important qualities for a Newsroom writer.
If this describes and appeals to you, drop Derek Kessler a note at derek@mobilenations.com and we'll explore the next steps together.
That's a lot of explanation for the how and why we're launching Mobile Nations Newsroom. We feel that this is an important and fundamental change to the way that we operate, and our hope is that it will better help us serve you.
With that explanation out of the way, it's time to assemble the news team and get started. We're ramping up in April, and we expect that there will be some kinks to work out. So we'll thank you in advance for your patience and understanding as we work to build a better Mobile Nations experience. Also, thank you for your honest assessments of our coverage that has helped set us down this path.
We strive to always be improving what we offer to both our regular readers and new visitors that land on our sites. We feel that Newsroom will be a big step down that path.
Get the best of iMore in your inbox, every day!
Hey, you know what... I would have never thought up an idea like this, but it makes huge amount of sense. Personally, I've always leaned towards being a "jack of all trades" rather then being a "master of my craft". I can see this being great for cross-training knowledge and can only be a benefit to the entire team. Looking forward to the Mobile Nations Newsroom. And for what it's worth, I will check other sites for news and information and reviews, but until I see it covered by Mobile Nations -- I won't fully trust it.

Thanks for the great comment! We actually started brainstorming this idea a couple years ago, but at the time our teams were just too small. We wouldn't have been able to do the around-the-clock coverage with enough platform expertise on each shift. After a couple busy years though, we've grown to a point where we can pull it off and think the benefits are huge for everyone.

Trying to decide if this story is calendar-based (and a day early). :)

Lol. Well, Newsroom is officially in motion as of today.. the 31st. So we posted this today, though really, it would have been ice if today was April 1st. Though then you may have thought it was an April Fool's joke, so best get it up today even though April really is the ramp up month. :)

Kevin I read every single word of this article and I think it is just the shot in the arm Mobile Nations and also being an Ambassador at iMore, The first one they had I just wrote an email to James Which I would very much encourage you to ask him about because i think it might align up with what you are launching here and have gotten some very good thoughts from others about out, I would very much thank you for asking James as I just emailed it to him over the weekend. Thank you and great idea Kevin. Jan

Sounds great! I usually check 3 sites at a time (in this order): 9to5Mac, MacRumors, and iMore. I prefer iMore but I know not much is going to change in the few minutes it takes me to make my way here. In large part because you don't cover renders and leaks nearly as much as some of the other sites (which could be considered a good thing). I've seen several of my suggestions implemented so far, it's to see you being so responsive to the results of the survey! We definitely appreciate it.

Just what the doctor ordered! Much needed because you were indeed slow with news, and I prefer to get it here because it's always the first place I stop before my Zite feed. Thanks! And because I trust you more than others.

Great to hear. Looking forward to it landing soon. Right now I basically go to in this order iMore first, then Appleinsider and Cnet. So with iMore covering more news I'll probably kick Cnet to the curb. Use to hit a lot more sites but so much bull out there now. Especially with the crap that targets Apple posing as news these days glad I can get more accurate news from you guys. Keep up the great work Mobile Nations. Shout out to Derek Kessler( missing webOS dude). Sent from the iMore App

Small? Sent from the iMore App