iOS 8 kills iPhoto and forces a messy transition to Photos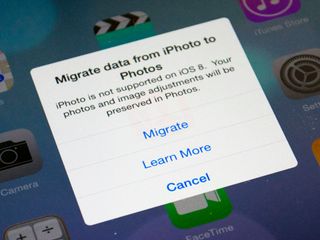 One consequence of upgrading to iOS 8: You're no longer going to be able to use the iOS version of iPhoto. From here on out you're supposed to use Photos. What's worse, it may be a very painful transition if you invested in some of iPhoto's features. Read on for details.
It's an ex-parrot
Apple's made no secret of its intent to move away from iPhoto. The company announced at WWDC this past June that iPhoto and Aperture are being discontinued on the Mac in favor of a Mac version of it Photos app, which is due in early 2015. Still, iPhoto on the Mac will still work when OS X Yosemite is released — Apple has pledged to keep it running at least through OS X 10.10.
By comparison, upgrading to iOS 8 is the end of the line for iPhoto on iOS altogether. Trying to launch the application after upgrading your device with iOS 8 simply produces an error message: "iPhoto is not supported on iOS 8. Your photos and image adjustments will be preserved in Photos."
You're allowed to migrate your iPhoto library to Photos or cancel, but using iPhoto under iOS 8 simply doesn't work.
Potentially painful transition
Photos in iOS 8 includes new editing tools that were clearly inspired by much of iPhoto's functionality, but the transition isn't seamless. If you used iPhoto to create Photo Books, Web Journals and Slideshows, for example, they're converted into regular albums in Photos. The text and the layouts from those projects is out the window.
Apple has detailed the move in a support note posted to their web site.
Migrating your iPhoto library adds any photos that aren't already in Photos, and image adjustments made in iPhoto are included. What's more, iPhoto image adjustments made to photos synced from iTunes will be retained, after a fashion: A duplicate of each photo is made in Photos, with adjustments applied. There are some other gotchas, too, outlined at the Apple support note I linked above.
This transition from iPhoto to Photos is the latest example of a recurring philosophy we see practiced by Apple: The company is willing to impose some short-term discomfort on customers to suit their long-term vision.
In fairness to Apple, digital photography has changed a lot since iPhoto was developed, even iPhoto for iOS. It never played well with iCloud integration and syncing — those features were bolt-on and poorly integrated. Forcing a change to Photos enables Apple to streamline its customers' digital photo workflow.
This sure ain't magical
The problem is that Apple hasn't done a great job — or any job, really — of communicating these changes to us, their customers. Most people jumping on iOS 8 are just finding out about this now, after it's too late to do anything about it. After all, you can't downgrade to iOS 7 once you've upgraded to iOS 8. Upgrading your iOS device to a new operating system is, and long has been, a one-way trip.
Apple pays a lot of lip service to the customer experience. The phrase we've heard Tim Cook use over and over again is "surprise and delight." In this context, "surprise and delight" is worse than a joke. And there's certainly no magic in it either, another favorite descriptor of Cook's. It's an insult.
Some iPhoto users have used the app to remember and share special moments of their lives — vacations, kids' birthdays, weddings, anniversaries. Apple has suddenly made iPhoto obsolete, and worse, its replacement won't allow us to keep everything we've made.
The photos are intact, at least. If we've bothered to delve into using any of iPhoto's other features besides photo cataloging and adjustments however, we've essentially wasted our time. Apple is either unable or unwilling to make it work.
Short term pain, long term gain
If you're a Mac user, you've seen Apple's "short term pain for long term gain" gameplan in action fairly recently, when Apple radically revamped its iWork apps in late 2013 — Pages, Numbers and Keynote got major new builds that sacrificed features and functionality in order to improve document workflow with their iOS counterparts. Apple has done it with iMovie, too. Not to mention Final Cut, its pro video editing software.
It's never easy, and it's going to cause frustration for some of us who have invested a lot of time and effort to produce great content using iPhoto, but unfortunately Apple's not giving us any choice in the matter. It's iOS 8 or bust.
Your thoughts?
Are you mad at Apple for disallowing iPhoto to work in iOS 8? Are you happy with the transition? Tell me what you think about this latest twist in the comments.
Master your iPhone in minutes
iMore offers spot-on advice and guidance from our team of experts, with decades of Apple device experience to lean on. Learn more with iMore!