Apple kicks Aperture (and iPhoto) to the curb; are we ready for Photos?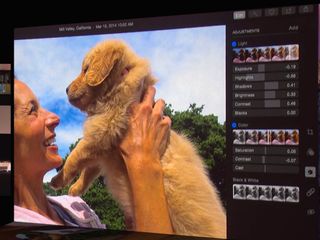 During the WWDC 2014 keynote presentation Apple showed off a new app for OS X Yosemite currently in development called Photos. It won't be out until 2015, but it looks like it's going to replace both iPhoto and Aperture on the Mac. This promises to be a good thing for consumers, but where does this leave professional and prosumer photographers on the Mac?
On Friday Apple revealed to Jim Dalrymple at The Loop that Aperture, Apple's pro photo app, is being discontinued in favor of Photos. This is a blow to anyone who's depended on Aperture for its organizational abilities and its extensive non-destructive editing functions.
Apple's shown over and over again that it's willing to cause some short-term discomfort to users of existing products for long-term benefit. iMovie, Final Cut Pro, Pages, Keynote and Numbers — there are lots of examples where Apple has essentially scrapped the product and started over because a different path was chosen. And they're doing it again with Aperture and iPhoto.
iPhoto vs. Aperture
iPhoto comes with the Mac, and it provides a full array of photo editing, cataloging and sharing capabilities right out of the box. iPhotos is set up to offer you as much organization functionality as possible without your direct intervention. iPhoto organizes photos by event, for example. It incorporates facial recognition, so you can more easily find pictures of family and friends. And it reads GPS data (when embedded in your photos' metadata), so you can organize photos easily by location.
A variety of built-in editing tools help iPhoto make your images look better. You can crop images, straighten them, remove red-eye, perform one-click enhancements that make adjustments to lighting, color saturation and other attributes, apply effects, and get down into the nitty gritty by adjusting various aspects of the photo like exposure, contrast, saturation, color levels and more.
Aperture is to iPhoto what Logic is to GarageBand. Some of the same basic concepts, but greatly enhanced for the needs of professionals. Aperture emphasizes non-destructive photo editing that doesn't take up huge amounts of hard disk space, so you can undo what you've done or just subtract specific elements that you don't like (iPhoto has some non-destructive editing capabilities; Aperture has a lot more).
Aperture also emphasizes work with "raw" digital formats — the data that the camera actually recorded on its imaging chip, not compressed and changed with JPG. Raw images are supported on iPhoto, but Aperture's entire workflow is based on the assumption you're starting with raw files. Accordingly, Aperture has a more complete feature set of image adjustments and retouching abilities.
Another area Aperture really sets itself apart from iPhoto is in its vast organizational abilities. Pro photographers shoot a lot of images and need to make sense of what they've shot. Aperture helps them do that, and helps them make changes to the metadata associated with each picture to help photographers catalog faster too.
Unfortunately, both Aperture and iPhoto have been prone to a lot of problems over the years. Stability issues, database corruption problems, not to mention really atrocious performance problems have all be reported and complained about by frequent users.
Ultimately iPhoto and Aperture were both hot messes. They needed to be replaced. But will Photos be able to replace both of them?
Photos
Both iPhoto and Aperture will be replaced by Photos beginning in 2015. Photos for the Mac borrows its name and its icon from its iOS counterpart.
So far public information about Photos is pretty scant. Outside of a precious few minutes getting demoed by Apple senior vice president of Software Engineering Craig Federighi on the WWDC keynote stage, very little is known about the new Photos app on the Mac. What we do know is that it has an interface that looks thoroughly optimized for multi-touch gestures on a trackpad or Magic Mouse.
Federighi showed off some image retouching functionality in Photos and gave a brief demonstration of navigating within timelines to emphasize its "beautiful, buttery scrolling."
Federighi calls Photos "a new grounds-up photo solution for the Mac built with iCloud in mind." And Federighi also demonstrated some impressive retouching capabilities that promise to make it easier to make your photos look better.
Photos promises to be a better mainstream photo editing and cataloging tool for iPhoto, but Apple's set the bar low there. And as it exists now, Aperture and iPhoto's iCloud support seems more grafted on than truly integrated.
One way or the other, it'll take a lot more than what we saw to fill in the blanks to Aperture users' satisfaction.
The end of Aperture
In the interest of full disclosure, I have — or at least had — a horse in this race. At one time, shortly after Aperture first came out, I became an Apple-certified Aperture trainer. I really loved Aperture. I got to know the app pretty well and I was impressed with its flexibility, with Apple's focus on making it a great workflow tool for people who spent all day long taking and editing photos.
Over the years I heard a lot of complaints from photographers about Apple's development and improvement to Aperture compared to Adobe, with its rival Lightroom software. Adobe was more nimble, more responsive to photographers, quicker to make changes to Lightroom and advance new photography workflow concepts.
It had become clear years ago that despite early promises to pro photographers, Apple just wasn't that invested in keeping Aperture competitive.
So I started grinding my teeth when I read Apple's reassurance to Dalrymple that development on other pro apps like their video and audio editing tools continues unchanged. My first thought is that it's true for as long as it's expedient for Apple to do so. At one time Apple made similar promises to professional photographers.
I am thoroughly disappointed, but I can't say that I'm surprised. As I said, the writing has been on the wall for a while. Aperture has languished compared to other pro-level tools from Apple.
What's more, many professional photographers have more thoroughly incorporated Adobe Lightroom into their workflow, as they were already using Photoshop to improve and retouch images. Like many creative professionals, many photographers are more invested in Adobe's software ecosystem to begin with, so it was a simpler transition.
The bottom line
Both Aperture and iPhoto still work today and Apple has promised an Aperture compatibility update for OS X Yosemite when it ships this fall. What happens next year and the year after is a different story. But right now, most people using these tools can stay the course until Photos is out in the world.
Professional photographers who haven't already looked at Lightroom probably ought to at this point; Adobe offers a free trial version so you can get started.
Even assuming Photos can fit the Aperture bill, Apple has an uphill climb to regain the trust of professionals who invested in Aperture as the center of their digital photography workflow.
Do you do a lot of digital photography with your Mac? Do you use Aperture, Lightroom or something else to manage it? What do you think of Apple's decision? Sound off in the comments.
Master your iPhone in minutes
iMore offers spot-on advice and guidance from our team of experts, with decades of Apple device experience to lean on. Learn more with iMore!