iPad Air Plus rumored for first half of 2015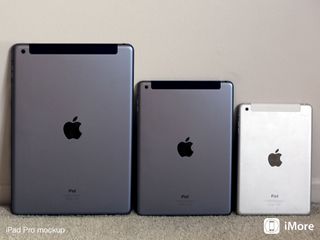 The bigger than big iPad is once again being rumored, this time under the name iPad Air Plus, with a display size of 12.2 inches, an Apple A9 processor, and a shipping date of either April or June 2015. The report comes from Japanese magazine Mac Fun, and was posted online by Macotakara:
Mac Fan also claims a new iPad mini 4 will be coming next year with an Apple A8X processor, and will replace both the iPad mini and iPad mini 2.
While Mac Fan has provided accurate information in the past, it's important to remember that these are still rumors and should be treated more like entertainment than news.
Source: Macotakara
Get the best of iMore in your inbox, every day!
I have been writing professionally about technology and gaming news for 14 years.
Seems faster Posted from the amazing whatever device I can afford because I'm a broke college kid.

Bezels look mighty big...

Typical Apple style Posted from the amazing whatever device I can afford because I'm a broke college kid.

If the "iPad Pro" rumors are true, then I'm thinking it might be announced during the WWDC15 keynote. With the following magic words: "available today."

I agree. It won't be ready by the time the  watch is ready. Maybe it'll be announced then and released later or it might be released during wwdc. Sent from the iMore App

Who knows, maybe Apple will have a keynote in Spring (March) where we'll see the final showing of Apple Watch and they might announce the iPad "Pro" with a coinciding version of iOS 8.3 beta, both with a release in June. That way developers have time to get apps ready for the device and the device is ready for sale just in time for back to school season.

This makes sense, unfortunately May/June looks plausible at this moment (instead of a March debut). Question remains was this tablet worth the wait and rumours ? If it's only a huge beast "with RetinaHD display, additional four speakers and no ports" then I'm getting off the Apple Train.

Hopefully they add more to the OS to actually take advantage of the much larger screen.

Agreed, just too have a bigger screen with out utilizing all that power is not smart. Sent from the iMore App

Exactly. They are supposedly wanting you to do all your work on the iPad and the "post PC era" so what better way then to make it have more use of the screen as well as full on multi tasking like was rumored to be coming to the new iPad in 8.1 and never did.

IPad Air Plus?, the name is too long? iPad Pro sounds way better. And yes if this is true it is a more than worthy upgrade from my iPad Air, four speakers yes we need this. Now Apple can compete with the Surface Pro 3?? Sent from the iMore App

Nah, iPad Plus (bet they drop the Air), fits in with the iOS ecosystem and separates it from the Mac. A big screen iPad is just a big screen iPad. A MacBook Pro is more "powerful" than a MacBook Air (and I think they should also drop this Air moniker too).

12.2" huh? Same size as the Samsung... At least Samsung won't try to sue over it... Posted via the Android iMore App!

Why is this device better than an 11" MacBook Air? Sent from the iMore App

Because it can run full desktop applications, runs faster, has better battery life, has a full productive keyboard, and the benefits of a full desktop grade operating system.... Wait. Oh. Nvm. Read that wrong. Posted from the amazing whatever device I can afford because I'm a broke college kid.

Two completely different devices. You can't compare them. The better question would be to ask is why is this better than the 12" Samsung tablet?

No it's not. Honestly if you're buying a 12" iPad you're trying to use it for productivity and to replace a laptop. But you'll run into the limitations of iOS, so just get an Air. Sent from the iMore App

I see where you're coming from, but I'll provide an example from my own work. I'm in sales and I have a custom made iPad app that I use to enter orders. It's like an iPad catalog, basically. This wouldn't be possible with a Mac.
Plus, I need LTE is my customers don't have wi-fi available.

Releasing a new IPad Mini 4 would be a slap to the face on people hoping for those upgrades last month. Sent from the iMore App

It would be no different than releasing the iPad 4 six months after the iPad 3.

The Pro+ is biggest reason I was diapppinted with the Ipad mini update. I planned on picking up a mini 3 this year and a Pro+ next year. But with the terrible update to mini, I might buy Ipad Air 2 and wait to Pro+ 2. This more likely of a scenario, especailly with Ipad Air 2 mark downs this holiday season. I believe the Pro+, Mini 4, Apple TV, Mac Air will be launched this year. Most likely one or more at the watch event this spring. I am hoping for the Apple TV to match Fire TV or Nexus TV in specs and horse power. And a Apple tv stick like Fire or Roku, I can dream can't I. With all this said, it looks like a great year for Apple if all or some of the rumors are true. Posted via the iMore App for Android

Does it mean there will be no iPad Air 3 in 2015 ?

I didnt believe there will be Air 3, until 2016. There should be the Ipad mini 4. I hope they are both released with the Apple Watch instead of October. I think the Iphone 6 will be updated to A8X before the Air 3 with A9 or A9X. Posted via the iMore App for Android

I'm buying this the day it comes out.

Booogus
If this this doesn't match the functionality of the Surface Pro, I will be sorely disappointed.