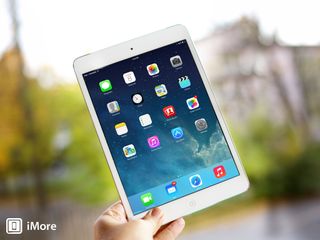 3 years after Steve Jobs introduced the first magical and revolution iPad, Apple has kept the same unbelievable price but once again set the bar higher when it comes to their most advanced technology. It's still 9.7-inches. It's still a Retina display. It still runs the over one million apps - almost half of which are now tablet optimized - in the App Store. But it's once again thinner, lighter, and faster. Only this time it's even thinner and lighter, and the speed boost? On paper at least, insane. If you're thinking of upgrading to an iPad Air, however, or of buying one as your first full-sized iPad, what does that mean to you?
iPad evolution
(opens in new tab)
iPad Air design
The original iPad, revolutionary as it was, was 0.5-inches thick and weighed 1.5lbs. That was nothing compared to the netbooks of the time, but it meant you couldn't hold it up for a long time without tiring yourself out. The iPad 2 thinned things out, and lightened them somewhat, coming in at 0.34-inches and 1.33lbs, but it remained more - ironically - a laptop or tabletop than a palmtop. The iPad 3 and iPad 4 were both ever-so-slightly thicker and heavier, thanks to the Retina tax. It took the iPad mini to really transform Apple's tablet from portable to truly mobile. 0.28-inches and 0.68lbs. Yet, to do it, it took the 9.7-inch screen to 7.9-inches, and shed Retina along the way. What about those who wanted a full-sized screen and an ultra-light, truly mobile design?
Enter the iPad Air.
From the minute the iPad mini was introduced, the iPad Air became a matter of speculation, then rumor. Now, reality. 0.29-inches thin, 1.0lbs light, it's closer to the iPad mini than its direct ancestor, the iPad 4. The difference works out as follows - 28% lighter, 20% thinner, 24% less volume. It's sounds, very nearly, like the best of all worlds.
I can't even imagine the engineering skill and effort required to trim the full-sized iPad down to its new, Air-y size and weight. Every hundredth of an inch was no doubt a battle against the laws of physics and economics. Yet by all appearances, it looks like Apple won.
The casing is that of the iPad mini stretched across the full-sized iPad screen. 9.7-inches of screen, a FaceTime HD camera, and a Home button - sans Touch ID, barely covered by aluminum. Like the iPhone 5 last year. the size will not properly inform the weight. It'll feel ridiculously light. Like a fake. A toy.
The look will be pure iPad mini as well, in color as well as casing. The black faceplate will be accompanied by a space gray back, both easier to anodize and more resistant to chips and scratches than the slate gray that came before it. The white faceplate will be accompanied by silver, a clear coat Apple's been using since last year. There'll be no gold option, however. Turns out you can have too much of a good thing.
If all of this makes it sound like the iPad Air is really just a slightly bigger iPad mini, then that sounds about exactly right. As always, Apple has leveraged technology created for one product across the line. The iPad Air, in every way, seems an iPad mini grown up more than an iPad 4 shrunk down.
And that might be the very best thing about it.
iPad Air A7 chipset
Previously the full-sized iPads required a special variant of Apple's in-house chipsets in order to push around their massive 2048x1536 Retina displays. The A5X quad-core GPU on the iPad 3 was barely up to the task and Apple replaced it 6 months later with an Apple A6X, based on their first custom-CPU, the Swift. Now, the monstrous Apple A7 doesn't need no X to drive the iPad Air. It only needs it's next-generation custom-CPU, the Cyclone, and a PowerFX Series 6 "Rogue" GPU. It's 64-bit. It's desktop-class. It supports OpenGL ES 3.0. It includes an Apple M7 motion coprocessor. In Jobsian vernacular, it's a screamer.
The A7 is ridiculous in the iPhone 5s. It probably won't be as ridiculous in the iPad Air, but it will almost certainly be every bit as impressive.
Sadly, in addition to the lack of a TouchID sensor - blame supply constraints? - the image signal processor (ISP) that provides for everything from burst mode to slow-motion video on the iPhone 5s doesn't seem to be doing that on the iPad Air, at least not yet. Still, all the image quality magic should be there, and should be great.
It's also hard not to imagine the quality of apps we'll be getting - everything from the new iWork and iLife suites, to the already released djay 2 and Infinity Blade 3 - are going to once again redefine expectations for mobile software.
It's a big deal.
iPad Air FaceTime HD camera
The iPad Air didn't get an improved iSight camera this year - it's still 5mp/1080p - but it did get the same improved FaceTime HD camera Apple gave the iPhone 5s and iPhone 5c. That translates into a 1.9 micron pixel size and a back illuminated sensor, and means better low-light... for noir-style selfies and late-night FaceTime calls alike.
It's a nice to have, but for most people, certainly not a must have.
iPad Air MIMO Wi-Fi and more LTE
The iPad Air didn't get 802.11ac Wi-Fi like Apple's Mac line did, but it got multiple-input and multiple-output (MIMO). That means there's multiple antennas both sending and receiving, which makes the iPad Air less susceptible to interference. Apple claims that not only makes the iPad Air's Wi-Fi more robust, but faster as well. Twice as fast, at up to 300Mbps,
4G - the real kind, long term evolution (LTE) - has also gotten a boost for the iPad Air. Just like with the new iPhones, Apple is supporting more bands for more places. LTE, it turns out, is more of a mess than the name implies, with different carriers around the world spread across around 40 distinct segments of spectrum. Apple is trying to support as many of them as possible, in as many places as possible. Here's their current list:
UMTS/HSPA/HSPA+/DC-HSDPA (850, 900, 1700/2100, 1900, 2100 MHz); GSM/EDGE (850, 900, 1800, 1900 MHz)
CDMA EV-DO Rev. A and Rev. B (800, 1900 MHz)
LTE (Bands 1, 2, 3, 4, 5, 7, 8, 13, 17, 18, 19, 20, 25, 26)
Of course, Bluetooth 4.0 Low Energy (LE) is along for the ride, which enables all sorts of really interesting technologies, like the new tap-to-setup Apple TV feature, and, of course, iBeacons.
The lack of 802.11ac is a bummer, but everything else looks top flight.
iPad Air buyers guide
There's a lot to consider before you buy or upgrade to a new tablet, even a new iPad Air. Should you consider a MacBook Air instead? A Retina iPad mini? If you do go with an iPad Air, which color, what capacity, and if you want cellular data, on which carrier? There's never been more to choose from, which means it's never been harder to choose!
iPad Air bottom line
The iPad Air looks in every way to be the realization of the potential first seen in the original iPad. Years in the making, it has an incredible display, and unbelievable processor, phenomenal connectivity, and decent optics all rolled up in a package so thin and light it's hard to believe it's real. Add to that the hundreds of thousands of tablet-optimized apps available in the App Store, and it's hard to see anyone else getting close to what Apple's offering any time soon.
It's not a non-name, sub-$100 video player, and it's not a keyboard intermediated laptop replacement. It's an iPad. The new, full-sized iPad. The new features might all smack of technology, but they'll all add up to experience.
I'll be lining up in Montreal, in the cold, on Halloween night to get my hands on one, and I'll be back with a full review once I've spent a good chunk of time with it. But I haven't been this excited for an Apple tablet since the original. I'll be getting a Retina iPad mini for travel and for tethering. For home, for video, for comic books, for fingerprinting with productivity, and for touch the future, I'll be living with the iPad Air. At least until next year.
Rene Ritchie is one of the most respected Apple analysts in the business, reaching a combined audience of over 40 million readers a month. His YouTube channel, Vector, has over 90 thousand subscribers and 14 million views and his podcasts, including Debug, have been downloaded over 20 million times. He also regularly co-hosts MacBreak Weekly for the TWiT network and co-hosted CES Live! and Talk Mobile. Based in Montreal, Rene is a former director of product marketing, web developer, and graphic designer. He's authored several books and appeared on numerous television and radio segments to discuss Apple and the technology industry. When not working, he likes to cook, grapple, and spend time with his friends and family.
"5 years after Steve Jobs introduced the first magical and revolution iPad..." - it's either 5 generations, or ~4 years :)

3 years, 5 generations. They doubled up in 2012! (Fixed, thanks!)

So you will be hitting the line on Oct 31? Do you think the demand will be that great, or just not taking any chances?

I need to review it, and I want as long as possible with it, yet I don't want to draw it out. That means I need to pick it up in person on launch day. There are no preorders, so I'll line up. But not as early as iPhone 5s launch day :)

I can't believe iMore doesn't get a review unit from Apple?!

In fairness, we're in very good company.

Well if I wasn't excited enough about my new iPad Air, after reading your article I'm now ecstatic .... Maybe you should take the stage for Apple Events Rene!! I'm disappointed that online sales are no longer delivered on launch day, and so will be in line on Friday morning here in Western Australia. Sold my iPad 4 weeks ago and keep reaching to an empty stand - how I miss my iPad!! The lightness, size and power are mind blowing. This time I'm buying a white 128gb model; two changes that I'm really excited about. Sent from the iMore App

Haha! Awesome! Sounds great!

Are you sure (as in the table) that the iPad Air's speakers are stereo? I have not seen that documented on Apple's website.

Yes, I'm sure they're stereo :)

Don't the speakers have to be a bit farther apart than they are on the iPad in order for the effects of stereo to be perceptible? :)

To be perceptible, no. To be maximal/optimum, yes. Also depends on the distance between your ears and distance from the speakers.

I really wonder about long term comfort with such small bezels. I know the lighter weight will help with that but I wonder about hand comfort while trying to hold such a small surface area.

Since the iPad mini, Apple has used fairly sophisticated touch rejection to handle the thinner bezels. I'm guessing the same will apply to the iPad Air. I'm not overly worried.

The iPad air was a good improvement from the iPad 4, but my iPad 3 runs fine already. I might get the next generation.

I've been debating on the best choice--the Air or the new Mini. Figured I'd have to experience both of them to decide. But then I read this above: "The iPad Air, in every way, seems an iPad mini grown up more than an iPad 4 shrunk down." Well, when you put it that way: Sold! It's the Air for me on Friday! Thanks, Rene!

I've been dying to get a Mini since I saw a friends black/slate one, was waiting for the retina display, so bummed they aren't making the black/slate again. Space gray just looks bad in my opinion. Was wondering if Ally's company can anodize iPad mini's as well?

Just get one of the black carbon fiber peel on stick on covers. Looks just like the slate only with strips running diagonally. There are firms that will do the anodizing too.

Nice preview. Now I really really really REALLY want to get one!!!

Compliments are slowly coming in about the advantages of the lightness and thinness of the iPad Air, despite the initial "public yawn". This really goes to show how Apple focuses on actual user experiences rather than marketing gimmicks, while on the other hand you see Samsung coming out with eyeball-tracking features that prove to be nothing but annoying after a week. Bravo!

what do you guys think of the Facetime Camera in the iPad Air that apple in its all iterations does not give it like a fully optimized, the best front facing camera a complete 1080p Full HD camera for making Video calls.

I will stop by November 1st or later to take a look at the Air and compare it against the iPad Mini. But I am kind of set on buying the Mini 2. Just don't know what color to pick or the storage 64 vs. 128. It only $100 more and you get the same amount as my notebook SSD. LOL!

Can't wait for the iPad Air reviews. Before this I was always set on iPad Mini Retina Display but the iPad Air really changed it. The smaller bezel and fresh design definitely helps along with the new internals.
Thank you for signing up to iMore. You will receive a verification email shortly.
There was a problem. Please refresh the page and try again.