iPad Air vs iPhone 5s: iSight and FaceTime camera shootout!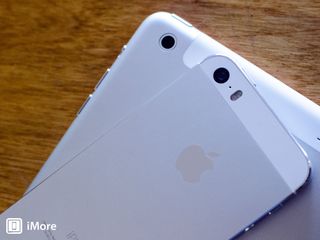 While the iPad Air now has the same, improved front-facing FaceTime HD camera as the iPhone 5s - and every other 2013 iOS device - its rear-facing iSight camera remains very much unchanged from the iPad 4 and original iPad mini. What has changed however is the software and hardware that power it. With iOS 7 and the very same Apple A7 found in the iPhone 5s - and the very same image signal processor (ISP) - the iPad Air could see an overall boost in quality anyway. To measure how it stacks up, we put the 5 megapixel iPad Air camera up against the 8 megapixel camera, not see if it would win - it doesn't have a chance - but to see how close it can come!
iSight camera evolution
(opens in new tab)
The original iPad had no cameras. None. The iPad 2 had both iSight and FaceTime cameras at VGA resolution, which is only barely better than not having any at all. The iPad 3 and iPad 4 both had 5 megapixel cameras, but Apple A5X and Apple A6X processors behind them respectively. Better, but not outstanding. The iPad Air does nothing to improve the glass, so any differences here will come purely down to the A7 chipset.
Keeping it consistent
Unless otherwise specified, I used default settings for every picture, meaning I used the iSight Camera right out of the box. I also did not manually focus on anything, I let the software do all the work and balance images the way it saw it. I think this gives a better overall picture of how the software and hardware work together. The only thing I did enable on both devices were grid lines to help me try and get the exact same shot each time.
iPad Air vs iPhone 5s: General everyday photography
From left to right: iPad Air, iPhone 5s
When it comes to general everyday photography, I found both the iPad Air and iPhone 5s completely capable of getting the job done. If you have any recent iPhone, it'll be better than any recent iPad, of course, but some people only have an iPad, or only have an iPad handy when it matters. If that's the case, you won't have any issues with the iPad Air. It manages to balance light better than its predecessors and for the most part, keeps pace with the iPhone 5s fairly well. It's a great example of how software and hardware working together can make a decent different in image quality.
iPad Air vs iPhone 5s: Macro photography
From left to right: iPad Air, iPhone 5s
For these macro shots, I had nothing enabled and let both the iPad Air and the iPhone 5s focus all on their own. Overall, both did an amazing job with closeup photography. The one thing that stood out to me was that the iPhone 5s appears to be better at balancing colors. A good example of this is the photo of the ivy and leaves growing on the brick. If you take a look at the sidewalk in the lower right, the iPhone 5s did a much better job of showing natural colors.
iPad Air vs iPhone 5s: HDR photography
From left to right: iPad Air, iPhone 5s
Here only setting I enabled on either camera was high dynamic range (HDR). Every other setting was either disabled or default. Again, I left the iPad Air and iPhone 5s to focus themselves. Overall, both cameras did a nice job of capturing HDR photos and did a good job balancing light and dark portions. T iPhone 5s results better captured what was in front of me. The very last picture may look as if the iPad Air came out ahead but in reality, the shadows produced on the grass by the iPhone 5s were a better approximation of what I was actually looking at. It's almost as if the iPad Air over-compensated in some areas. Either way, the iPhone 5s came out ahead, but only by a hair.
iPad Air vs iPhone 5s: Low light photography'
From left to right: iPad Air, iPhone 5s
I didn't have to take very many shots to realize that the iPad Air suffers from a lot of noise in low light conditions. A lot of noise. This isn't much different than previous generations of iPads. It just doesn't have the same quality sensor the iPhone 5s enjoys, nor does it have an LED Flash to help compensate if it needs to. But that's the way it is. If you're planning on taking a lot of low light photos, the iPad Air won't be a good go-to camera for you.
iPad Air vs iPhone 5s: FaceTime camera quality
From left to right: iPad Air, iPhone 5s
Both the iPhone 5s and iPad Air FaceTime cameras struggle in bright light. In regular lighting conditions however, they both faired pretty well. The iPhone 5s pulls ahead slightly because it seems to balance skin tones a bit better than the iPad Air. Either way, if you're into selfies, the iPad Air should do an okay job as long as you have normal lighting conditions.
iPad Air vs iPhone 5s: iSight video quality
When it comes to video quality, both the iPhone 5s and iPad Air are capable of shooting in 1080p, and overall, they both do a great job . The iPhone 5s seems to be quite a bit more sensitive to noise than the iPad Air and I'm not sure if that's a good or a bad thing? If you need to pick up quieter sounds, the iPhone 5s will fair better. Video quality in general seemed to be on par but the iPhone 5s auto-balances light somewhat better. In normal lighting conditions anyway.
iPad Air vs iPhone 5s cameras: The bottom line
When it comes to everyday photography, you won't be disappointed in the iPad Air. Even the video quality is pretty great. If low light is important to you, you'll have problems, however. If you don't have an iPhone, another make of camera phone, or even a point-and-shoot camera, you can absolutely get by with an iPad Air. It's not the best camera in mobile, but if it's all you have with you, it's good enough.
If you picked up an iPad Air, let us know what your overall experiences have been with photo and video quality!
Get the best of iMore in in your inbox, every day!
iMore senior editor from 2011 to 2015.
I'm pretty impressed with the quality of the shots from the Air (the low light shots surprise no one LOL). Also, your pictures are beautiful! That's why I love the crap out of Fall.

iPad Air camera isn't as bad as I thought it would be, but my objections to carrying it around to use as a camera remain ;-)

Thanx for the good information

That was cool to see. I was a little disappointed there was no update to the rear camera, but Apple's gotta reserve a bullet point for the iPad Air 2 presentation. ;-)

Love the pics of the dogs, Allyson!!!

Very good article, I noticed the same with my mini and the 5s (finally) and the most noticeable difference is in low light conditions. Nevertheless, the mini camera improved a lot with iOS 7 and now takes better quality pictures than before.

Where is that forest and what breed of dog is that? Sent from the iMore App

thanks for sharing. come and enjoy a hot and complacent angel for you. http://www.hugcams.com/

Great comparison. The 5S is very impressive.

Really nice seasonal pics. I would have thought that the iPad air wouldn't be as good as that but obviously I was wrong. Both cameras are really good though. Good review. Sent from the iMore App

I haven't been impressed with my Air's camera. It just isn't up to par with high-end mobile devices these days. I know some people excuse Apple for this since tablets aren't convenient to use as cameras, but these days, I expect to be able to use whatever mobile device I'm holding at the moment to snap a good photo, especially indoors in lower light conditions.

Wonderful review. Finally a review that tackles everything I feel. It seems like other reviews are too quick to worship these, despite a few obvious problems (or potential ones, for some). I've also seen the same things with other reviews on the iPad, and it makes sense from what I've seen. However, I am quite disappointed with the iPad Air 2, to be honest. It is my first iPad, though I am noticing some serious problems with the two cameras on my particular device. Specifically, with the noise. I don't think it is only in lower light, with mine. Just "normal" light indoors still produces far too much noise. I've taken several different types of photos and video. Having a Facetime conversation was painfully bad looking. The other party kept saying, "What is up with your camera?? You look like you crashed in from the 90s or something". Where it is ridiculously bright, (unusually so) is the only time things are clear in the camera. I've done a lot of research before shelling out all that cash, and to be honest I feel I am with Mike T1 on this. I expected more. I had an iPhone 5 and 5s, and the cameras on both devices were incredible compared to this. (I'm not talking about the pixel density of the smaller screen. Even on a full display on a PC, Mac, or other device, separate from the phone - has shown the camera to be far superior in all ways to the iPad I own. Both have *terrible* noise. And the rear camera is not much better in many cases than the front. I even took it in to the Mac store, after several people I know commented on it. There they did nothing, and told me it was entirely normal for the iPad. While I *am* seeing that it clearly does not do so well in low light, my particular iPad is really an exception. The people at the store refused to return it because *their* tests checked out. I did not see what these tests were, they just took it behind the counter or in some other room. Admittedly due to busyness over the holidays I didn't make there until closing, I don't know if they just wanted to shoo me out and go home or what, but something isn't right here. Other things too, but I will leave that for another place on this site. Great site by the way. Other than that though, I quite like the seamlessness that Apple devices provide. I wish this time it wasn't such a frustration though.

Hey, thanks for this great article, I'm considering mounting the iPad Air on a tripod for a fun photo-booth at a party.. Had a feeling the iPhone camera would produce better image quality but the larger iPad screen is better for viewing.
Thank you for signing up to iMore. You will receive a verification email shortly.
There was a problem. Please refresh the page and try again.