iPad, iPhone 4 lead Google 2010 consumer electronics search queries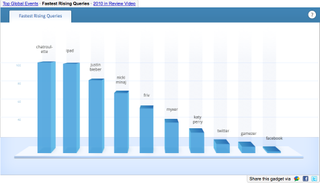 Google's annual Zeitgeist reports has come out and shows Apple's iPad has taken the number one position for consumer electronic search queries in 2010. It also took the number two overall fastest rising search query behind Steve Jobs' favorite thing...chat roulette. Apple's iPhone 4 came in in the number two position in the consumer electronics category.
The iPad has had quite the year in 2010 taking home many honors which include the number three spot of the top 10 obsessions of 2010 and the number one spot on Time Magazine's top 10 gadget list of 2010. Not too shabby for a product that analysts claimed would be lucky if it sold 1 million units by the end of the year.
Anyone surprised?
[Google Zeitgeist via TUAW ]
Get the best of iMore in your inbox, every day!
This might be considered because google is the default when you first buy your iphone. Correct me if I'm wrong but you never know people might ever change it.

That's because the Android phones use Bing JK

Should I be concerned that #1 is chatroulette?

@bobbyp
This is not a ranking of devices that use Google. This is a ranking of tech searches (what people search about) in Google.

Edit* I meant fastest rising searches in Google.