iPad Pro vs. Surface Go: Which should you buy?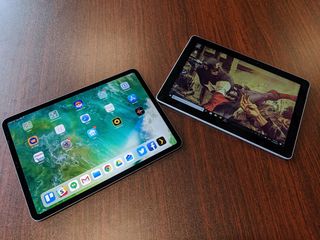 Premium Excellence

This is Apple's most polished iPad to date. Everything about the hardware screams premium and quality, but not all of the software matches that premium hardware feel.
For
Excellent display
Fantastic speakers
Face ID is awesome
Great battery life
Against
Not everything has an iOS app
Premium price tag
Remarkable value

Microsoft took its excellent Surface design and shrunk it down to something you can take anywhere without the typically high price tag. And if you want it, you can have the full Windows 10 experience with this design. But that full Desktop OS comes with full Desktop OS management and maintenance, which is less than ideal.
For
Great keyboard
Unique hinge design
Full Desktop OS if you choose
Against
Some performance concerns
Single camera
After the iPad became such a huge hit, lots of companies moved to "improve" on that experience. The only company to make something in this style worth buying today is Microsoft, with its excellent Surface line. But as Apple moves to meet Microsoft in the higher end of the market with an updated premium design, the Surface Go was released to make something portable and affordable for everyone.
Tablets that aren't Laptops that aren't tablets
Both Microsoft and Apple built their respective slabs of metal and glass to be incredibly portable tablets you can connect a keyboard to in order to get something much closer to a traditional laptop experience, though they really don't look that similar to one another. The magnesium alloy body to the Surface Go feels much nicer than its $400 price tag suggests, and tapers inward on the sides to make it a little easier to hold with one hand. It features a unique hinge on the bottom of the casing so the tablet can always stand up on its own, and Microsoft's Surface Keyboard is one of few that sits at an angle to make it much easier to type on. If you pay for a premium version of this keyboard, you'll even get backlighting on your keyboard, which is extremely rare for this form.
Apple's design this year makes the whole rounded rectangle flat on the sides and back, and a noticeably smaller bezel with custom software to ignore your thumb when it rests on the display. This design is a continuation of Apple's move to dramatically reduce bezels across its product lines, but unlike the iPhone, there's still just enough bezel to hide the TrueDepth camera system.
You can use either tablet in portrait mode, but it seems fairly clear by the design of each that most folks are going to use these computers almost entirely in landscape. This trend started when tablets were largely found to be media consumption devices, but with the additional of a keyboard accessory, both the Surface Go and the iPad Pro become capable computers in their own ways. The biggest question, based entirely on the software available and the computing power under the glass, is what kind of computing is best suited to each machine.
Swipe to scroll horizontally
| Header Cell - Column 0 | iPad Pro (11-inch) | Surface Go |
| --- | --- | --- |
| Dimensions | 247mm x 178mm x 5.9mm (468g) | 245mm x 175mm x 8.30mm (522g) |
| Display | 11-inch IPS LCD (2388x1668 @ 264ppi) | 10-inch LCD (1800x1200 @ 217ppi) |
| Camera (front) | TrueDepth 7MP | 5MP |
| Camera (rear) | 12MP Wide and 10MP Ultra-Wide | 8MP |
| Processor | Apple A12Z Bionic | Intel 7th-gen 1.6GHz Pentium Gold 4415Y |
| Memory | Reported 6GB | 4GB/8GB |
| Storage | 128GB/256GB/512GB/1TB | 64GB/128GB + MicroSD up to 256GB |
| WiFi | Dual band 802.11a/b/g/n/ac | 802.11a/b/g/n/ac |
| Ports | USB-C | USB-C |
| Price | Starts at $799 | Starts at $400 |
Everything about the iPad Pro screams premium experience. The speakers are louder and more crisp than most full laptops with big branded speakers. The ProMotion display offers fantastic colors at a high refresh rate, with the perfect resolution for getting things done in this smaller size. The keyboard is just wide enough for me to comfortably type on all day without issue, and if I'm being perfectly honest I frequently find myself preferring the keyboard on the smart folio attachment to the one on the more recent MacBook models. Switching to a USB-C port opens up a lot of potential features in the future, but the biggest thing you'll find is fast charging through USB Power Delivery and even the ability to charge your phone from the iPad itself.
Source: iMore
The Surface Go is great, but it's clear Microsoft cut corners in a couple of places. The front-firing speakers are good, but not great. The face unlock system included in Windows 10 is okay, but nowhere near as sally or reliable as Face ID on the iPad Pro. There's a USB-C port, but few USB-C Power Delivery devices appropriately charge the laptop. Instead, you have to rely on Microsoft's magnetic cable. And as much as I love having a magnetic power adaptor and regularly shake my fist at Apple for ditching its MagSafe tech, the convenience of having everything "just work" with USB-C is the future I want to live in. And yeah, even the cameras on the Surface Go aren't as good as the ones on the iPad Pro.
So why am I comparing a $400 tablet to an $800 tablet? Because the stuff Microsoft gets right with the Surface Go almost makes the iPad Pro not worth it for me in a couple of use cases. For starters, the combination of keyboard and hinge on the Surface Go make it much easier to use no matter where or how I am sitting, while the iPad Pro only really works for me when I'm sitting fully upright. I can expand storage with the MicroSD card slot, and plug in my nice studio headphones with the 3.5mm jack. But the main attraction is the Surface Go Signature Type Cover, a backlit keyboard that sits at a comfortable angle and feels incredible to use in every setting. It also has a nice track pad, which isn't a huge deal when I have a nice touch screen so close but is a welcome feature when I still do most of my day-to-day browsing in an actual browser instead of individual news and information apps. It's also $50 cheaper than the $180 iPad Pro Folio Keyboard, which doesn't offer anywhere near as nice an experience. Not to mention, it's much cheaper than the new Magic Keyboard (which is launching at $299) which will grant the iPad Pro a fully backlit keyboard, floating mount, and a trackpad.
When I plug a USB accessory into my Surface Go, I know exactly what is going to happen and can count on it to work the way I want it to. If I choose to enable full Windows 10 on my Surface Go, I get access to everything. I can have the full windowed computing experience, with all of the triumphs and sacrifices that entails. With my Surface Go, I can play Assassin's Creed Odyssey through Project Stream on Chrome or pair an Xbox One controller and play Portal on my Steam account. I can unzip a file my colleague sent me, or change the names on a batch of photos I've edited for this very article. I can also run too many browser tabs and chug this little machine down to an almost standstill, because that's what Desktop Operating Systems do when unmanaged. This is clearly not the experience for everyone, which is why Microsoft makes it very easy to disable this "Full OS" experience and return to something admittedly closer to a mobile experience.
And it's worth pointing out that while iOS is not really made for that "Full OS" experience, there are use cases where productivity is significantly higher. I may not have full Lightroom or the ability to rename files on my iPad, but Lightroom CC can process batches of photos much faster on here than on my Surface Go. I've seen 3D modeling professionals design ridiculously complex structures in minutes with their fingertips, and the Windows 10 equivalent of this experience just can't offer the same promise. And then there's the Apple Pencil, which is supported by hundreds more apps than the largely equivalent Surface Pen.
Put another way, Apple has made a very superior tablet with an experience you could easily use as a laptop for some things if you buy the keyboard. But if you try to use this as your only computer, you're not going to get too far before you're disappointed. Microsoft has made an excellent small laptop it says is a tablet, but you really have to buy the keyboard to complete the thought because it's not really a great tablet.
Which of these tablets should you buy? It really does depend entirely on you. If you want the best possible creation and consumption tablet, and you've got the cash, the iPad Pro is an exceptional piece of technology and you'll be very happy with it for quite a while. But if you're not fully invested in the Apple ecosystem and you still occasionally need that traditional Desktop OS experience and feature set, you'll find yourself much happier with the flexibility afforded by the Surface Go.
Premium excellence
Easily the best tablet you can buy today, but you'll be paying a premium price tag.

A remarkable collection of high quality speakers, stunning display, and killer cameras doesn't always make up for using a sometimes confusingly limited mobile OS. Plus, you'll need the $299 Magic Keyboard to truly turn it into a laptop replacement.
Incredible value
The most portable laptop I've ever had fun using, but I struggle to call this a tablet.

The most enjoyable laptop in this price point with by a wide margin, with a premium feel and a full version of Windows 10 if you want it. But using this thing without its keyboard is not the best experience.
Master your iPhone in minutes
iMore offers spot-on advice and guidance from our team of experts, with decades of Apple device experience to lean on. Learn more with iMore!
Russell is a Contributing Editor at iMore. He's a passionate futurist whose trusty iPad mini is never far from reach. You can usually find him chasing the next tech trend, much to the pain of his wallet. Reach out on Twitter!