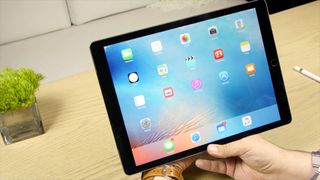 The iPad Pro is the biggest and most powerful iPad Apple's ever made. At it's introduction, Tim Cook called the iPad Pro the clearest expression of Apple's vision for the future of computing, and it's easy to see why.
Enter our iPad Pro giveaway now!
Pixels and performance
It starts with the 12.9 inch, 2732×2048 display. That's 5.6 million high-density, Retina pixels. But they're not just pretty, they're smart. There's a custom timing controller, just like on the Retina 5K iMac, and all those pixels are precisely photo-aligned for maximum contrast.
Apple is also introducing variable refresh rate with the iPad Pro. So, the screen can ramp down to 30 Hz when static or boost up to 240 Hz when hit by the Apple Pencil. That's great for performance, it's great for battery life.
Technically, it doesn't have as wide a color gamut at the iPad Air or the iPad mini—chalk the limitation up to panels with this many pixels—but comparing them side-by-side, even in the red and magenta ranges, it's hard to tell the difference.
Guts and glory
There's everything here that you'd expect. Touch ID, an 8 megapixel 1080p iSight camera, 1.2 megapixel 720p FaceTime camera, lightning port, 3.5mm headphone jack, and all in your choice of silver, space gray, or gold, with 32 GB or 128 GB with optional LTE.
Under the hood you've got the A9X chipset. It includes Apple's industry-leading third-generation 64-bit Twister processor and a ton of graphical power. Because Apple designs its silicon to specifically match its software, in many cases it can deliver better performance and efficiency than the x86 processors found in laptops. That includes up to three simultaneous streams of 4K video, which is nuts. It also integrates the third-generation M9 coprocessor that allows for, among other things, "Hey, Siri!" voice activation.
Input/output—I/O—is ludicrously better. Thanks to a new, custom storage controller, the iPad Pro can read and write data better than some traditional computers. That's not just great for 4K video and photos, that's great for everything. It keeps that powerful processor fed so you're almost never waiting for anything to load—you're just watching it pop up ready to use.
There are four new stereo speakers as well. They're machined right into the body of the iPad Pro and give it louder volume and a wider frequency range. Highs go to the top, lows to the bottom and, as you turn the iPad, they turn with you, cross-fading perfectly back into place.
All of this in an iPad Pro that's almost 80% larger and twice as fast as an iPad Air 2, yet weighs about the same as the original iPad.
The software story
Thanks to the expansive display and 4 GB of RAM, the iPad Pro can run iOS 9 picture-in-picture video, slide over, and split view apps smoothly, and side-by-side at a scale close that rivals the iPad Air full-screen.
It's not perfect, of course. Not a lot of software has updated yet to take full advantage of the big screen, including parts of the operating system itself. I'm still hoping Apple does what they did with the Watch and TV, and give iPad its own version of iOS with an interface really optimized for its power and scale.
Apple Pencil + Smart Keyboard
The iPad Pro comes with two new, optional accessories as well. The Apple Pencil is a precision writing and drawing tool that combines advanced technology in its tip and built-in sensors, and in the iPad Pro display, and new frameworks in apps, to produce and amazing results.
Unlike older technologies, there's no air gap and so no parallax when you're working, and its not capacitive so not only can it can produce sharp lines that appear in real time, right in the glass, but it doesn't interfere with multitouch gestures either.
I've been using stuff like this for decades and iPad Pro and Apple Pencil is the closest thing I've ever felt to a real pencil in the digital world.
The Smart Keyboard uses the new Smart Connector on the iPad Pro to create a next-generation hybrid that can type like a laptop without forcing you to use legacy laptop software. It's made from laser-ablated, custom-woven fabric—part taffeta, if you can believe it!—and attaches magnetically and transfers power, data, and ground right through the casing.
The feel is very close to the new MacBook, fast but shallow, and while its thin and liquid resistant, it's also tough and high performance. It took me about an hour or so to get used it, and then I was typing away without a second thought.
It takes advantage of the new external keyboard support in iOS 9, including easy shortcut discovery, command-tab task switching, command-space search, shift-command-h Home screen escape, and more. You can't scroll perfectly or navigate at all with the keyboard just yet, but you have to imagine that's coming next.
(My hope is for some kind of Apple TV Focus Engine inspired navigation system and a capacitive area in the keyboard bezel that transits the iOS 9 keyboard's trackpad mode.)
The transition
Technology doesn't means anything until you get your hands on it, though. That's when it comes alive. Whether it's a killer productivity device for mobile accomplishers, an amazing tool for artists on the go, an incredible portable, personal TV and gaming machine, or simply a computing device accessible and approachable for everyone, that's when you can tell whether it all matters to you or not.
The iPad Pro isn't the ultimate evolution of the original iPad and it isn't the beginning of the end of MacBooks. It's an transition point. It's the moment when tablets that are highly accessible also became highly capable.
If you still want a MacBook with you wherever you go, you might be happier with an iPad mini 4—or if you have big screen iPhone, an iPad Air 2. If you want something else, though, something more personal and approachable than a traditional PC, and something more empowering, then you'll want an iPad Pro.
There are still limitations, there are still caveats. That's the tradeoff when you try to pull the future into the present. But the iPad Pro really is the iPad gone IMAX. It's Apple's biggest window yet into apps and the web, and it's got potential as epic as its display.
Rene Ritchie is one of the most respected Apple analysts in the business, reaching a combined audience of over 40 million readers a month. His YouTube channel, Vector, has over 90 thousand subscribers and 14 million views and his podcasts, including Debug, have been downloaded over 20 million times. He also regularly co-hosts MacBreak Weekly for the TWiT network and co-hosted CES Live! and Talk Mobile. Based in Montreal, Rene is a former director of product marketing, web developer, and graphic designer. He's authored several books and appeared on numerous television and radio segments to discuss Apple and the technology industry. When not working, he likes to cook, grapple, and spend time with his friends and family.
Notice that even though the iPad Pro has the M9 coprocessor, "Hey Siri" can only be used while charging (unfortunately). Wish Apple have us the option. Personally, I still have an iPhone 6 Plus and will skip the 6S so I would love it have always on Siri on my iPad Pro.

In iPhone 6s reviews it's said that Hey Siri could work on iPhone 6s even without it being plugged in because the M9 coprocessor is so power efficient that made it possible. And now there is an iPad Pro with the same M9 coprocessor and Hey Siri only works when plugged in. I guess a future software update may take care of this.

I hope a software update will indeed resolve this.

Unfortunately the Apple Pencil is nowhere to be seen in my city's 4 Apple Stores. Online orders are shipping in 4-5 weeks and probably won't arrive before Christmas.

Main reason I haven't purchased one was because both accessories that actually make the iPad Pro worth while are back ordered by multiple weeks.

These are the holidays though and returns are extended to January (according to my receipt). So waiting til next month to buy one doesn't make any sense. I preordered a pencil last week (expected to arrive beginning dec) but picked up a cellular ipad pro yesterday. Hopefully I'll luck out and find one in stock at a best buy since I'm too far from an apple store for that.

I was really interested in this when it was announced. One of my major use cases is hand-written annotations to PDFs and Word documents. Does anyone know if this is supported, and if it works well? I haven't seen anything about this in any of the reviews I've looked at.

Yes, annotations of documents works well. Serenity Caldwell mentions it in her series on using the iPad Pro exclusively for a week. I've also annotaed and taken handwritten notes with PDFPen2 and in the Notes app

A word of caution though ... I tried out the Apple Pencil extensively in store and only the Adobe Apps and Apple's own Notes app actually support it properly. By that I mean that there is noticeable lag in all the other apps. Given the niche market of the Pro, it will probably take quite a while for the other apps to support the pencil in the same way. I also found the pencil a bit underwhelming in general. It's good. It's definitely better than any other stylus out there by quite a bit, but it isn't as good as all the gushing over it you read online. It's very 1.0-ish in person as is the iPad Pro itself. Very much a "technology demo" or a beta type of thing IMO.

Thanks a million, JeffMD. Any idea if it hand-written annotation works with Word?

Yes, MS Word does support annotations with the Pencil. I have used it myself, and it was also demonstrated by MS during the iPad Pro keynote.

Thanks dreyfus2. I checked out the keynote (hadn't actually watched it before!) I could see the annotation with Word, and could see that it worked, but couldn't really see if it was practical. Since you've tried it - how does it compare to pen annotations on the printed page? I'm thinking, sitting back on my easy chair, marking up documents resting the iPad Pro on my knee. Am I going to be disappointed? :-) And do you have any idea what the annotations look like to someone reading the Word doc later on their PC? Thanks again, I know that was a lot of questions.

Were you able to test palm rejection with the Apple pencil? Sent from the iMore App

From my personal experience, I can say that this is not an issue. I used the Pencil at my local Apple Store and can report that you can lay your entire other hand on the display without disrupting the stylus. Palm rejection is a concept that only comes into play when you are using one of the many hackish capacitive styli, not when you have an active digitizer layer in the display and all reports point to iPad Pro having some sort of active layer embedded within its display. I don't know why people are so convinced that this is going to be an issue.

I am using the Pencil and the palm rejection is awesome, the best I have seen form any stylus etc. Even when using the Pencil for taking handwritten notes I am not seeing any issues at all. Highly recommend the Pencil. The Logitech Create case on the other hand, not so much

The iPad Pro may become the choice for my next "notebook" computer. It's thinner and lighter than even the 12" MacBook, but with a larger display, and the ability to draw directly on the screen.

As an ipad (or tablet), this thing rocks. As a notebook, hooked up to a keyboard, I umm...will never do that because I already know that would suck and don't care. I got the expensive apple case and smart cover. That's the way I use an ipad. Either on an table or in lap on couch using the smartcover to prop up. When reading I'll hold in portrait for a bit propped against my lap. It's not an ipad you'll hold up constantly but I never really used them like that. The screen is fantastic. The speed is noticeable over an ipad air 1 (never got the air 2). The sound is much improved with 4 speakers. To put it simply, everything is better on this bigger ipad. It should only improve as apps and iOS are updated. Hopefully I'll find an Apple Pencil sooner or I'll receive it in a few weeks anyways. Portability? I usually take the ipad air with me using an STM ipad case. It's small and has a few pockets for accessories. That won't do for this. Most likely it'll share the STM 13" laptop bag with my rMBP in the same pocket as the laptop. Price. Ugh. I vowed I would never pay more than 500 for an ipad again a few years back when buying the Air. Jokes on me. Seriously, as much as I like the Pro, this would be the only reason I'd return it. Perhaps the Pencil will be the tipping point or simply not being able to go back from a bigger, faster, better sounding ipad. Will have to see how it goes. Holding this in portrait, pics look great. Comics are awesome. You have to remember this is a 4:3 form factor vs the usual 16:9 laptops. It's bigger than the macbook screen. Lots of real estate for the web, media, etc and it looks great.

Since I have seen no mention of it, I assume the Pro does not support 3D touch.

Sadly, on an expensive device like this, there is no 3D Touch. You'll have to wait for the iPad Pro 2 for that feature.

Maybe it's just me but I don't see a need for it. The iPad has always had more in the way of multitasking gestures that aren't feasible for a phone. I think 3D Touch solved th phone's lacking. I'm saying all of this as someone who tries to use 3D Touch at every opportunity on the phone.

Frankly 3D touch isn't necessary on phones either. Phones were never lacking the technology to display a contextual menu, and 3D Touch is Apple's unnecessarily expensive solution to just that - the ability to invoke context menus.

Dude u said i won choice of iphone 6 or the flat screen i filled out the servay and the sight disapered no phone or what the h.

You should have been forced to do your review without the Apple Pencil so you would experience the IPadPro like the rest of us.

I can easily see myself using iPad Pro... I have need have access to my Amiga emulation stuff as the only reason using a Mac. Plus data already on external hard drive. Most of the time its gonna come down to apps, as it always is now.. Since iPad Pro runs iOS so its just a bigger screen.
I was even thinking of replacing my Macbook Pro retina with an Macbook Air, and sell my iPad Air 2 for an iPad Pro.. Probably a good combination.

Nice overview of the new iPad Pro and its features. My favorite new feature is the ability to view apps side by side.

. . been on the fence for the last few weeks , you just sold me . Thanks ( i think )

Lenrich 360 Rotating Keyboard Case for iPad Pro, Wireless Bluetooth Keyboard with Detachable Swivel Case Stand Protective Shell for Apple iPad Pro 12.9 inch Tablet
Thank you for signing up to iMore. You will receive a verification email shortly.
There was a problem. Please refresh the page and try again.