Updated: iPhone 4 already on delivery trucks, in hands! [Sticky]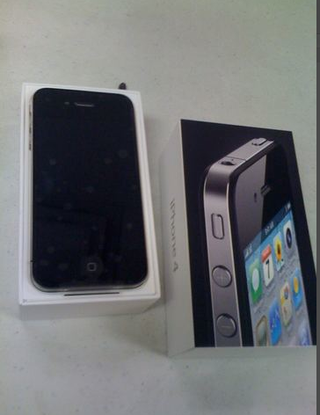 Our tip lines, and all of Twitter it seems, is afire in claims that some iPhone 4 are already on delivery trucks and even in users' hands. Hey, crazy things happen in crazy times but we'll believe it when we see it (in non-blurry cam pics, in your real-life full-framed hands, okay?)
Given those Apple emails about iPhone 4 pre-orders arriving a day early, FedEx confusion could see them moving around already. Or some people with nothing better to do could be using that uncertainty to play internet pranks just for the lulz.
UPDATE: Looks like, indeed, some deliveries have gone out early. Picture above is courtesy of a Twitter DM. Check out the TiPb iPhone Forum for more pics, and if you get one early, post your own ASAP and tell us what you think!
Get the best of iMore in in your inbox, every day!
Rene Ritchie is one of the most respected Apple analysts in the business, reaching a combined audience of over 40 million readers a month. His YouTube channel, Vector, has over 90 thousand subscribers and 14 million views and his podcasts, including Debug, have been downloaded over 20 million times. He also regularly co-hosts MacBreak Weekly for the TWiT network and co-hosted CES Live! and Talk Mobile. Based in Montreal, Rene is a former director of product marketing, web developer, and graphic designer. He's authored several books and appeared on numerous television and radio segments to discuss Apple and the technology industry. When not working, he likes to cook, grapple, and spend time with his friends and family.
http://forums.macrumors.com/showthread.php?t=945855&page=5
pics

Could be possible. What if one of us worked for fedex, delivered it to ourselves, then picked it up at the shipment center. You could technically have it a few days early

It's true. I'm an employee of Radioshack and we got 4 in today.

Mine says on fed ex truck and in route for delivery!! Could it be! As soon as I get will be on YouTube

I have a working tracking number, my phone has left the FedEx origin facility, and is shown shipping standard overnight for arrival tomorrow (23rd) before 3pm.

my local radio shack said they had 2 white iPhones but the list was 15 people the pre-ordered them

So far, the places that have been getting them have been getting very small numbers of them. 1 or 4. That does not bode well for those of us who are a little bit further down the list (8). Ive been calling Best Buy to see if they've heard anything and they are officially stonewalling me. ( I know I'm a pest) If they don't call me on the 23rd to "make an appointment" I will be heading over to the Apple store to try my luck at getting a phone there. The waiting is the hardest part.

@ The Shack. Did you get more than 4 preorders at your store?

Shenanigans. Was hoping my ship date might have gotten bumped up with all this chatter about early deliveries. I'm still on July 2nd though.

@ Mom. my friend works at Best Buy and the mobile supervisor told him that their store would for sure get as many phones that were preordered on the 15th, but no guarantees if you don't have a preorder

Daje u said white?? U sure not black, far as I have heard no white until late summer

I think Deja is a bit confused, since the new iPhone 4 comes in a mostly WHITE box, even the black one ;)

I know for a fact that UPS is delivering 120,000 iphones today to storefronts.

MY INSIDE MAN IS A SHACK WORKER , THEY PREORDER 20 & GOT ONLY 2 16 GB

Anybody got a clue as to how many are in a case that are being delivered to the stores?

True on the Radio Shack small deliveries. I asked a store rep today if they got at least 10 preorder Iphone 4, and he said "far from it." I guess they got 4 phones only.
I hope Walmart does better.

I got my pre-order at AT&T and I have track number but in fedex page it shows me an error and I can see anything. This happen to anyone else.

Mine has been stuck in newark all day , failures i say !

Mine is showing, "Arrived at FedEx location | Oakland, CA". Bummer, I'm in Oregon so it looks like no iP4 love today, here's hoping for tomorrow!

Mine is still stuck in Anchorage! What the heck is going on up there?

I preordered mine @ AT&T as well and when I track it I get Not Found. It sucks not knowing, but the store is right in my building I work in so I am going down after work to check.

Yeah im having the same issue, says its been shipped thru FedEx, but tracking number is not working, so i have no clue where it is!

Rene, shouldn't that be TiPB lines, instead of tip lines?
I like to old iPhone box better. :)

The shack didn't really do preorders. We just took requests. So they could determine how many to send. One will be mine. I wanted white but I think I'll settle for black.

Just checked my status. One is listed as still in Anchorage (as of 2:10 yesterday) with a delivery date of tomorrow morning before 10:30.
The other is listed in Memphis (as of 12:30am this morning) with a delivery date listed as 4:30pm on Thursday.
Chris

I called FedEx about my order through ATT. They said it would ship tomorrow, and nothing would show up on their shipment update until then.

It wouldn't surprise me that AT&T and Apple are both worried about the rush of activations so they're now just forgoing any delivery blocks on preorders and are getting them out then ASAP so that the activations are more staggered.

Now if only the Apple Store would let us pickup a day early.....

My order says In Transit in Indianapolis, 3 hours ago. I hope I get mine today, I probably won't though.

Our local walmart (a rural-ish town) told me they were getting 19 black 16g and 2 white 16g. I'll believe teh white when I see it though! They're opening a line at 7 to pass out numbers and starting the selling at 8. My friend and I are going to arrive at 5 to see if we can get one and make it to class by 9. We'll see how it goes!

Mine show in transit, left Ft Worth at 10:45 am, should see mine and the bosses' tomorrow

Mine says Anchorage as well with one in Memphis also. Crazy

I live in Colorado and it said picking it up at Memphis at 6:02 this morning looks like I should be getting mine tomorrow!! ;)

@Grace Wilson
I may be wrong, but I believe only the larger capacity (32gb) comes in black/white. Smaller capacity (16gb) models are only going to be black, like it was with 3G back when I got mine in 2008.

After sending a confirmation message on the initial day of order AT&T has put my status into "back ordered" with no ETA. No cancellation, but no phone this week. I'm stuck. As a SUPER loyal Apple fan I may wait, or maybe its time to try Android if Apple is going to allow AT&T to pull this crap on its customers. WHat a crock.

My phone was shipped this morning and as of 10:45 am it left fort worth Texas

@Chris
you are mistaken. The colors are in both sizes just as the 3GS was offered.

not gonna lie... kinda jealous. but oh well, will have to wait and see what happens with my order.

I am in Northern Michigan (Straits Area), and my iPhone is in Kentucky. Possibly tomorrow.

@JD.......went thru that with my 3G, which is why I didn't even try this time. I'll wait till it is in the store. My 3G was ordered, and as soon as I got the confirmation email, I got the "back order" email, with no delivery. A week and a half AFTER they were selling in the stores, my phone showed up. Took almost 3 weeks for it to be delivered. I was not falling for that again.

JD if that's a good enough reason to go to Android you must want one, so go test the waters. Your not a true Fanboy!!!
But to the people getting iPhones today and tomorrow, you suck!!! :)
I won't get mine until Thur afternoon.

I'm glad if they are getting it early cause maybe Canada's release wont be delayed

I got my tracking information and saw that my order is on Memphis,TN and that it would be arriving tomorrow at 3pm. I live in New Jersey by the way

Ack, my iPhone spent over 22 hours in customs in Alaska (guess it takes a while counting 600,000 boxes). It has only just been released but according Fedex it will still get here in Florida by 10:30am tomorrow. It's possible but it's cutting it close.

just checked my account on At&t's site and I have a FedEx delivery scheduled for tomorrow... :x just got picked up in fort worth, texas. I guess at&t is shipping early as well... awesome!

yuppie i got my iPhone 4 just now...its damn cute..

I just checked my order @ FEDEX and it says "Departed from INDIANAPOLIS, IN @ 4:54 PM." It still says "Est Delivery is June 24th by 4:30," but i received an email from apple saying that I will get it on the 23rd (tomorrow). Which is right?

@DJ:my fedex tracking number said that i would get it by today by 3pm and i got at 3.45pm..whatever it shows on fedex is true

Not lucky like those getting the phone delivered early, but I did get a call from Best Buy advising me they will open at 7am (Thursday) and I can get it then. I was third to preorder

I'm glad they're allowing early delivery, happy customers and less chance to meltdown the AT&T network yet again. Mine has left Memphis for my city!

I guess my second question would be: why did i receive an email saying that I would be getting my phone on the 23rd? and third question: what or who determined which orders were fulfilled early? I had my phone ordered by 10:00 AM on the 15th.

Well I got the email saying I would get it on the 23rd, the tracking number says the 24th. It left Indianapolis at 3:30 pm today (I'm in the Cincinnati area). I talked to a fed ex rep on the phone that told me I'll almost definitely get it on the 23rd and to check the tracking again first thing in the morning & it would probably show a changed estimated delivery at that time.
Just a strange situation! Fed ex tracking doesn't seem to update very quickly.
I was able to pick up a silicone case and some anti-glare screen protectors at Best Buy today so I have some protection until the nicer cases start showing up.

@Mapleleaf14: Thanks for that info. I called and talked to a FedEx rep and he just read off what the internet tracking said. But he also said it is very possible that i will receive it sooner. My big deal is that i do not want my phone sitting outside all day in mid 80 degree weather (right where the sun beats down). Oh well, I guess I'll prepare for it tomorrow and try not to be disappointed if it doesn't show.

And here I ordered mine for pickup because I thought I might get it sooner that way. Looks like I was wrong :( lol

I will be suprised if I recieve mine tommorrow. Fedex says it's in Charlotte nc. With a delivery of the 23rd by 3pm. I preordered mine from AT&T at 7pm est on the 15th so I wasn't expecting it until next week sometime.

I got my order in before noon CDT and mine shows "back ordered" while my wife's was ordered around 1pm and hers shipped. AT&T F#$)(*s it up again. Glad for those of you who did not fall prey to those idiots. I feel bad Apple is stuck with them because they are making them look really bad.

So even though I got the email saying I'd get it on the 23rd, it doesn't look like I'm going to.
Tracking number shows that it is in the Erlanger, KY facility (which is only like a 1/2 hour away from me!) but that's where its been since yesterday at 5:55pm. If it was going to be delivered today I would think it would already be on the delivery truck - they usually roll out between 7 & 8 am. Kind of sucks - wish Apple wouldn't have even sent me the email getting my hopes up!
Talked to a FedEx rep yesterday that told me I would almost definitely get it today, but just talked to a different one today that said if my tracking number showed a delivery date of the 24th I'd get it on the 24th. I said what about the internet posts of people who had a FedEx screenshot showing that theirs was already delivered but still showed a delivery date of the 24th?!? He just said again if it shows the 24th, it'll be the 24th. He was kind of a pr**k about it - guess they're getting tired of calls about iphones!

Yes it is true I received my iPhone 4 at 11:15 a.m. on Wednesday June 23rd.

I too had got a mail that my shipping was done on 22nd and they gave me a FEDEX tracking number which told that I would get the Iphone by 23rd 3:30 pm CST but I saw that it was in transit since morning 6 am and as I had expected it, I got the delivery at 11:00 am CST. I say in Dallas, Texas and my shipment was made from FortWorth, Texas which is just 20 miles from Dallas at max.

Got an email this morning from AT&T for a delivery in Houston, TX. The Fedex tracking number said it would be delivered at 3 PM. Got it at 3 PM exactly.
Jun 23, 2010 7:24 AM
On FedEx vehicle for delivery
HOUSTON, TX
Jun 23, 2010 7:23 AM
At local FedEx facility
HOUSTON, TX
Jun 23, 2010 4:31 AM
At dest sort facility
HOUSTON, TX
Jun 22, 2010 7:01 PM
Left FedEx origin facility
FORT WORTH, TX
Jun 22, 2010 5:15 PM
Shipment information sent to FedEx
Jun 22, 2010 2:40 PM
Picked up
FORT WORTH, TX
Thank you for signing up to iMore. You will receive a verification email shortly.
There was a problem. Please refresh the page and try again.