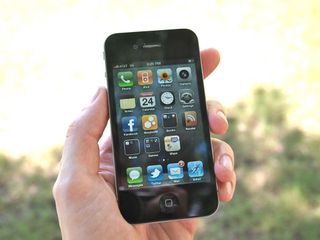 Pictures of iPhone 4 and Test Photos / Video
So truth: we spent way too much time taking these shots of the iPhone 4. But the device, she is pretty; and glossy, so it took awhile. Truthfully, though, don't blame us or our camera's adoring eye, we just couldn't help ourselves.
We also too a trip to the park to bring you some sample images from the iPhone 4's 5 megapixel camera and shot some video from both the front and the back - with a loud fountain in the background to see how the microphone could handle it.
We include all of the above after the break. You're definitely going to want to take a look at the (completely unedited) shots of a water fountain we took. We're including an extra close-up crop so you can see the level of detail the camera can pull off.
[gallery link="file" columns="2"]
I want and need one immediately!

Come on August 1.... white iPhone here I come
These shots are beautiful I think they just gave me an iGasim lol

I will have to admit this new phone is the truth. I went to the store to check one out and I will say this. Just having one in your hand and you will be sold. Seriously. It's a very solid device. It feels more expensive. It is an A+ upgrade. I can't wait till I can get one.

Is video recording always in 720p? When I upload videos to youtube, they are only in 360 and you can't view them in 720 like the video that's posted here. Is there a setting somewhere?

@Keith yes there is a setting on the iPhone and a setting on YouTube.

@Mr. Copyright Ok....care to share where the settings are?

@Keith I heard (read actually) that if you upload the video to Youtube directly on the device, it converts the video. But the file stored on your device is 720p, so you can transfer it to your computer and upload it there. That way I guess you can have your HD video up :)
Just repeating what I've read

Every review has touted "good" low-light performance of the camera but I can't find one review that actually has pictures taken in low light (bar, night, etc).
Could you please, please, please take some photos with flash off in the low light environment to actually put this camera's image sensor to the REAL test?
Comparing side-by-side shots to a 3GS would be great too.
Also, pixels on the image sensor aren't bigger on the iPhone 4 camera compared to the 3GS, they are actually the same size. Apple kept the pixel size the same by increasing the actually surface area of the light collecting are on the image sensor.
Thank you for signing up to iMore. You will receive a verification email shortly.
There was a problem. Please refresh the page and try again.