iPhone 4 pre-orders now shipping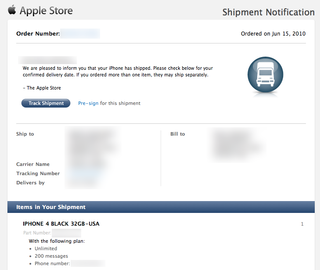 Apple iPhone 4 shipment notifications are now being sent out to those who managed to get their pre-orders in last Tuesday. (Those that were previously prepared for shipment and not randomly canceled we gather...)
They say for delivery June 23, though from past experience we're betting Apple puts a hold on them until launch day, June 24.
Did you get your shipping notice? Let us know in comments.
[Thanks Marcus!]
Rene Ritchie is one of the most respected Apple analysts in the business, reaching a combined audience of over 40 million readers a month. His YouTube channel, Vector, has over 90 thousand subscribers and 14 million views and his podcasts, including Debug, have been downloaded over 20 million times. He also regularly co-hosts MacBreak Weekly for the TWiT network and co-hosted CES Live! and Talk Mobile. Based in Montreal, Rene is a former director of product marketing, web developer, and graphic designer. He's authored several books and appeared on numerous television and radio segments to discuss Apple and the technology industry. When not working, he likes to cook, grapple, and spend time with his friends and family.
Got my e-mail. Too bad they would not randomly split the deliveries on June 23 and 24 to prevent the system from crashing with all the people trying to activate their phones.

On the way...estimated delivery @ 4:30!

Awesome! Mine has been picked up by Fedex and shows a delivery date of June 24th! I can't wait!

Mine is on the way, and I will have it bright and early since I'm a Fed Ex contractor!!!!

I also got my email with the tracking number indicating that it was already in transit. The email indicates delivery by June 23rd. I agree with Harlan. It would be very smart of AT&T and apple (for once) to allow the activation to occur on two days. It would be a lot easier on the servers. Let preorders do it on the 23rd, and store customers on launch. Makes good sense. Too bad those companies rarely male sense on launch days. I've been through launch day with the other 3 generations of iPhones and it's just as bad as the preorder day for iPhone 4. The bad thing is, you're without a phone at all until it completes. #uberfail

Fix the article please. No one managed to get their preorders in last MONDAY , since TUESDAY was the first day Apple started taking preorders. ;)

My ship notification just hit my inbox..... Can't wait for Thursday!!!

Mine has shipped as well. :D But the email said it should be here on the 24. It was in Hong Kong as of 7:04 AM EST.

My wife's iPhone shipped from Apple. I'm still waiting on word from ATT about mine. Does ATT ship them, or does Apple ship ATT's orders?

Ordered mine from AT&T at 6:23am central time on the 15 th. When I would check on order status on AT&T it said quantity ordered and backordered. Now it just says quantity ordered. No more backordered. I take that as a good sign. Anybody else seeing this?

Just got my shipping notification this morning!! Excellent Father's Day gift for MOM who is cooking for the whole family right now! lol I had a heck of time ordering my iPhone 4 on the 15th. Did not think I would get through and then finally did around 7:30PM that evening after dozens of tries. So excited!

Yeap just got my tracking number delivers the 24th

Mine has shipped as well! I received the Shipment notification last night around midnight. I'm very excited!

I am jealous of all of you who were able to get it online. I have a preorder with Best Buy. Is there any shot that you will really get it on the 23rd, or will Apple hold the shipments?

Apple will hold ALL shipments till 24th.
Don't ve jealous , you'll have yours the same day :)

Mine still says Prepared for Shipment. Should I be concerned I didn't get a confirmation yet like others?

I have a question; what about ATT? I ordered mine via the store(Direct Fulfillment) and my order has said "in progress" since day one. Should I worry?I was reconfirmed I would receive one on release day,but who knows :)

No email here. I'm still getting "prepared for shipment", not sure what the deal is.

No need to worry. All the " prepared for shipments" will be shipped before Tuesday.
AT&T will not give you as detailed shipping & tracking info. They'll give you a delivery notification couple hours after you received it :lol:

I received my email. The estimated delivery is June 23 but on FedeX, expected delivery is June 24th. I agree that pre-orders should have to make the switch to the new phone without having to activate the same day as the rest of the world with a new phone. It will more that likely overload the servers, the same as with pre-order day.

@Art VanBurenBoy, the "prepared for shipment" for me is not from the AT&T website but it's from Apple's.

Mine says In Transit from Lantau Island, Hong Kong. Delivery date: 6/24 by 4:30pm.

Probably takes awhile to move 600,000 packages through a sorting facility. I wouldn't imagine all the "prepared for shipment" statuses change to "shipped" at once.

Csullivan
I know. AT&T doesn't even show you prepared for shipment. They only show " in progress"...."shopped" ...."delivered"

On AT&T mine still says processing! Hope I get mine on the 24th because they've already taken the money out of my account.

ATT just says IN Progress for me.

I ordered mine on the 15th through AT&T yet AT&Ts site still says "in process" and shows 1 on back order. The AT&T rep said that i should still get it on the 24th....yet AT&T hadent charged my credit card, it looks like it may be a holding transaction,
I find it odd that AT&Ts website says the phone was ordered on the 17th, when I placed the order on the 15th.
I guess I'll have to wait till the 24th and see what happens. :-/

By the way when I log into AT&T it only shows three stages: Recieved, Processing, & Shipped. The first two have been checked. Waiting for that last step now.

I wonder how many fedex planes it takes to ship all 600,000 phones to the US. Probably a couple days worth of flights...
Then there are all the phones for sale on launch day for radio shack, best buy, and the apple store--those need to get shipped too. 1+ million phones maybe that are getting shipped?

@Byron....same for me when I go to the Premire site with my reference web order number.

Mine is shipping...now if only I could by accessories (mainly a case) on the 23rd...the main reason I opted for delivery is to avoid the zoo at the stores.

i pre ordered my iphone on the 15 and like 8 EST. everything went and all. well last night at like 1 a.m. i checked my order status and it said prepared for shipment. So should i be worried that i won't get it on the 24th. or is it that apple just hasn't gotten around to my order yet? please let me know!!!!!!!!!

I am so paranoid abt this whole situation, I am "in progress" as well w/ no conf' email. Just the word of the reps of AT&T & Apple :-(

I ordered mine through AT&T how would I check my order status

I was a very early AT&T order at 8:40 AM ET on the 15th. I talked to AT&T Premier customer service on Friday and they had just received a notice that pre-orders would not be delivered until the 25th at the earliest. Sorry folks but it looks like they are staggering activations. Apple pre-orders are starting delivery on the 23rd, in-store pickup and sales on the 24th, and AT&T losers like me on the 25th. So the early bird is not getting the worm this time...looks like the second mouse is getting the cheese. AT&T B@STARDS!!

TetonWolf
none of the units will be delivered before 24th.
Even if some get emails saying 23rd, the fedex tracking shows 24th. Apple is strict about their delivery dates.

Guyz I ordered mine from AT&T but still like u mine only says "in progress" I dnt know but I think AT&T spread the orders through many days that's y ppl started finding out that there orders were ordered on 16th and 17th while they actually ordered the iPhone on the 15th plus I think it's just a way of making sure that all pre orders made to AT&T will be delivered for sure on the 24th ( or else try wouldn't have suspended the orders shortly after allowing them)...

No need to get paranoid about having not having a confirmation email. The iPhone will be shipped.
Can't wait till I get one!!

My order status on Apple.com says prepared for shipment, although the ship by date is July 2nd. Is that a good sign that I may get mine in the first shipment, the 24th?

@Keith. Ummm. Apple ships backward in time. They should be able to send u the phone on July second and get it to u by June 24.

Best fathers day gift when I checked my e mail this morning :-) your pakage has been shipped!

Ordered through AT&T too. Received confirmation email June 16th. Order status says in progress and AT&T rep told me to check my upgrade status. If my next eligible upgrade is for 11/2011, then my order is still good.
My authorization charge on my debit card was lifted yesterday and will be re-charged for real when the phone ships.

Art VanBurenBoy
I work for FedEx IT. If FedEx's tracking details says the 23rd, then it will be the 23rd. I don't think Apple can just "put a hold" on a few hundred thousand shipments once they are in transit. From a logistical point of view, it would be a nightmare for FedEx to implement and VERY costly to Apple.
The real question is what does the actual FedEx tracking details page say.

Is AT&T going to deliver iPhones on 24 or NOT???? :(((

icheck my order today to see if it wasnt cancel and it just says that is ready for shipment i hope that by the end of the day or ltomorrow to get the notification of the delivery and date. i hope i get it the 23

Well...I just got some good news. My phone had been showing July 2 since my email order confirmation from apple.com. However, I just checked my order status and now have a FedEx tracking# with a delivery date of June 24. Out-freaking-standing!!!

Unhappycustomer
Not according to what I was told on Friday by AT&T customer "service"...it will be the 25th at the earliest. You may want to give them a call yourself (please prove me wrong!!).

I ordered 2 from apple, one was shipped the other still says not yet shipped. Should I be worried

@unhappycustomer. no if you ordered yours on threw at&t.com then no you will get yours on the 25th. my friend ordered his threw at&t and he got threw it in one try and thought he was was all big and bad and yesterday he got a email saying "it will be ready for in store pick on June 25th 2010 at your locail at&t store"

So does that also mean I have to pick it up??? That's stupid and unacceptable y should ppl who had shipping dates like July 2nd get it delivered by June 23rd and others who actually ordered earlier get it later by one day in a stupid way!!! F*** AT&T

@tetonwolf
That is exactly what apple did last year with the 3GS. many people including myself had delivery fates from fedex 3 days before launch date. Apple refused to allow the iPhone to clear customs until the day before launch day.
I expect apple will do another embargo this year as well...

I believe Fedex and Apple ship iPhones in giant containers or packages. I don't think it's 600000 packages one by one.

Trip down memory lane: apple does not deliver iPhone before launch day
http://www.tipb.com/2009/06/17/iphone-30-drop-time-update-iphone-3g-deli...

I got my notification via email today and it also states the 23rd as the date. I am still betting on the 24.

Hassan, et. al.
Alrighty. You guys win. It is true that the shipments are on big ol' pallets so they could easily have them held up in Anchorage (FedEx US hub for Asia inbound). In any event, I don't think AT&T could care squat when we gets ours. Maybe they'll just cancel all their pre-orders and tell us to keep our 3G and wait till next year's new iPhone. What a bunch of corporate a-holes.

TetonWolf
calm down.
First of all NONE of the orders shipped today say "delivery by June 23rd" on FEDEX SITE.
They say June 23rd in email from apple.
But the actual fedex site shows 24th
Also , Apple CAN put a hold on all shipments till 24th , just like they did last year. I remember clearly that my iPhone 3Gs was at our local town on 17rh but they weren't allowed to release or deliver it before 19th.
Nevertheless , you should know by now , Apple does NOT allow early release of their iPhones before street date.

And exactly how the hell is this AT&T's fault? Jesus, some of you guys probably blame AT&T for the BP oil spill.

Sarah.
Your email says 23rd. But of u punch ur tracking number at fedex.com it will show 24th ;)

Considering how much of a grudge Steve holds against companies, I don't see any of the major shippers delivering early. Apple would no longer use them.

bsangs
It's AT&Ts fault because they are too LAZY to ship our pre-orders to arrive on the 24th. Some AT&T VP decided will nilly to start shipping them on the 24th and not any earlier. For that, they are douchebags. And who knows? Maybe they did cause the oil spill.

whoo hoo! got my shipment notification! Sweet! ! !

I have only gotten an email from AT&T not from apple and I haven't gotten an email saying it shipped. Pre-ordered from AT&T store. Hoping it shows up on the 24th!!

My order has not shipped yet, but my upgrade eligibility has changed. So I am keeping my fingers crossed, that AT&T gets the orders out on time!

Will Walmart Have Them On The 24th!? I Might Go Staight To Walmart Pn Launch Day And Mayb Be Lucky Enough To Come Out With One

Does anyone know if some apps are going to change on the iPhone 4? I would hate for some apps to go to waste. I just heard a rumor once, so I don't know.
Let me know. To check those apps, click here

Ok guys I have the final news.......(drum rolls) AT&T have an agreement with fedex to ship iPhones over a 2 day shipment signed to be given out on June 22nd, they will ship all pre ordered iPhones on that date..... Whether fedex does a good job or not it's all up to them.....the latest date anyone will recieve the iPhone 4 in is the 27th but it's unlikely

AT&T WILL ship a "batch" the next couple days to arrive ON 24th. The second batch will SHIP OUT ON 25 TH. .that's to those who did indeed order on 15th BUT due to huge amount of orders were entered in the system as 16th.

what a bunch of ass* comments. THE RELEASE DAY IS JUNE 24. Why would you expect it earlier Fheads.Lets just bitch that Apple didn't give them away FREE while your at it.

I have to be one of the first AT&T preorders at 5:30am eastern on that miserable Tuesday. Order status says ordered on 6/15, status has been in progress since that Tuesday afternoon. I haven't seen anybody post about getting one this early. Think the usual poor customer service of AT&T is a good sign for everybody and most of us will get them the 24th.

@UnhappyCustomer thank god!!!! mines getting here the 24th it says I ordered June 15th, so I should be good, the craziest part about it is how AT&T even though you all are mad at them for some reason had great customer service the guy at the store who got my data down since I switched from Verizon hooked me up with the unlimited data plan even though I hadn't been with AT&T. Everyone needs to settle down AT&T is doing their best I guarantee it to get all the pre-orders out and for that I am thankful its very hard to sort out. I am very pleased the way AT&T handled everything towards me atleast customer service there was above Verizon too a lot faster and smarter.

I am a current AT&T customer who tried to order an upgrade through my husband's account online at 6/15, 5:30 am PST and could not get through because of the system crashes but was successful ordering through AT&T as a "new customer" by 6/15, 7:30 a.m. Because I was considered a new customer AT&T had to approve my credit, Chase Visa held the transaction until Wed am for me to verify through email so NOW I show an order date of 6/16/2010 when in reality I was one of the early orderers on Tuesday morning. I am very bummed about this since I don't know if it will ship now on 7/2 or 7/14. I'm leaving on a major trip early July and wanted my iPhone for the trip. Just hoping the shipping goes better than the pre-ordering did and it will get here before we leave. :(

How do you know when to get the shipping do they send you a notification by A t and T?

@This Girl
I don't know if AT&T actually emails you anything. And by looking at the message board from last year, referring to the 3GS, AT&T didn't mark your order as shipped until the day before the release date. Don't know if they provided tracking or not.
You can check your order here:
https://www.wireless.att.com/order_status/
I recommend using your cell phone number associated with the order to look it up. Mine still says "In Progress".

I have a question:
I am getting the 32 G iPhone. I have not received a notification yet. But my other 1/2 who is getting the 16 G did get his notice.
Question is: If you are getting the 32 G, have you received a shipping notification? Or are they just notifying just 16 G owners first.
We both are expecting shipment on 6/24.

@ Kingsely - "My authorization charge on my debit card was lifted yesterday and will be re-charged for real when the phone ships."
Is this true, and who informed you? If so that explains why I have $200+ more dollars in my account.

@Anita
I ordered mine through AT&T around 3pm EST on 15th but AT&T shows 6/16. That's cause a lot of orders had to be re-entered manually by AT&T staff on the 16th and that date doesn't affect your delivery date , but the first cone first served rule does.
AT&T will start shipping between tomorrow and Tuesday. They won't give us as detailed tracking info like apple store.

Thanks for the clarification Art. :)

Another AT&T order here...
Mine was a 7AM order, went through first time no issues. Saw a charge on my account, today it is no longer there...Is this good or bad? Still says processing too.

@ Byron:
I checked my bank account to see if those charges on my card were still pending yesterday (Saturday) and they were not. Called my bank last night at 11:45PM ET to ask them what happened. They explained to me that authorization charges stay active for 3 days ... if the biller, in this case, AT&T did not charge my card (they will once the phone is shipped), then the funds are returned to your account. I have continued to check my order status all day and my status still reads "processing" with my order being placed on June 15th. Hope this helps.

I was fortunate to have successfully pre-ordered my iphone 4 at 9:30am EST on 6/15. Of course, I had been trying to pre-order since 4am EST. I received an email from Apple that it had shipped (China) and delivery by June 24.

Mine says on FedEx website, that it is arriving on June 23 by 10:30. The notification message said - Delivers by June 24. I don't know what source to believe.

@Kingsley:
Thanks this helps alot. I too freaked out and called my bank but they weren't as informative as the reps were you bank. Maybe it's time I switch.

Lane
Who makes and sends your iPhone ?! That's right. Apple. That's the source you should beleive.
24th. :twisted:

Can someone who ordered a 32 Gb iPhone 4, confirm that they have e-mail about shipping (if you are expecting it on the 24th)? If you did, please state whether u ordered it from the Apple website or at&t website.
I pre-ordered mine on the Apple website and expect to receive it on the 24th. I have yet to see an e-mail about shipping and my CC has not been debited yet.
Do you think they are sending out the 16 Gb first?
Please let me know.
Thanks

Art VanBurenBoy
And I suppose Steve Jobs will be FedEx courier for the day just to make extra sure that Lane doesn't get his/her iPhone on the 23rd. NOT!! If FedEx says the 23rd, it will be the 23rd. Guaranteed or your money back.
I know it will never happen since folks will be falling all over themselves with their new iPhones but I would love to have people post back on this thread if they do indeed get their phones on the 23rd.

I pre ordered on the 15th, but on AT&T tracker says 16th. Also my bank account hasn't been charged yet?! I ordered the 32g

Oh I also forgot to
mention I got a pre order confirmation on the 17th with my new cell number on there. So?

Same as Lane here. Apple says "Delivers by 24th" and Fedex Tracking website estimates delivery on 23rd by 10:30am, but I imagine that will get updated...

I guarantee that no one will get their iPhone 4 on the 23rd. Apple is extremely strict about release dates and FedEx will be holding your package until the 24th. My 16GB iPhone 4 has shipped. Tracking statement says delivers June 24 by 430 pm.

Doesn't anyone read what is written on every transaction screen? AT&T clearly stated that they will charge your account ONLY when the phone ships, not when ordered. Pre-approvals were processed so they know who can and cannot be shipped. That's the while point of preapprovals... The charges u all saw were pre-approval charges and if it went through, you're fine... If not consider yourself cancelled, I know I wouldn't ship to anyone who couldn't pay for the phone. Hopefully everyone is happy and playing with with their pre ordered iPhones on the 24th, which is why I have one reserved at apple just in case my AT&T shipment isn't here on time ;) everyone on should take a deep breathe and chill, of course there will be problems on launch day, it's inevitable, it's a massive amount of transactions and accounts being set up... People need to understand that sh*t happens, life goes on, go eat a Twinkie.

@Josh: Maybe it's just wishful thinking, but Fedex could mess up (in a good way) and delivery early :)
Interestingly, while others have noted their shipment coming from Hong Kong, my Fedex shipment details have just updated and it says it is coming from Shenzhen, China and still has 23rd has the estimated delivery date.

Got my email notification today saying that my phone has shipped!
I have the 32gb iPhone 4 ordered from apple
expected date of delivery is the 24th

I just checked my ATT wireless account and it says "Shipped" YAY!
I placed my order at 6/15 6am EST.

Order from Apple.
Delivered from Shenzhen, China.
FedEx: delivered by 10:30am June 23rd.
Hopefully it gets here early.

I just checked my order status from AT&T and it now says the order has been shipped!!! Yeah!! I had placed the order the first day at 5:30 CT but since then the status was always - In progress - so I was never really sure when or if I would get the new phone. It looks like AT&T is coming through - can't wait to get the new phone.

Wolf
Fedex goes by what Apple asks them to do cause Apple actually PAYS FEDEX beleive it or not.
If you truly work(ed) for Fedex then you should know that a large company can request a hold on items for release on the same day.
I've even had videogames ON THE FEDEX TRUCK that he wouldn't deliver to me till the following day that was requested delivery date by shipper.
Besides
if you pay attention. No one here has receives a tracking number that says 23rd on fedex tracking info.

FedEx just delivered my iphone4 5 min. ago

My ATT status changed to ship this morning. No Fedex shipping details available yet.

Ordered from ATT and I now have a ship date of 6/20/10. Also have a tracking # but no carrier. Looks to be on its way soon.

My AT&T status changed and states it was shipped from the 17th.

Att ordered on 15th. Status site is showing shipped as of this morning. Shows shipped the 17th but the fedex tracking number is not active on the fedex site yet. I'm pretty sure it hasn't shipped yet but it is getting closer.... YAY!!!

I saw that everyone's AT&T order was shipping so I checked my Order Status. Last night it was still "in progress" and now it says "canceled".
I called Customer Service and the CSR told me that my account states that my order would still be processed and I would receive a confirmation email and a phone call if they needed any additional information.
Interesting...

My AT&T order also now says shipped, on the 17th, but the FedEx tracking number isn't active.

ordered on the 15th from apple.com, still "not yet shipped", but listed as "delivers on june 24th" at the site for my tracking #...

Ordered 6/15/10
Shipped 6/20/10
Sched Delivery 6/23/10, will prob be delayed til 24th.
Tracking info available online as of 6/21/10

This is depressing. Ordered from AT&T Tuesday morning at 7am bright and early. Went through no problem and mine is still saying processing.

Since Rene will not post the 100+ new iOS 4 features. I will, hope you all enjoy :)
http://tech18.com/100-cool-features-iphone-4.html

I order through AT&T and now my order status is 'shipped'.

I'm still waiting for my AT&T to go through. Ordered at 6am the 15th....I will be giving AT&T hell if I don't receive my order....

Order status as of June 20th read in progress. Order status as of June 21st at 9:00 am read shipped. Got the tracking number but fed ex apparently has not received the shipping info or something because it doesn't recognize the tracking number. I never received a confirmation e-mail informing me of the order that I placed or an e-mail notifying me that the order had shipped. I knew they would find a way to foul this whole process up but who cares just as long as I get my phone by the 24th.

I ordered my phones late on 6/15 (around 11PM). The 16g had the June 24 ship date and the 32g had the July 2 ship date (well, the initial order had 6/24 but the confirmation e-mail bumped it to 7/2). I was happy to get my notice that have both shipped. The 32g has a delivery date of 6/23 (via FedEx website). No - I'm not expecting it to deliver until the 24th, but people are getting that delivery date on the FedEx website, despite what some commenters say.

I ordered my 32 gb about 11 PM EST from apple website, it said delivered by the 24th on my confirmation page however my email said july 2. I woke up this morning to find an email from apple saying that it has been shipped! Fedex says it will be delivered by 1030 AM on the 23rd but we shall see, but even if it comes the 24th thats alot quicker than I expected!

I placed my order on June 15 @ 9:15am at my local AT&T store in Massachusetts, I looked this morning (June 21) and my order says "shipped", still no tracking info though, maybe cuz it's 10pm in Hong Kong.

Shipment Dates
Ship date Jun 20, 2010
Estimated delivery Jun 23, 2010 by 4:30 PM
Im so happy ordered from apple on the 15

Mine says still in progress, but the ship date was yesterday. Does anyone think that means that I will get mine by Thursday? Also there is a FedEx tracking number but it doesn't go to anything.

Just received my AT&T shipping notification and tracking number from website order status. Claims it shipped on 6/17/10.

Still "Processing" on all three of my orders from AT&T. The one order that I placed through Apple was shipped as of 6/20. Too bad that one isn't for me. :\

Got my notice and it FEDEX tracking shows it made it from China to Hong Kong.
Ship date Jun 19, 2010
Destination TEMPLE, TX
Estimated delivery Jun 24, 2010by 4:30 PM
Service type International Economy Distribution - Indirect Signature Required
Tracking results as of Jun 20, 2010 9:11 PM CST
Date/Time Location/Activity
Jun 20, 2010 7:48 PM LANTAU ISLAND HK/In transit
Jun 19, 2010 7:09 PM /Shipment information sent to FedEx
Jun 19, 2010 10:00 PM SHENZHEN CN/Picked up

Checked AT&T this morning and mine switched to shipped and I just got them shipping confirmation email.
I have a question about the activation. On the AT&T email is says that I have to call in to activate the phone. I've never had to do this when I ordered through Apple. Is this new or something AT&T makes everyone do each time if ordered through them? I'd hate to have to call in on Day 1, who knows if they can handle the volume (doubtful based on the past week and other years' activation woes).
How to Activate Your iPhone: Charge your phone/device following the instructions provided in the user's guide. Power on your phone/device. Call 1-866-499-8008 Monday-Friday from 8:00 a.m.–9:00 p.m. Eastern Time or Saturday from 11:00 a.m.–8:00 p.m. Eastern Time to activate your phone/device. You may be asked for any of the following information:
* Wireless Phone Number
* AT&T Premier Order Number
* 15 digit IMEI number
* 20-21 digit SIM card number

When you say no one has gotten a fedex delivery notice before June 24th, you are wrong. I got an email from apple saying delivery will be the 23rd and I got this from FedEx:
Shipment Dates
Ship date Jun 20, 2010
Estimated delivery Jun 23, 2010 by 10:30 AM
So maybe apple will stagger shipments by a day.... At least I hope so, or I may just be a fluke...

On AT&T, mine still says "In Progress," but since last night, it has an updated ship date as of 06.20, and it has a FedEx tracking number (that doesn't track anything yet). But I'm hopeful.

When the iPad initially released, UPS was the primary carrier chosen to handle launch day deliveries. Although UPS warehouses had the iPad 1-2 days prior to it's official launch, Apple hired their own security company that made sure that none of the iPads in UPS' possession were delivered early. I'm all for June 23rd deliveries, but I doubt that will happen.

Mine says estimated delivery date for June 23rd
[IMG]http://img.photobucket.com/albums/v301/xnight/iphone4shipping.jpg[/IMG]

I also have a delivery date (via fedex tracking website) of June 23rd by 1030 am. I sure hope this holds true that would be awesome!!!

Same as Chris, except mine has a ship date of 6/21. Very exciting. Hopefully all the worry was unwarranted.

Woohoo, my iPhone 4 ordered via Apple just got to Alaska. Fedex tracking still says June 23rd by 10:30am for estimated delivery...

Ordered last Tuesday at 12pm EDT at AT&T store. Checked order confirmation, and it now says "shipped" via Fed Ex with tracking number. When I check tracking number, it says it has not been entered in system yet. I assume I am OK for Thursday delivery.
Question: in case of delay in delivery, does FedEx deliver on Saturdays?

My friends iPhone is sitting in Alaska and says it will be delivered on the 23rd. But... His bank account does not show the charge for the phone anymore and the funds are back in his account?? Anyone have some input?

A bank puts a hold on it when u first order it. Then it falls off until it is shipped. Same happened to me! Hope this helps

I received my notice and tracking number today. But I had the tracking number by looking up on AT&T site. Found it in the statice of order at bottom of site before logging in. And there it was what I ordered and the tracking number thank you AT&T

Dear Apple Store Customer,
You recently received a Shipment Notification email from Apple advising you that your iPhone has shipped.
This email is to confirm that your delivery will occur on June 23rd. Although Apple and FedEx tracking information may currently indicate a later date, you can check the FedEx website the morning of the June 23rd to track your package to your doorstep.
In the event that you will not be available to accept delivery on June 23rd, it may be more convenient to use our pre-sign delivery option by visiting our Order Status website at http://www.apple.com/orderstatus.
Sincerely,
The Apple Store Team
THE EMAIL I JUST RECEIVED FROM APPLE! LOOKS LIKE THE 23rd IS OFFICIAL! A DAY BEFORE LAUNCH!

Departed FedEx location
ANCHORAGE, AK
Shipment Dates
Ship date
Jun 19, 2010
Estimated delivery
Jun 23, 2010 by 10:30 AM
Destination
GREENWOOD, IN
Shipment Facts
Help
Service type
IP Direct Distribution - Indirect Signature Required
Weight
0.6 kg/1.3 lbs
Reference
Department number
5
Clearance detail
All shipment travel activity is displayed in local time for the location
To display the shipment travel activity in local time of the scan, please select "Local Scan Time" time zone option.
Alert: To determine the destination time zone for this shipment please select from the Others list.
Alert: To determine the origin time zone for this shipment please select from the Others list.
No entries found
Date/Time
Activity
Location
Details
Jun 21, 2010 3:20 PM
Departed FedEx location
ANCHORAGE, AK
Jun 21, 2010 11:52 AM
Int'l shipment release
ANCHORAGE, AK
Jun 20, 2010 7:48 PM
In transit
LANTAU ISLAND HK
Jun 19, 2010 10:40 AM
Shipment information sent to FedEx
Jun 19, 2010 10:00 PM
Picked up
SHENZHEN CN
Package received after FedEx cutoff

Dear Apple Store Customer,
You recently received a Shipment Notification email from Apple advising you that your iPhone has shipped.
This email is to confirm that your delivery will occur on June 23rd. Although Apple and FedEx tracking information may currently indicate a later date, you can check the FedEx website the morning of the June 23rd to track your package to your doorstep.
In the event that you will not be available to accept delivery on June 23rd, it may be more convenient to use our pre-sign delivery option by visiting our Order Status website at http://www.apple.com/orderstatus.
Sincerely,
The Apple Store Team

You recently received a Shipment Notification email from Apple advising you that your iPhone has shipped.
This email is to confirm that your delivery will occur on June 23rd. Although Apple and FedEx tracking information may currently indicate a later date, you can check the FedEx website the morning of the June 23rd to track your package to your doorstep

Is AT&T not sending out these emails? Both phones I ordered show shipping - one as of 6/18, one on 6/19 with FedEx #s that go to a page that says FedEx has received no shipping information.

I got nothing from AT&T and it still says "in progress" that sucks!!!

I am confused, it seems that everyone who ordered from the Apple site can actually track their shipments. I ordered on the 15th and the ATT site says it shipped via fedex on the 17th, but the FedEx site still doesn't show any info about shipping details. My husband's order went through on the 16th and his is being shipped via UPS and he can already track his order... Considering one of us has to be home the day the shipments get delivered, it means a day off from work and we can't do that 2 days in a row, so I am not happy with that part of it. I called ATT and they told me that the phones have left their warehouse and just haven't been received by FedEx yet. I guess at least they are shipping and will get to me...

I actually got to pre-order my phone via the At&t website on 06/15/2010. At&t's website says my phone shipped 06/17/2010. Gives Fedex tracking number, but no information found on the Fedex website. At this point all I can do is hope that my phone arrives either Wednesday or Thursday. After this fiasco by At&t, Apple should really push to get another carrier for the iphone.

Art VanBurenBoy
Well, Art ol' buddy ol' boy. Looks like you were wrong. Apple won't allow iPhone deliveries before the 24th, eh? Well, I got a standard overnight IN TRANSIT from Fort Worth due on my door step tomorrow the 23rd by 3PM. And Apple has now confirmed that many deliveries will be arriving a day early. Like I said, I work for FedEx, and if the tracking info says the 23rd, it MEANS the 23rd. Okey dokey??

Waiting in Vain
Yes, FedEx Home Delivery operates on Saturday. However, bet you'll get it tomorrow via Express. We are good.

Guuuuuuuys I hot good news, just called AT&T and they said all pre orders submitted into their site, shipped delivered no tracking number or not (doesn't differ), all of them will be delivered on the 24th!!!! Can't wait!!!! :) :) :) :) :) :) :) :) :) :) :) :) :) :) :) :) :) :)

PreviouslyUnhappycustomer
Congrats!!

I preordered my iPhone 4. I received notification of shipment a few days ago. UPS site now says it is out on a truck for delivery today!!

Now I am really pissed off, orders that were placed on the 16th are getting delivered today, I placed my order in the early morning of the 15th and just called FedEx and my phone hasn't even been picked up from Apple yet, so will not get delivered until tomorrow. My husbands phone gets delivered today and he is staying home, but can't stay home two days in a row, so there will be nobody at the house to sign for the package. Why the heck are later orders being delivered earlier, this is bs and I will spend some of my time today yelling at someone. If I didn't just sign a two year contract to get the phone I'd tell ATT to f off and get a droid

I did the pre-order on the 15th and received an email saying my phone wouldn't ship until July 2. So much for pre-oredering. I did call Apple to confirm and was told July 2 was the shipping date. My time on the pre-order was 8:14 pm June 15. I have seen others who didn't order until later that same night who have already received shipment notifications to be expected on June 24. Just unlucky, I guess..

I pre-ordered mine on the 15th, but it was manually done, so the order didn't hit the system until the 16th. Up until the 21st, my order status said "in progress". All of my iPhone friends had already gotten shipping confirmations and Fedex tracking numbers. I called AT&T to see if someone had more detailed information, but they didn't. About an hour later, I checked again and my status changed to "shipped" and I had a UPS tracking number. Mine is scheduled for delivery today. I don't think UPS has a hold on the shipments because the status on my tracking number says "out for delivery". Looks like I'll be syncing my new phone today!! I wrote about the whole ordeal on my blog: http://www.ledfrog.com/2010/06/iphone-4-lands-june-24th-2010/

@confused
ur supposed to recieve tmr u can't wine about something that wasn't even supposed to happen, I bet u he didn't recieve the iPhone!!! Am I right..??!!

My iPhone is on it's way!!!!

Great Posting}! i know you are the best writer. your post is well written and i think i will bookmark this site and share to my friend .. have a nice day :)

Thank you for taking the time to discuss this, I experience strongly about it and love learning additional on this topic. If possible, as you gain expertise, would you mind updating your webpage with much more facts? It's incredibly helpful for me.

I like the helpful information you provide in your articles. I will bookmark your blog and check again here regularly. One more thing,introduce my live cameras website:inurl /view/index.shtml to you, it's interesting.

I like the helpful information you provide in your articles. I will bookmark your blog and check again here regularly. One more thing, welcome visit my live cameras website:inurl /view/index.shtml
Get the best of iMore in in your inbox, every day!
Thank you for signing up to iMore. You will receive a verification email shortly.
There was a problem. Please refresh the page and try again.