iPhone 4 unlock will be released within 48 hours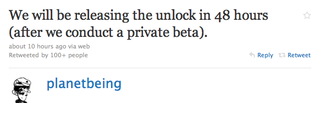 Those of you looking to break your iPhone 4 free from it's carrier lock have less than 48 hours to wait as iPhone Dev Team member planetbeing announced late last night on Twitter that the unlock is just around the corner. It was just yesterday that Comex released his new web-based jailbreak but not without some issues. Those issues consisted of some users losing MMS and FaceTime. Since then those issues have been cleared up and if you give the jailbreak a try you should be good to go, at least until Apple releases a new firmware update which will break this jailbreak method.
How many of you are chomping at the bit to get a hold of this iPhone 4 unlock and what carrier are you looking to be free from?
Get the best of iMore in your inbox, every day!
Your source for all things Apple
Is Facetime Fixed? I tried it yesterday and after jailbreak the facetime settings in "phone" disappeared completely and no button on the contacts to make a facetime either. was the jailbreak updated to fix this problem anybody has a jailbreaked phone with facetime working?

It should be if you have not already used the jailbreak before it was corrected. And if you used it prior to the fix I want to say there is a fix somewhere in cydia. Not 100% sure on that so hopefully someone else can clear that up for you.

Go to cydia and there should be a update. Then after the phone restarts go to reset network settings. After the reset, restart the phone again and the phone should be fine.

I thought iPhone 4 had a newer sim card so how would u put another carriers sim card in it

@Bobbin li: Scissors are your friend ;-)

I did it early yesterday and had FaceTime and mms issues. Got the update and it fixed them both. You may have to turn FaceTime back on by going to settings then phone settings but it works great. Also, the big sim cards can be cut down to fit. No problem at all. You can even find dedicated sim cutters for about $10 to make it a clean cut.

Bobbin LI
you can cut any sim card to put on iphone4
or get an adapter on ebay for $6
Nothing is impossible in this day and age

bobbin li, just buy a microsim cutter, like i did, u gonna get a perfect microsim for ur iphone 4.

hey guys i have a question, i have my shsh iphone 4, 4.0.1, but when i started cydia and press make my life easy, in the upper screen says,this device has a pending tss request, any idea?

how to jailbreak step by step http://bit.ly/cFED0K

Jailbreak iPhone 4. Go to jailbreakme.com from your iphone or iPad.

Honest truth i saw a co workers samsung captive and the screen blows away iPhone 4 on any day. Thinking about canceling my order

If you do an unlock, will you still be able to update ios in the future?

FaceTime over 3G [Video] http://bit.ly/cOb1el

I though iPhone 4's were unlockable so you can use different micro sim cards in?

Websyndicate: you can't compare the samsung captivate with the iphone 4 they are completely two different phones. apples and oranges. samsung too has as nice screen but there's a little bit more to a phone than the "screen" cancel away.. there are plenty of people waiting in line to get the ipone 4.

What about an ipad unlock? i want to put a non att sim card in my ipad 3g.

In Canada Apple already sells commitment free unlocked iphone4 in their stores

I just couldnt leave your web page before telling you that I actually enjoyed the quality info you offer to your visitors? Will be back generally to check up on new posts

dnehkhcjayudgysyvhl, prosta delovna mesta, oIRnjAFv.

When I click your RSS feed it puts up a page of unformatted html, is the issue on my end?

NESTE BLOG TEM O JAILBREAK DESBLOQUEIO iOS 4.0 4.1 4.2.1 4.3 http://gamesmagrao.blogspot.com/