iPhone 4.0 beta now available to developers: brings 1500 new APIs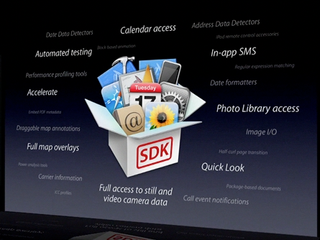 iPhone 4.0 beta 1 is now available to developers via https://developer.apple.com (opens in new tab) and it doesn't just bring the 7 "tent-pole" features announced so far for consumers, it brings 1500 new APIs to developers including some we've been waiting for for a long time:
Date data detectors
Calendar access
address data detectors
Automated testing
Block based animation
iPod remote control accessories
In-app SMS
Regular expression matching
Performance profiling tools
Accelerate (2000 API's for hardware accelerated math functions)
Date formatters
Spell check
Photo library access
Image I/O
Embed PDF metadata
Draggable map annotations
Half-curl page transition
Quick look
Power analysis tools
Full map overlays
Call event notification
Full access to still and video camera data
ICC profiles
Get the best of iMore in in your inbox, every day!
Rene Ritchie is one of the most respected Apple analysts in the business, reaching a combined audience of over 40 million readers a month. His YouTube channel, Vector, has over 90 thousand subscribers and 14 million views and his podcasts, including Debug, have been downloaded over 20 million times. He also regularly co-hosts MacBreak Weekly for the TWiT network and co-hosted CES Live! and Talk Mobile. Based in Montreal, Rene is a former director of product marketing, web developer, and graphic designer. He's authored several books and appeared on numerous television and radio segments to discuss Apple and the technology industry. When not working, he likes to cook, grapple, and spend time with his friends and family.
Forgive my ignorance, but does this mean Dev's can put 4.0 on their iPhones now? (not just the SDK on their macs?) Can a dev phone still be used to make call and access app store?

@Ichorus Yes, that's exactly what it means! They get to help weed out any bugs and issues. Phone will function just as you'd expect it too.... just with OS v4.0 :)

Is there a sheet for the 1.500 new api's?

Let the 5.0 speculation and rumors begin... :roll:

so where's the overhaul to the notification system, and cloud synching of contacts with fbook/twitter/IM statuses?

Thanks Josh, thats what I thought it did but felt I better clarify.

@bsforever Why do you want cloud to sync that kind of information? As is, you can sync contact via cloud to Google if it's that important... but honestly, I don't want anything to do with Cloud, I saw what happened with Palm/Danger (Sidekick) and how many people lost their data.

@bsforever ahhh, nevermind! I miss read what you said. My fault, you're wanting those status messages synced up with your phones contacts so it displays it. Gotcha, yeah... that would be cool, but I don't mind much to not have that (yet).

Is printing listed as one of those 100 new features?

@Dionte:
Nope. Printing is a basic function for average users. This was a "geekdom" update only.

Does anyone know a way to download the 4.0 beta without being a developer as you could for the 3.0 betas?

Hey, does anyone know of a website that had the Iphone 4.0 video presentation on it? I would like to wathch it start to finish.

@Mike It will be on Apple's website later today more then likely

here is a link to get the 4.0 beta. http://www.demonoid.com/files/details/2202143/2325666/ but i have 1 question. if i was on a 3.0 beta dev team am i still able to activate the 4.0 firmware on my phone?

Full Map Overlay? Is this a bye-bye Google Maps, hello Placebase? :)

@Marc : I would assume it is the ability to send SMS or MMS from within an app, rather than having to round-trip from app to SMS and back to app. Think of it like the apps that can access the camera to take pictures. now they can access SMS to pre-load the SMS field with content.
what I want to know is what is "Call Event Notification"? Would this NOT be full-screen call notifications while I am in an app, and rather just flash the menu bar green when a call comes in.

These features tell me it's not worth buying new iPhone

will in-app SMS be available on 3G models when 4.0 rolls out?

@CJ they didn't show off any of the 4th Gen iPhone yet. When Apple showed off OS 3.0, they didn't talk about anything that eventually came with the 3Gs. They did that at the 3Gs event, which is probably what we will see at this years WWDC.

@bc: the only thing they said wouldn't be in the iPhone 3G or 2nd Gen iPod Touch version of OS4 is Multitasking. Apparently the 3G and 2nd Gen Touch get everything else in OS4.

@rob. thanks. I'll hold on to hope that it is not tied into the multitasking feature set. :)

@BC & @Rob
If In App SMS is a function, then would it not rely on the multitask framework? My guess is so, so I'm imaging some of these neat new functions will not work on the other models.

Gotta say, I was interested in upgrading this summer, and now I am almost salivating. I know there are a ton of people crying because feature X wasn't listed, but seriously? Backgrounding. Folders. In App SMS solves so many problems! And frigging Quick Look? Yes, Virginia, there is a Santa Jobs, and he comes in June.

Im just glad we actually get to LOCK email and MMS...instead of having anyone look and read my stuff when I allow someone to use my phone

@deviantd: I suppose so. or they can implement it the way they make mail app partially work within photos (when mailing pics). mine is JB'd so I checked the background processes to make sure mail was not in the background. when I evoked the mail app from the photos app, only then did mail come into the background. wishful thinking I know. well with or without that functionality I still think my iP rocks.

Just finished watching the new 4.0 OS video at Apple. I wasn't impressed when I read what the new features were but after seeing the video I'm very excited. I loved it all even the thing I thought I hated which was the iAds. The cherry on top for me would have been multitasking with the icons flying into view just like on a Mac when using the Expose feature. all I would have liked to have better access to settings
Iike brightness and autolock. No need to mention jailbreaking anymore then we already know these features and more are already there.

URGENT!
Are there any developer who have installed the beta, but it will not activate on their phones? I have just installed the beta, but iTunes refuses to activate it. I check in the Provisioning Portal, and my device is there with the correct UDID. I need this to activate. Any ideas?

For $5 USD.
huntingtonoc@gmail.com You email me your UUID. I add your UUID to my dev program. You upgrade to iPhone OS 4.0 beta. You transfer me the money. You are free to install any future beta releases of iPhone OS 4.0.

for OS5 I want FM Radio, profiles and more lockscreen info

Please add call list editing for removal of a single phone call in recent list and skipping tracks forward and backwards when listening with any bluetoth headset that supports it its a2dp already.One last thing FM radio would be nice and if it would record even better.This would make the iphone better than anything outthere.P.S.BRING BACK BUMBUNNIES.

Any documentation on Photo Library access?(not the uiimapickercontroller)..in iOS4.0 can developers access to photo library without userinteraction?

Hi, - stumbled upon your current web site unintentionally whilst searching around the internet this evening, and pleased that I did! I like the design and colors, but I need to mention that I'm having trouble when it loads. I'm using ELinks 0.11 internet browser for mac, and the side panel won't align completely. i am fairly certain made use of precisely the same design on a company's web site, but the menu seems all straight on mine. I suspect the problem is with my outdated browser & I reckon that it's time to upgrade!

This is another reason to get all three trials and test them out.Everyone body is different, so we suggest you try and find the one that works best for you.

Call The Plumber Sydney has built and maintains a loyal customer base, which includes domestic, commercial, real estate, strata, government and corporate company's.
Thank you for signing up to iMore. You will receive a verification email shortly.
There was a problem. Please refresh the page and try again.