iPhone 5 splits into two models, one for US GSM+LTE, another for CDMA+LTE and everybody else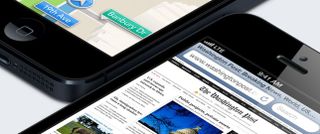 During today's iPhone 5 press event, they made a point of paying special attention to the new radio chip at use in the new smartphone. Like iPhones before it, the iPhone 5 uses a single chip to manage all of the various radios and bands it has to address in order to be used on networks around the globe. Problem is, throwing LTE into the mix makes things a little more complicated. LTE actually adds seven - yes, seven - new bands into the mix, nearly doubling the number of bands needed to be supported between the 4G standard, HSPA, GSM, and CDMA.
Unlike GSM and HSPA networks, which with the exception of the US have all managed to settled on a common and interoperable set of frequencies across international borders, LTE networks around the globe are all on different bands, making building a device that will work on all a pain and a half. Case in point, in the US alone, AT&T's LTE is on bands 4 and 17, while Sprint is on 25 and Verizon takes up band 13. Internationally there's even more frequency flavor, with bands 3 and 7 getting a lot of traffic around the globe, band 4 getting picked up by Bell and Telus in Canada (to maintain compatibility with AT&T LTE devices), and a smattering of other bands.
So how does the iPhone 5 fit into this LTE banding mess? With two different models, one for US GSM+LTE (A1428), and another for CDMA+LTE and global GSM+LTE (A1429). Both support the full range of GSM and HSPA frequencies, but for LTE the GSM version runs on bands 4 and 17 (good for AT&T, Bell, and Rogers - and technically T-Mobile USA, if not for want of an actual LTE network and GSM compatibility), while the CDMA version supports LTE bands 1, 3, 5, 13, and 25. That's band 1 NTT DOCOMO in Japan, 3 for over thirty networks around the globe, 5 for South Korea's SK Telecom, 13 for Verizon in the USA, and 25 for Sprint in the USA. The global GSM+LTE version drops support for the US-specific LTE bands 13 and 25, though for all intents and purposes it's the same device as the CDMA+LTE version (hence the identical model numbers)
To break that down into something easier to understand… the GSM+LTE A1248 iPhone 5 is good for GSM networks in North America, namely AT&T, Bell, and Telus. The CDMA+LTE/global GSM+LTE A1249 iPhone is good for Sprint and Verizon in the US and a large majority of other LTE networks around the globe. If you live in the US and travel to Canada and want LTE while you're there, go with the AT&T version. If you're in the US and travel often to the rest of the world, go with Sprint or Verizon for international LTE coverage. If you happen to travel between Canada and the rest of the world and want LTE, sorry.
There's one more wrinkle: LTE band 7, which isn't supported by either version of the iPhone. That becomes an issue if your preferred carrier is somebody like O2 in the UK, Yota in Russia, or any of the other 20-odd LTE networks that only operate on band 7. In fact, whole countries like Austria, Brazil, Columbia, Denmark, Norway, Russia, Saudi Arabia, and Switzerland that already have operational LTE networks are completely cut out of getting LTE from the iPhone 5 thanks to their choice to rely entirely on Band 7. That could be fixed with the next iPhone, or when a network running on one of the iPhone 5's many supported bands is launched. Regardless, they all have 3G networks that the iPhone 5 will work on just fine, and get better battery life to boot.
Why did this happen? Because LTE is hard. The bands on which LTE operates vary from country to country due to political and economic reasons. For example, in the USA, LTE band 25 is in the 1900 MHz range, and is shared with HSPA+, while Verizon's 700 MHz Band 13 was won at auction from the United States government and was formerly dedicated to broadcasting UHF channels 52-69 on analog television. AT&T's band 17 fits into that same 700MHz auction block, but band 4 operates in the 1700MHz and 2100MHz frequency ranges - both common to UMTS AWS, i.e. the frequencies used by T-Mobile's HSPA+ network. The spread of LTE bands means less interference and more bandwidth in those frequencies (not that that's been a problem when networks do occupy the same frequency bands, as in all of Europe), but also mean that getting all of that into a single chip is an exercise in radio magic.
Thus, there are two iPhone 5 smartphones. There's the A1248 for AT&T and Canada, and the A1249 for Sprint, Verizon, and almost everybody else. In the end, unless you're a globetrotter who travels between the United States and Canada or the United States and Europe, you probably won't care or notice which iPhone 5 you get, it'll just be the one assigned to your network or the unlocked one you picked up to work on not-AT&T/Canada. Only US-based international travelers need worry about the LTE bands of their selected iPhone, and even then that's going to be determined by the carrier you choose for your service at home. Chances are the two iPhone 5 models are actually the same device and carry the same chip inside, but due to the capabilities of that chip and the phone's radios they have different firmware to deal with the multitude of LTE bands it must process.
We do have to admit, though, it's odd to be recommending a Sprint or Verizon device for people who want comprehensive international coverage instead of AT&T. It wasn't that long ago that things were the other way around.
Master your iPhone in minutes
iMore offers spot-on advice and guidance from our team of experts, with decades of Apple device experience to lean on. Learn more with iMore!
Derek Kessler is Special Projects Manager for Mobile Nations. He's been writing about tech since 2009, has far more phones than is considered humane, still carries a torch for Palm, and got a Tesla because it was the biggest gadget he could find. You can follow him on Twitter at @derekakessler.