iPhone 5s vs. Samsung Galaxy S5 vs. HTC One M8: Camera shootout!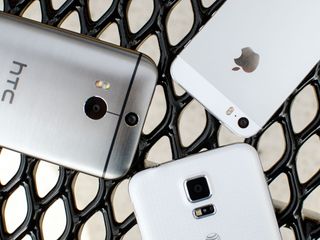 Smartphone cameras are getting better and better every day. We've already put the iPhone 5s and the HTC One M8 head to head, so it's only fair we give Samsung's Galaxy S5 the same treatment. Even though the iPhone 5s is already approaching 7 months old, until Apple releases the iPhone 6, these are the options we have to choose from right now. If camera quality is a deciding factor for you when making a smartphone purchase, follow along to see how the Galaxy S5, iPhone 5s, and HTC One M8 hold up not just on paper, but in the real world!
iPhone 5s vs. Galaxy S5 vs. HTC One M8: Camera specifications
The iPhone 5s has an 8 megapixel (2448x3264) iSight camera with a pixel size of 1.5 micrometers, and an f/2.2 aperture. The HTC One M8 has not one, but two rear cameras. HTC calls it a Duo camera. The main lens sports a 4 megapixel (1520 × 2688) UltraPixel sensor with an f/2.0 aperture and a pixel size of 2.0 micrometers. The secondary lens is there strictly to gather information about depth. Both the iPhone 5s and HTC One M8 feature backside illumination (BSI) which gets the wiring out of the way so the sensor can capture as much light as possible. The Samsung Galaxy S5 contains a 16 megapixel (5312x2988) camera with a pixel size of 1.12 micrometers, and an aperture of f/2.2. The S5 also features backside illumination, or BSI.
Each manufacturer has made different tradeoffs, but who made the best ones? Looking at tech specs alone I would assume the HTC One M8 would fair decently well in low light while the iPhone 5s and Samsung Galaxy S5 should produce clearer, crisper images in everyday situations. Not only that, they should have much less noise due to a higher resolution. That's what the specs on paper say, but what we're really interested in is how they compare in the real world.
iPhone 5s vs. Galaxy S5 vs. HTC One M8: Testing method
To keep samples consistent, I always used as close to the same settings as possible on all three devices. If a device offeres a specific feature that would make photos better overall, those are fair game. For example, all of the samples of the Galaxy S5 had picture stabilization enabled. The iPhone 5s was always in HDR Auto mode. Where appropriate on the HTC One M8 I enabled HDR. Anytime there was a setting I could use that would capture the best overall photo, I used it. My only rule for this comparison was that each camera got one chance to capture the best shot it possibly could.
iPhone 5s vs. Galaxy S5 vs. HTC One M8: Everyday and HDR photography
From left to right: iPhone 5s, Samsung Galaxy S5, HTC One M8
For everyday and HDR photography I kept HDR mode either on or on auto in order to let the software decide when it needed to use it. Upon first comparing samples I found the iPhone 5s and the Samsung Galaxy S5 to produce truer colors. For some reason the HTC One M8 always seems to give blues a teal tint, which isn't actually what's in front of me. It also struggles in bright light where the iPhone 5s and Samsung Galaxy S5 run circles around it. The iPhone 5s and the Galaxy S5 tend to show saturation slightly differently but at this point it's going to be more preference. The iPhone 5s leans more towards natural tones while the Galaxy S5 seems to boost colors slightly, which some folks may actually prefer.
Winner: Samsung Galaxy S5 and iPhone 5s (tie).
iPhone 5s vs. Galaxy S5 vs. HTC One M8: Low light photography
From left to right: iPhone 5s, Samsung Galaxy S5, HTC One M8
For low light I didn't take photos in a pitch black room, but instead I looked for natural low light environments that we experience while taking photos. Not dark enough to need a flash but dark enough to challenge the camera. The HTC One M8 and the Galaxy S5 both did a better job than the iPhone 5s. The HTC One M8 produced slightly more noise in some instances but we can probably blame that on the lower resolution. All produced passable images but the M8 and Galaxy S5 produced consistently better ones than the 5s.
Winner: Samsung Galaxy S5 and HTC One M8 (tie)
iPhone 5s vs. Galaxy S5 vs. HTC One M8: Macro photography
From left to right: iPhone 5s, Samsung Galaxy S5, HTC One M8
For macro photography I didn't use the zoom feature at all and focused instead on getting as close as I possibly could to objects before losing focus. I'll start by saying that in most instances all three devices produced more than passable images. There are small differences however. First, the HTC One M8 still shows it's weak spot with bright light anytime you're outdoors. In the photo of the yellow and white flowers above you can clearly see it blows out the sun in the upper left corner. The Galaxy S5 and the iPhone 5s both balance macro shots well. The main difference I found was that I could get in slightly closer to an object before losing focus with the iPhone 5s. However, the difference is so small it's pretty much negligible.
Winner: iPhone 5s and Samsung Galaxy S5 (tie).
iPhone 5s vs. Galaxy S5 vs. HTC One M8: Flash photography
From left to right: iPhone 5s, Samsung Galaxy S5, HTC One M8
When I initially compared the iPhone 5s to the HTC One M8 I found that the flash in the iPhone 5s that Apple touts as true tone is more than what it seems. I found that to be true again. The HTC One M8 casted a yellowish light on subjects in most of my samples. The Samsung Galaxy S5 however kept pace with the iPhone 5s nicely. In some instances — like in the photo of the steering wheel — the S5 was harsher than the iPhone 5s but not by much. Both phones produce well balanced photos with the flash enabled.
Winner: Samsung Galaxy S5 and iPhone 5s.
iPhone 5s vs. Galaxy S5 vs. HTC One M8: Action photography
From left to right: iPhone 5s, Samsung Galaxy S5, HTC One M8
The iPhone 5s, Galaxy S5, and the HTC One M8 all do decent jobs when capturing motion. I had a hard time stumping any of them and hardly ever got motion blur. Considering all three devices have a decent burst mode, it isn't very hard to get a useable shot in a pinch. The HTC One M8 does have a habit of producing consistently darker images though, which may bother some folks. The Galaxy S5 and the iPhone 5s produced bold shots almost every single time.
Winner: iPhone 5s and Samsung Galaxy S5.
iPhone 5s vs. Galaxy S5 vs. HTC One M8: Digital zoom
From left to right: iPhone 5s, Samsung Galaxy S5, HTC One M8
To test the digital zoom feature in each camera I zoomed in as far as each phone would allow me. The HTC One M8 was the first to surrender with images becoming grainy rather fast. We can attribute this mainly to the lower resolution. The iPhone 5s and Galaxy S5 both captured usable images but the iPhone 5s let me zoom in farther and didn't really sacrifice too much image quality in order to do so.
Winner: iPhone 5s.
iPhone 5s vs. Galaxy S5 vs. HTC One M8: Panoramas
From top to bottom: iPhone 5s, Samsung Galaxy S5, HTC One M8
When it came to capturing panoramic shots, the first thing I noticed is that the software behind the iPhone 5s almost always produces the most balanced and consistent images of the three. The HTC One again struggles in bright light, as is evident of the panoramic containing the car. The Samsung Galaxy S5 kept pace with the iPhone 5s nicely. It blew out light in a few instances but not many. The surround shot add-on for the Galaxy S5 is also super simple to use and produces just as great of shots, if not better ones, than the built-in panoramic mode. It's available as a free add-on in the Samsung apps store and for anyone with a Galaxy S5, installing it should be a no brainer.
Winner: iPhone 5s and Samsung Galaxy S5 (tie).
iPhone 5s vs. Galaxy S5 vs. HTC One M8: Depth of field
From top to bottom: iPhone 5s, Samsung Galaxy S5, HTC One M8
Depth of focus, or bokeh for those familiar with photography terms, seems to be all the rage these days. Both the Samsung Galaxy S5 and the HTC One M8 have features specializing in this. The iPhone 5s however, does not. Of course you can download App Store apps to add blur after capturing the photo, but natively, the iPhone 5s adds some blur on its own but the effect isn't terribly noticeable most of the time. The Galaxy S5's Selective Focus feature does a decent job, when it works at least. I had a hard time getting photos that it would apply a depth of field effect to. It's the only camera test in this series I took multiple shots considering I couldn't always get what I needed. The HTC One M8's UFocus feature on the other hand is a post capture effect which makes it easy to apply in almost any image. You can also change the focus afterwards which makes it incredibly useful.
Winner: HTC One M8.
iPhone 5s vs. Galaxy S5 vs. HTC One M8: The bottom line
I still stand by my initial HTC One M8 conclusion. HTC should have spent more time building a better camera and less time on gimmicks such as UFocus and 3D effects. They're fun to use but at the end of the day, it doesn't help us capture better all around photos. Light is blown out in places where it shouldn't be and its competitors easily leave it in the dust. The low resolution also rears its ugly head anytime you want to zoom in or enlarge a photo. It makes it really hard for me to recommend it over the iPhone 5s or the Samsung Galaxy S5 based on camera merits alone.
That leaves the iPhone 5s and the Galaxy S5 and that's where it gets a little less cut and dry. The iPhone excels in areas such as panoramic, flash, and macro photography. A lot of this can be attributed to the A7 chipset and the software behind the Camera app. However, the Samsung Galaxy S5 takes some amazing photos and in low light, does an even better job than the iPhone 5s. It balances HDR and everyday photographs just as well. They both handle saturation and white balance slightly differently but they're so close, it almost comes down to personal preference. They're both exceptionally great all around cameras.
So which one should you choose? If you take a lot of indoor and low light photos, the Galaxy S5 will serve you better. For flash and macro photos, the iPhone 5s still reigns supreme. For everything in between, most folks would be happy with either device as far as the camera is concerned.
iPhone 5s vs. Galaxy S5 vs. HTC One M8: Your thoughts?
If the camera behind the smartphone is an incredibly important part of your buying decision, what device would you currently choose to own if you have your pick of the three? Would you take some of the tradeoffs the HTC One M8 makes for some of the more unique features it offers such as UFocus, or is having the best all around camera more important to you? Let me which device you'd choose — or already settled on — in the comments below!
See also:
Get the best of iMore in your inbox, every day!
iMore senior editor from 2011 to 2015.
It's amazing how consistent the camera on the iPhone is. 9/10 times you'll get the shot you wanted.

I totally agree. I have used the Nexus 5, Sony Z1S, and now the iphone 5s and i can tell you that the iphone produces some pretty sharp/amazing images.

Use some good phones and certainly you will find a difference..just dont brag..and look at the phones you are comparing here..nexus was never meant to have a good camera..iphone clicks shit..really..front camera is aweful..rear is an 8mp all of the same story since 4s..

looks like the GS5 was pretty consistent too. Two best cameras out there.

Very consistent indeed. I was pleasantly surprised by the GS5 and would have no hesitations about recommending it on camera merits.

This is the comparison I wanted to see. I knew you could do it. ;-) I'm impressed by the iPhone 5S camera even though the GS5 is newer and has twice as many mega pixels.

Do so agree!! We have them both and it way better than Iphone 5S!

Is it just me or is the LG G2 the best phones for Low light shots.

Sadly no love for Windows Phone. The Lumia phones are consistently praised for their cameras. Oh well, maybe next time. :(

Because very few people use them? Posted via the Android iMore App!

The general point is that without exposure to a product that is superior in some aspects doesn't give proper credit to a viable product. In this case they were only reviewing/comparing cameras and not platforms. How can you discount the Lumia 1020/1520/Icon in this case. Just a let down.

Like this? ;) http://www.wpcentral.com/camera-showdown-iphone-5s-lumia-925-and-lumia-1020

She was comparing "popular" flagship phones' cameras, NOT just good cameras on phones. WP phones are always discounted no matter how good one of their components are, because it's windows phone. It's just a fact of life. Sorry.

No. The Lumia 1520/Icon/930/1020 etc. are not included because they would make the iPhone camera look silly in comparison. iMore will not suffer such a review. It is just a fact of life that fan sites are rarely unbiased in what they do. Luckily, though, Windows-oriented sites are amongst the best on that score -- Apple-oriented, unfortunately, the worst. This culture stems from the 1990s we-vs.-them fanboyism that deeply rooted itself in the Apple user base when the company was struggling to stay afloat and everyone "had to do their part." Today, there should no longer be need for that.

Tell that to the thousands of members on WPCentral.

Yep, would have liked to see a Wphone included, and the LG G2.

Here you go :) http://www.wpcentral.com/camera-showdown-iphone-5s-lumia-925-and-lumia-1020

Not even the same league. The Lumia line's cameras are leaps and bounds ahead of these 3.

Not really. The iPhone 5S consistently beats out the L1020 in everyday tests from the many comparisons I've seen. L1020 has serious problems with white balance and speed.

http://www.pureviewclub.com is doing a series of comps between the S5 and 1020

How come there were no full-size comparisons? there should be a stark difference between all of them when viewed at full resolution.

i agree samsung would probably have won the zoom comparison had there been a full size comparison in that catagory

This comparison is also less useful for me without the full-res images. I can only believe author's words. Every photo looks great when resized to a stamp size.

Because we don't have unlimited bandwidth. it comes at a cost. we do what we can do, within reason.

Because bandwidth of that magnitude costs money, and lots of it ;)

Did you consider using BitTorrent? It might not be free to get it started but it would likely keep costs very low.

So you have the 5s released fall of 2013 vs Galaxy 4/2014 and HTC 3/2014.. Amazing that a phone that is 6 months old is as good or better than the latest competition. The iPhone 6 will probably be even better....hopefully they focus on low light situations some.

This leaves me very excited for what Apple will do in September for sure.

Are you kidding me..what you got in iphone since its launch..the same screen the same icons and just swipe and npthin else..what change do you expect? And a site named with an I will tell you about android phones..guys plzz..we all know isheeps are pathetic..I own a galaxy s5..its camera is way better than the iphone 5s..so plzzz..the fastest camera in any smartphone...design wise I like the htc as it feels more premium..what do you have isheeps..a company robbing your accounts for years just giving you the same prouduct ever since its launch by saying its the best..fooollss...

Sounds like someone's a little sore over the wittle iPhone 5S being better in some situations than his GS5. You'll be fine, the LG G3 will be out in a few weeks.

Where is the comparison for 4k? Oh wait :/

Do you have 4K Tv? Who cares for 4K, most people can't watch it.. It marketing thing right now.. I want crystal 1080p. And iPhone does it best!

Not only can't watch it, but most people can't afford a 4k screen.

It doesn't matter if you have a 4K display or not. Recorded 4K videos have a much higher bitrate than 1080p videos. Even if the 4K video is downscaled to 1080p during playback, there's still a huge visible difference between the two.

was the depth of field givin to htc as pitty points? really i mean look at the image of the red bird house you can easily see that it was software blurred by the grass on the left side of the red house, its still sharp then all of a sudden blurry, samsung did the best in this catagory, i feel it did better in macro as well, other than that the results are about the same as i see, apple has good shooter, so does samsung, htc does well in low light, but seems to darken every photo here. although it appears to skew green a bit to me

I agree. The HTC One's "depth of field" is just a software trick. It's not true DOF and it's not even done well. It's a pity because I really like the One. It's the only phone I would even consider other than the iPhone. But the camera is a deal breaker.

If its a software trick why cant you use it in your iphone?? Ohhhhh..youu cannt...poor boy...how many years old are you?? 50?? U just want to slide and use a phone just like your grandfather..yea have an iphone..and learn before you speak..the hardware changes made the dof to be applicable..ohh you cant...apple gives you the same shit alwayss...;) wuss...;)

To my eyes, most of the cases where you rated iPhone/Galaxy tied, the iPhone was slightly to substantially better.

Buy the s5 then comment..how would an isheep know to work with a camera with nothing to change on its interface but just hdr on off..cameras are a lot more than that...

Allyson - before you get the usual onslaught of people Bi%%ching about your methodology and suggestions about a 300-way shootout, etc., I wanted to jump and and say THANK YOU for a real world, practical comparison. I know this took up a good chunk of time and I wanted to say thanks.

Agreed. There are hundreds of methodologies and characteristics to test but in the end there are only 2 types of tests: the quick look at your smartphone screen to see how the pic looks and the pic you export in Photoshop to examine further and compare. You cannot mix these two types or your results will become pointless. This was a good "shoot and look test". Thanks!

I'm a little surprised that the SGS5 was better in lower light than the iphone 5s, but it clearly is. Also, I think the iphone was noticeably better than the SGS5 with flash. Still, I'd rather have the low light performance.

What breed is the dog? Husky or Akita? It's gorgeous! Love the color! :-)

Yeah, forgot to mention the doggies! The one in the DOF field series looks like a little Fox. CUTE!

Yeah! I was thinking the same.. Hope Allyson will share what breed it is.. I will buy one for myself I can find the same color..

I see what you did there...

Fair warning - It's a Shiba Inu, and they are not for the novice dog owner. Generally doesn't like to be around other dogs and requires a lot of attention and maintenance.

Hmm. Kind of sounds like me except with people (wink)

Ours is great with other dogs. I think it all depends on whether or not you bother to socialize them.

Allyson - can you please include some information as to the settings you were using on the S5? I have one, and my photos are frustratingly worse than yours (and the camera is exceptionally slow at taking them). I was amazed to see the S5 was able to take such strong photos when I look at the crap my phone seems to be producing. Thanks.

For the most part I'm using it in Auto with HDR enabled. The way they came out of the box. Perhaps make sure it's set to the largest capture option? 16x9?

HTC took a beating. Sent from the iMore App

It's astonishing how they could include such a crappy camera on their flagship and be proud of it.

iPhone 5s did best in all categories except the low-light to me Sent from the iMore App

I think you should have 1st taken pictures on auto mode without touching any of the settings or going into any special mode as thats how most people will shoot. Then you should have had shots with specific settings and modes to get the best though I guess that's what this comparison was. Also if you had shots taken by a dslr to compare it would have been even better. That way we could see easily which one gets closest to a pro camera. Posted via the Android iMore App!

Thanks for the great review!
My wife has has the 5S and as much as I hate to admit it...it does take consistently good photos.
I have the HTC One M7 and unfortunately the camera is not great (in spite of the many defenders of the Ultra Pixel Technology). My Note 3 consistently takes better pics than my M7 and is close to my wife's 5S. It's amazing to me that HTC went with the same technology when it was the one thing that most M7 owners were not overly impressed with....just weird.
Again, thanks for taking the time.

Thank you for taking the time to make this. I sell phones for a living and love being able to give people this type of real world review. Sent from the iMore App

Awesome comparison. Thanks!! Sent from the iMore App

It pains me to say this as I'm a big fan of HTC, but they definitely lost. I usually like iPhone pics the best in these tests, but I think Sammy won this round.

The burst mode on the 5s is incredible, it does not require you to switch setting like you do on the samsung , just hold the shutter down, its instant and works every time. My favorite camera on any phone is the lumia 1020, but it takes 20 sec for each shot and after 3h the battery is empty so its practically useless. I think the iphone still delivers the best result 9 out of 10 times.

I was surprised that the GS5 didn't have a better zoom than the 5S considering it literally has twice the resolution. Mathematically this should mean that the scaling should produce less noise. As a programmer when we zoom into an object we look at every vertex in the matrix and multiply it by a number. If that scale factor is a fraction it will decrease the zoom of the object, if its a number greater than 1 it will increase the zoom. What this tells me is that Apple may have some sort of software algorithms which go and clean up after the scaling is completed. Probably to eliminate the noise generated by only having 2448 x 3264 pixels to work with.

Did anyone consider the fact samsung processes the low light images after capturing thereby increasing the exposure n all whereas iphone doesn't ; even the darker looking images from iphone are actually having more details ; try camera 360 and then see what wonders iphone does even in low light!!!

Does camera 360 process the low light images differently?? I have a 5s and take lots of indoor pictures with my kids, not the best low light situations. Thanks!! Sent from the iMore App

Absolutely! It helps a lot; I haven't tried s5 ; It might be little better( although I doubt that) ; but against note 3 iphone always had more low light details . "Easy mode" on camera 360 does all; if u find too much noise ; use low light mode; and the safest deal is to process the stock pics through camera 360 after importing from camera roll, then from loads of preset choose whatever u like: I has done wonders for me so far. Hope u like it too

Yes, against the Note 3. But have you tried Low Light Mode on the Note 3? As long as there isn't a ton of movement, it will almost always produce a brighter image than the iPhone with great detail. Which is good enough for me. The camera in daytime is superior to the iPhone's easily, and even in the kinds of low light images in this review - particularly if you use HDR in some of them. The only area where the iPhone wins is in really low light. DayTime, Decent Light, Video Recording, FFC/Video Calling (especially using ChatOn Voice and Video), Audio Recording, and other device capabilities (Multi-Window, S Pen Functionality, Screen Size and Resolution, Speaker Volume, SD Card, Battery Life, Service Integration/Accessibility, InterApp Sharing, PIM Software/Productivity, etc.) the Note 3 wins ... easily.

Only in low light mode and that would be obvious because those pictures typically have a yellow cast on them from the internal back light in the camera is used to provide more light and the images are stacked. Low light mode is similar to HDR in how it produces the image. It's quite useful. I use it on my Note 3 sometimes and there's a big difference. None of the images here are low light mode images. The 5S does not zoom better than the S5. I'm not sure how the reviewer arrived at that conclusion. Even the S4 and Note 3 would win that vs an iPhone due to their higher resolution. As for the daylight images Apple isn't really that amazing there. Even the Note 3 is better there. The only area where apple has been consistently better than Samsung up until now is low light photography. The S5 seems a ton better than and more consistent than ever, so apple would need better camera software and no a revamped OS for me to even consider any future iPhone. Being slightly better isn't good enough cause -most- flagship phones are pretty great now. The Xperia Zealand is even better than the S5, IMO, and the Note 4 will likely be slightly better.

Thanks for the comparison. I'm really hoping the next iphone can take 16:9 photos and maybe even a .dng or raw file with just the stock camera (I know there are apps that can do that now). I hate seeing my beautiful photos stuck in a 4:3 ratio on my wonderful 16:9 screen. WP and android both have stock camera apps with the capability so I'm hoping it will finally come to iOS 8 (and a swype keyboard :) Sent from the iMore App

Kind of surprised to see my earlier comment was deleted. At least you deleted one part of the totally incorrect information from you review as a result. Just seems petty to delete the comment too.

I don't care how awesome (by the way it's not) the iPhone is. iOS is a deal-breaker for me.

Does the iPhone 5s record in UHD/4K? Also when cropping a pic would the higher mega pixel be more beneficial?

iPhone 4K UHD: No
Copping and Resolution: Yes, definitely. Look lower in the comment thread at the GS4 vs. iPhone 5S comparison and you can see the clear advantage of this. Also Samsung phones do video better than iPhones, and the sound recording on Samsung devices (*especially* the Note 3 with its Mic Setup) is ridiculously superior to the iPhone. OS differences are just that, but if you take like 1 hour to set your Samsung device up you can get a pretty similar experience to iOS out of the box. The biggest show stopper is if you have poured a ton of money into apps on iOS. Moving from Android to iOS most developers were willing to gift me their iOS app if I paid for the Android version, but Google Play doesn't allow Gift Purchases so moving over to Android they cannot do this and they will almost never send you the APK for security reasons (you can give the APK to someone else, etc). Music Purchases can be moved over. Video usually cannot due to DRM. eBooks often cannot (again, DRM). So I'm smart: Microsoft for Productivity, Cloud Storage, PIM (Outlook.com, OneDrive, Office/OneNote Mobile)
I buy Music as MP3 files on my PC from Xbox Music, and then Sync to my phone. That way I don't have to worry about moving everything from service to service when I move devices or change OSes. Outlook.com uses EAS and Syncs Mail/Cal/Contacts/Tasks
OneDrive can Auto-Backup my Photos (Google+ is limited to iOS/Android and I still would like the ability to easily move to BB10 or WP8.1 if they come out with a great device)
Office File Formats are usable by any decent 3rd Party/Stock Office App (iWork, QuickOffice, Documents to Go, etc.). So the only big deal moving platform is stuff like Messaging (iMessage, Skype, Hangouts) and Video Calling. Since almost everyone I know with Android uses a Samsung Device, I use ChatOn for the IM, Voice, and Video Calling - all which are superior to FaceTime (especially the Video Calling, the quality is astonishingly good even over Cellular). For the rest, Hangouts (Google App), SMS/MMS, or Facebook Messenger (until they rip it out of the main app, then it will cease to be an option).

What Samsung are you talking about? I am Galaxy owner waiting on my new 5S because I can't get a decent video. It's all static all the time?

Allyson, you should have included in your comparison what many now consider as the current best camera on a smartphone, the Nokia 1020 running Windows Phone (soon version 8.1).

For me I would choice HTC One M8 for the sound of the front speak . I am deaf in my right eat , so sound is the most important thing went it come to choice a mobile phone. Current own HTC One M7 . Posted via the Android iMore App!

The sound and styling are the M8's two biggest strengths for sure.

Android is the deal breaker for me. I am deep in the Apple ecosystem and very happy to be there. I'm very much looking forward to the iPhone 6 and retiring my 4s.

The M8 just doesn't get the job done. For all of its great features I've found the biggest issue with the camera is blowing out light where it shouldn't. It's especially bad indoors where it really blows out any light source and makes photos look bad. That and the impossible slipperiness of the phone are making me take it back. Sent from the iMore App

I have to agree with this. I just got the M8 yesterday to replace my 5s but I returned it today. I just can't get over how subpar the camera is on it. I take a lot of pictures and the M8 was not going to be able to give me the results I wanted, especially for being a flagship $600+ device.

This review was not fair to the HTC one m8, I've been using the HTC one for about a week now and I can tell you that the hdr mode on the HTC one is broken no the best way to take pictures outside, auto mode is a lot better and you telling me that the people that are reviewing this phone don't know that by now, it make think that they are intentionally making the HTC one to fail in the camera test to make us the consumer look the other way.

Where is the Nokia lumia icon ?

All good tests but I think the iPhone 5s won Action photography and flash photography. Sent from the iMore App

Shouldn't a Lumia have been included here? The 1020 has the best camera, by far, on any smart phone.

My brother has recently bought this Htc one M8 and he is not very happy with the camera performance.

Thank you so much for writing this article. I had been considering the HTC One M8 but after reading this, have to reluctantly cross it off my list. I would also like to comment about resolution and noise. Noise is a function of pixel size. The more pixels that are crammed into an image sensor, the more they will interfere with each other, leaking signal between pixels and causing noise. So if the sensor size is held constant, the one with larger pixels (fewer megapixels) should in theory have the least noise. It's disappointing to see that despite that fact, the HTC One M8 camera is noisy, leaving it with no advantages over the other cameras.

Thanks for the great write up. Will be watching what Apple does with the iPhone 6 very closely this fall, and if it's not what I want, the S5 could be my next phone.

I'm curious how the insane lumia camera stacks up against these three instead of the m8. Other than the uFocus I don't think the m8 is a contender for a review as they basically didn't change anything from last years model but the overall design of the m8 itself put the phone into a class of it's own. At the end of the day all of these photos look like shots from a phone.

AT THE END OF THE DAY ALL OF THESE PHOTOS LOOK LIKE SHOTS FROM A PHONE.. well said! I haven't missed a shot in three phone generations because of a lousy camera phone.

IPhone 5s FTW!!! Posted via the Android iMore App!

I'm so surprised the iPhone did so well against the S5,,, I'm sure it had nothing to do with this review being on the iMore website. In my world, testing my S5 against my friends 5S, my S5 beat out my friends 5S,,,, when I owned the 5S and Galaxy S4 at the same time my tests were about a 50/50 split. The 5S does have great camera but my S5 does beat it overall,,, with that being said I'm very much looking forward to seeing what the iPhone 6 has to offer,,,with a much needed bigger screen and an even better camera I might come back to the iPhone, but for sure not coming back to iPhone until they offer something other than that tiny 4" screen.
Cheers
Davyo

The S5 has a better camera than the 5s, type in Super Saf on youtube and look for the review where he puts the 5s up against the Samsung Galaxy S4 and look how the S4 trumps the 5s, it's a professional review with real life images much like the above and the S4.. ancestor to the S5.. well, it was an obvious win. In both picture quality and video, not to mention he highlights that the audio coming from the 5s really, really sucks. https://www.youtube.com/watch?v=DXddteoA-Ms In the pictures above the iPhone performed well but for the end scores where she'd say "tie" or whatever, many time the iPhone should not have been there, the pictures from the S5 were just better and most times in my view scored 4/5 of the pictures and then she'd say "Samsung Galaxy and iPhone, tie" ? Seems like she gave on average, double winners because she didn't want to leave the iPhone out and she definitely didn't want to give the iPhone the win when it clearly didn't. I've discovered this site only today and realized that yes you love apple devices, but as a reviewer, try to give a more unbiased review. Further more an "out of the box S5" is even more, an unbiased review, as it's preset to 8-13 megapixels depending on carriers, not the blowout and richly detailed 16MP beauty the camera really is. The S5s auto focus i'm sure caused her no trouble but i'm sure she took her sweet time clicking that focus point for the iPhone 5.

These pictures display an issue I had with the iPhone 5S when I had it. The images in daytime (and even some night time images) are tinted. Slightly pink for most and the white flower picture has a slight yellow cast all over it. Also, in low light Apple does a massive amount of processing on the images which kills image details in the background making crops look like crap. The Galaxy S4/Note 3 fared better. The Galaxy S5 does very well there. I'm surprised it does so well in low light, which is usually where Apple pulls well ahead of Samsung devices... The Low Light mode on S4/Note 3 helped (barring lots of movement), but the S5 performs well even on Auto without it. Hillarious that Samsung caught up to Apple in Panorama so quickly after they were using it as a selling point on their phones (the S4 and Note 3 also can do those Pano's and Surround Shot). Samsung's phones can even do better in Action Shots (have Dedicated Modes for that). I think all phones reacted to direct light in the camera, but the One was terrible and the iPhone wasn't far behind with it's purple flare. The GS5 struck the best balance (less flare, no discoloration). I will likely wait for the Note 4 to upgrade. It will have the same or slightly better camera than the S5, and the software doesn't feel like it's stuck in 2009. The software/OS was the biggest issue I had with the iPhone. It feels like a feature phone. I never take images with a flash, but the Samsung flashes seem to be extremely powerful. I do prefer the cooler case they put on images, compared to the warmer colors the iPhone and HTC One flashes produce. That has always seemed *easier* for me to correct in photo editing software... The zoom comparison cannot be correct. I can zoom in much closer on my Note 3 (13MP camera, and not as good as the GS5's shooter) to get a usable picture You make it look like it's a 6MP camera compared to the iPhone's 8MP and One's 4MP. Full Resolution images would be very helpful there, because the results posted are a bit unbelievable, Lol.

One thing you forgot or missed is " how quickly you can take images" I think in that regard iphone 5s is far superior to any other phone.

MotoX is awesome for quick photos with the wrist flick thing. Usually ready to go before you are. Not great quality though unfortunately.

You know, in every one of these shots, I see one consistent thing - the 5S is neutral toned in every shot. The S5 tends to have cooler tones in many of the shots, while the One M8 has muted colors in comparison to either phone. As for the low-light on the iPhone, tap-to-focus generally fixes low-light issues. Especially with HDR enabled.

I was recently in central Europe with my new iPhone 5s, which I took mostly for the camera function. Daytime shots were okay, but I don't think they were as sharp as my 5 I had last yr. The big problem was the night shots. Anything with lights in it were horribly blurred and after trying various combinations of settings, I just gave up. The last night I was in the Budapest opera house, and had the same problem, but thought that is all I can expect, when I looked at the photos of the man seated in front of me, and they were awesome! I asked him what phone he had and he said it was the Galaxy S5. He showed me that it had a night setting, and others like sports, etc. I am really not very happy that I paid $750 for something so disappointing.

I love my new S5 . The battery is awesome just make sure to turn off all the apps that it gave you when you got your phone, it will help the battery life. There is alot of useless stuff running in the background that will leech your battery. Be smart and this phone will work for you.
You can also root your s5 to android 4.2.2 KITKAT by following http://www.smartphonestutorials.com/root-galaxy-s5-models-android-4-4-2-...

I have had every iPhone and still have one but the droid pictures are clearly better. My friends won't even let me take pics with my iphone 5 s lol

" but natively, the iPhone 5s adds some blur on its own but the effect isn't terribly noticeable most of the time. " Adding blur? No. Bokeh is a physical property of a wide open aperture and small f-number, found in both "native" eyes and artificial lenses. It's not a software feature. The HTC One and GS5 both add fake bokeh because the lenses aren't large enough to make impressive depth of field.

Hi, I thought I post some of my toughts, that are not that obvious like much of what I read here. I use my phones as main cameras since ever! And always thought about in which direction I would go for my next device, which feature ist most imortant for me. Seeing this comparison (thx by the way), and also seeing much others, I noticed very much that the angle of the picture, the "field of view", is very narrow / small on iPhones, wider on Androids Phones mostly, and really outstanding wide on the HTC One M8 (and also M7). Its pretty obvious, that the quality itselft is very good with the iPhone, but sometimes I found it a bit disappointing, that the context of the main-motive goes missing when you go close to it. Right now I use an iPhone 5 with Olloclip 4-in-1 lense, with that I get hardware- wide-angle, fisheye, 10x macro-mode and 15x macro-mode, which does the trick for me.
https://www.imore.com/e?link=https2F2Fclick-100048... Of course I do not carry it with me all the time, but very often thanks to the small form-factor. And its like the missing link for my to get all out of the iPhone 5 camera. However, sometimes I feel like I would love to spend 2 weeks or a vacation with a HTC One M8, and see if the Zoe thing, the bokeh effect, and the default wide angle kick me a bit more, while the last one also makes the olloclip redundant sometimes. Another point, which simply no one mentions, is that the iPhone saves the pictures and videos uncompressed, which causes my 64GB device to get full all the time. Android devices compress per default (can only tell from the Nexus 4) which makes videos like 7 times smaller! So I make often videos from my band, and demos of my new songs, and struggle with free space therefore. On the m8, I could also add an 128GB SD Card, which would lead to like 10 - 20 times of pics and vids. Not to mention, the (only) 4 megapixel pics of the m8 cam, also save space! (Yes low resolution is not only bad!) One last thing I found with the iPhone cam, is that it somehow post-processes the pictures while shooting, because when you compare the pictures with the "real deal / view" they mostly look better, smoother saturated as the real scene. Its something with the colors, saturation and such. Most people don't recognise because it looks so nice, but its a bit tricked in my opinion. best regards, leave me your thoughts, I'd love to read them!