iPhone 6's LTE support isn't quite good enough for T-Mobile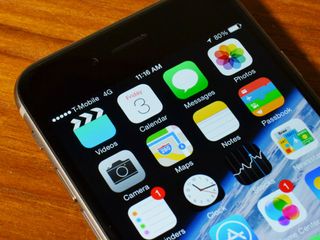 Apple says the iPhone 6 has broader support for LTE than any iPhone before it: It supports 20 different LTE bands, up from 13 for the iPhone 5S. Unfortunately, support is absent for a new LTE band that T-Mobile USA is spending a lot of effort (and money) to deploy: LTE Band 12. It's disappointing news for some T-Mobile customers, but it shouldn't be entirely unexpected.
LTE provides for much faster data transfer over cellular connections, which means your iPhone spends less time connecting to the Internet, checking mail, and keeping you connected to what's important to you. It also enables the iPhone to support advanced technology like Voice over LTE (VoLTE), which treats voice as data and can yield higher quality voice connections than before.
T-Mobile has spent much of the past two years building out a modern 4G LTE network, upgrading its towers and expanding its network footprint. As the company builds out its existing network, it's also trying to shore up some inherent infrastructure problems: T-Mobile's coverage is notoriously poor in many rural areas, and because of the GSM radio frequencies it uses, its cell signals don't do a great job penetrating buildings.
To solve both problems, T-Mobile struck a multibillion deal with Verizon earlier this year to acquire a block of spectrum in the lower 700 MHz range — better for shoring up the areas that T-Mobile remains weak in. That deal closed earlier this year following FCC approval, and T-Mobile is already getting the 700 MHz spectrum online.
The spectrum T-Mobile purchased is part of the "A Block" range - an area of radio spectrum largely unused by wireless carriers before now. The LTE Band 12 standard works across this part of the radio spectrum. But phones that support that standard are still in short supply.
T-Mobile's been an Apple partner since April of 2013, and has aggressively promoted the iPhone as part of their product offerings ever since, even offering potential customers a "Test Drive" to let them try the iPhone 5S for free for a limited time to test their network.
When T-Mobile started selling the iPhone 5, Apple updated the phone with a new GSM version (the A1428 model) to support the Advanced Wireless Services (AWS) spectrum T-Mobile uses. So there was some hope was that Apple would be early to the game with LTE Band 12 support as well. Alas, that wasn't to be.
In fairness to Apple, the iPhone 6 was already well into development before T-Mobile's 700 MHz deal with Verizon was announced, much less approved by the Federal Communications Commission (FCC), so it shouldn't have been a surprise at all that the iPhone 6 lacks LTE Band 12 support.
In a statement to iMore, T-Mobile said:
With the release of iOS 8 and the introduction of the iPhone 6, T-Mobile's also advertising Wi-Fi calling as a key feature of their service — even to offer special "Personal CellSpot" routers that prioritize Wi-Fi calls. So the company is doing other things to bolster indoor service while their 700 MHz deployment forges ahead.
But for iPhone 6 users looking for LTE Band 12 service, we're out of luck. I guess we'll have to hope that by this time next year, whatever Apple has up its sleeve to replace the iPhone 6 will expand LTE support even further.
Are you disappointed that LTE Band 12 isn't supported on the iPhone 6? Does Wi-Fi calling make it up to you? Sound off in the comments and let me know what you think.
Master your iPhone in minutes
iMore offers spot-on advice and guidance from our team of experts, with decades of Apple device experience to lean on. Learn more with iMore!