iRobot Roomba 690 vs Samsung POWERbot R7070 pet vacuum: Which is better?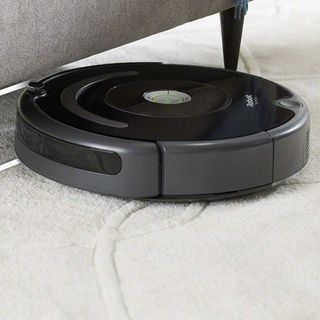 (opens in new tab)
Tried and true

Here in the U.S., the Roomba 600 series is what put iRobot on the map and it continues to live up to its name. With versatile smart home integration and built-in Dirt Detection, the Roomba 690 is hard to beat
For
Virtual wall barrier
Works with Google Assistant
Strong U.S. presence
Cheaper
Against
Tends to be a bit loud
Clogs more easily
(opens in new tab)
Premium clean

Samsung has crafted a powerful and efficient robotic vacuum in the R7070. However, the lack of unique, impactful features may not be worth the premium price.
For
Self cleaning brush
40x more suction than a standard vacuum
Multiple cleaning modes
Against
No virtual barrier
More expensive
No stair detection
In the world of robotic vacuums, it's becoming harder for companies to differentiate their products from the competition. Almost any robovac you buy today will efficiently clean your floor while avoiding your furniture and will give you the ability to control it from your smartphone or tablet. What separates one vacuum from the next are those smaller, unique features.
Samsung is asking customers to pay hundreds of dollars more for their vision of robotic vacuuming and it, unfortunately, doesn't do enough to justify its higher price. For most customers, especially in the U.S., the Roomba 690 will be the better purchase.
What are the differences?
While most of the features between these two vacs are the same, there are some key differences that could affect your decision. The Roomba is available with virtual wall barriers, which allows you to block off rooms or sections of rooms without walls so nothing gets disturbed. It also has what iRobot calls "Dirt Detection technology," which basically means if the Roomba detects a certain part of the floor is extra dirty, like where the dog sleeps, it will automatically perform several additional passes over the spot to ensure that it gets clean. Additionally, due to iRobot being an American-based company, the parts and support for the Roomba are easier to get directly from the manufacturer, which makes getting replacement parts a lot easier.
Samsung does promise two somewhat unique features that make its POWERbot a great choice for homes with pets in the house. This first is 40x more suction that a standard, human-operated vacuum. After a little research, it does seem that most owners have noticed a strong increase in cleaning power from this vacuum.
The second thing the R7070 offers is a self-cleaning brush. Samsung says that the vacuum is able to "automatically detangle and remove pet hair that collects around the brush." That sounds pretty great in theory and from what I can tell, it actually works. It's not perfect, but it's better than having to clean it yourself ever time (especially when you have a very hairy pet). Lastly, the filter is washable, making the cleaning process even smoother.
Swipe to scroll horizontally
Roomba 690
POWERbot R7070
Runtime
90 min
90 min
Good for pet hair
Yes
Yes
Virtual wall barrier
Yes
No
Wi-Fi connectivity
Yes
Yes
Smart home compatibility
Alexa, Google Assistant
Alexa, Google Assistant, Bixby
Self-cleaning brush
No
Yes
Dimensions
13 x 13 x 3.6 in
13.4 x 13.7 x 3.6
Weight
7.8 lbs
9.5 lbs
In the never-ending war against dirt, dust, and pet hair, it's so nice to live in a world where I can finally purchase a robot that'll actually help keep my house just a little bit cleaner. While Samsung does offer some interesting features with its POWERbot, it just doesn't do enough for me to justify the price. The Roomba 690 will do all of the important things that the POWERbot does, including clean the floors, and does it for almost half the price. There's a reason Roomba has become a household name.
Our pick
(opens in new tab)
Still the best.

iRobot offers a winning combination of useful features and efficient cleaning at a very reasonable price. It's no wonder it's the most popular brand of robovacs.
A good option
(opens in new tab)
Great vacuum, not so great price.

Samsung does offer a few extra features for the price but it's not necessarily worth the money. If a self-cleaning brush and a washable filter are what you need, be ready to pay for it.
Get the best of iMore in in your inbox, every day!
Thank you for signing up to iMore. You will receive a verification email shortly.
There was a problem. Please refresh the page and try again.