Job Listing: iPhone Security Engineer aka iPhone Hacker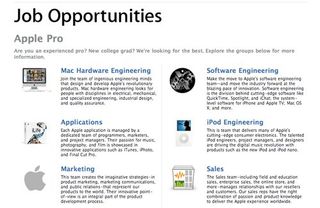 So a new employment opportunity popped up at Apple's job listings the other day and Apple is looking for an experienced iPhone Security Engineer to create "proof of concept" attacks on current security mechanisms and provide risk analysis of potential security threats. Basically, Apple needs an iPhone Hacker to prevent future jailbreaks, unlocks, and security breaches.
So if any of you are good at what you do and want to work for the "good guys", go give it a try. Apple is trying to ramp up security to protect enterprises who are adopting iPhone 2.0 and more selfishly, protect their own App Store from competition ahem Cydia & Installer. Either way, Apple is getting serious about security and the iPhone.
What do you think?
Get the best of iMore in your inbox, every day!
There is always going to be people who are better on the opposite side... http://blabtech.blogspot.com

Just wanted to say nice blog. Really cool template and posts. Have started my own blog: http://thefreestuffguide.com/
What do you think?