Join the discussion: Matte Black owners - how's the finish holding up?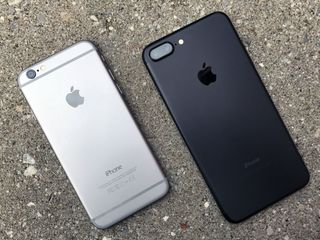 The Matte Black look for the iPhone was something new with the reals of the iPhone 7 and 7 Plus, and people were pumped about the sleek-looking, modern new finish.
While some people said that the matte texture made fingerprints and scratches stick out like a sore thumb, others argued that a simple case and some care could have your iPhone looking funky-fresh 24/7.
But now that a couple of months have passed, how's that finish holding up? We're chatting in the forums to see if it's worth it to go matte!
Some say that after having their iPhone for a couple of months, it still looks brand spankin' new:
… While others say they've seen slight changed over time:
But what do you think? Join our discussion in the forums and let us know if your Matte Black iPhone is falling short over time – or maybe once you've gone matte, you can't possibly go back!
Get the best of iMore in in your inbox, every day!
Cella writes for iMore on social and photography. She's a true crime enthusiast, bestselling horror author, lipstick collector, buzzkill, and Sicilian. Follow her on Twitter and Instagram: @hellorousseau
I have waited so long for the "gloss" backing to come back to iPhones since the 3g and 3gs series ended with them. I hate have such a slippery body that makes me afraid to not use a case. The Jet Piano Black of the 7 felt so nice without a case (even when washing hands and drying them). I just personally couldn't see how anyone could use a matte finish (as the fingerprints basically get rubbed off when you pull the phone out of your pocket from the glossy finish). The matte finish is so slippery.

Owned the matte black iPhone 7 since launch day and it's flawless. Holds up way better than the slate iPhone 5 did.

I have a IPhone 7 Plus matte black but I have a dbrand skin on mine. So yes it is holding up rather well.

I just got one used from eBay. It has a few tiny spots on the back, but nothing major. Looks great overall!

Mine is looking fine. Keep it in an apple case but even around the openings it still looks like the day I first got it.

Received mine in October of 2016. And it looks
like the first day I received it.

iPhone 7 Plus in Apple silicone case. iPhone is well protected except the speaker and lightning connector end is exposed. But no chipping or blemishes in that most vulnerable area. However the matte black finish on the Apple silicone case is starting to get shiny at the edges and especially at the four corners. This doesn't affect the protection offered by the case. It is a curious but not surprising phenomenon.

Mine's mint. Nary a mark.

Mine is in good shape. I kept it in a sleeve while in my pocket though. It did fall onto my bathroom floor once so the corner is slightly dented. But the finish is in excellent condition.

Usually keep mine in a case, so hard to evaluate regular wear and tear, but there have been no issues whatsoever with the matte black 7+.
Thank you for signing up to iMore. You will receive a verification email shortly.
There was a problem. Please refresh the page and try again.