Just Dance Now uses smartphones and browsers to encourage booty-shaking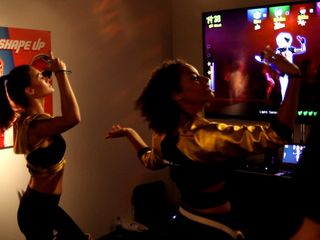 Just Dance Now was a bit of a surprise at E3 2014, as it's bringing the well-known motion-capturing dancing game to smartphones and just about everything with a web browser. Any number of players can jump in with their handheld, and after pairing up with a browser on the big screen, you'll be able shake what your momma gave you and be scored for it. It's worth noting that Just Dance Now will be totally separate from Just Dance 2015, the console title that Ubisoft also announced at E3. The impression I got was that the same core gameplay will be available through Just Dance Now, while all of the extra bells and whistles will be reserved for consoles.
The mobile app acts as both a remote control for picking your songs and generally navigating the game, as well as being a proper game controller. Though the app will be free, the devs were a little coy on the revenue model, which they said will need to go through a soft launch phase for refining. Presumably this involves microtransactions of some kind, but if that's as simple as selling access to individual songs while offering a small core set for free, I could see it working.
Regardless of how prone you are to get into spontaneous dancegaming parties, the technology at work here is really impressive. These movements require a lot of precision, which means if there's any amount of serious latency, it could derail the entire game. As you can see, these dancers handled just fine under the rough wireless conditions of a trade show floor. Besides that, I've found these dancing games are the only remotely compelling experiences enabled by motion-tracking devices like the Kinect. Even on mobile, orientation and movement is rarely a primary control method in games.
Just Dance Now will be made available sometime this year for iOS and Android. For those interested, head over to JustDanceNow.com for more info. Any takers? How many of you guys have tried Just Dance or Dance Central before?
Get the best of iMore in in your inbox, every day!
Editor-at-very-large at Mobile Nations, gamer, giant.
OK. I'll bite. I'm part of a theater group, and when I first joined, our "hazing" of sorts was playing Just Dance in front of the rest of the group. (As a backstage guy, not a fan.) So I happen to unfortunately have experience.
Personally, I think that this will be better for the game in general, as they showed a large quantity of people playing at the E3 presentation, and that's part of the fun. A bunch of likely poor dancers just not caring about their poor dancing abilities. More people, less judgement is my take.
In addition, Ubi's taking this game to their core demographic. Less people are purchasing consoles but a lot of young people have mobile devices, be they iPhone, iPod or Android. It's a lot easier to make money when you have a wide install base.
Thank you for signing up to iMore. You will receive a verification email shortly.
There was a problem. Please refresh the page and try again.