Libratone One Click review: Gorgeous sound for any occasion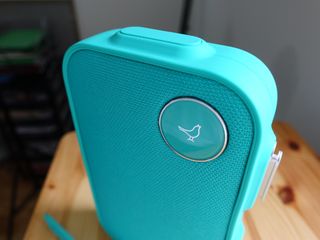 There are so many Bluetooth speakers on the market today, from tiny orbs to multi-room behemoths, but the market appears to be sustaining the category's growth. While the wireless technology may lack the throughput of Wi-Fi, which enables the less universal AirPlay standard, it is supported by nearly every smartphone on the market today, and is considerably more battery-friendly.
The Libratone One Click is the flagship in the company's new Bluetooth speaker line, which comes after a complete overhaul of the Danish firm's product lineup earlier this year. Libratone quietly discontinued a number of its legacy AirPlay speakers, most of which were large, with forward, imposing designs and huge price tags that often didn't fit the modern perception of portable music equipment.
Now, the company has just two product variants: the AirPlay- and Bluetooth-powered Zipp and Zipp Mini; and its line of Bluetooth speakers, which include the One Click, One Style, and smaller Too.
The Premise, and Promise
Internally, the One Click is a traditional, if impressively powerful, Bluetooth speaker. At 8-inches tall and 4.7-inches wide, it has the space to house a 3" woofer and 1" tweeter, along with five passive drivers that deliver sound on both sides of the mesh housing. We'll get to the sound quality later on, but suffice it to say this thing sounds good — and certainly comparable to the Bose SoundLink 2, which takes up a similar amount of total space.
But the One Click is modular: it has five removable nubs that can be outfitted with one of two handles, one for carrying, and one for latching onto other equipment. Accessing these nubs requires removing the rubber frame surrounding the speaker, which also keeps it from succumbing to water damage. Most people will want to keep the larger and looser of the two handles on the device at all times, but having the option to switch it out when desired is appreciated, and valuable.
A nylon mesh of an identical color — either Caribbean Green (shown), Cloudy Grey, or Graphite Black — allows the sound to perforate the enclosure while maintaining a filter for dust and dirty. While I'm not a big fan of the aquamarine hue of my demo unit, the One Click is itself an attractive and unique-looking speaker.
On one side, a single button festooned with Libratone's bird logo functions as both play/pause when tapped, and volume rocker when slid. On the other side, a strip of rubber hides the micro-USB port for charging, and a 3.5mm auxiliary input for physically attaching a listening device when Bluetooth isn't possible, or desirable.
The exterior, while not waterproof, is rated IPX4 splash proof, which means that it shouldn't be harmed by getting left out in the rain, or succumbing to a few speckles from the pool. Just be careful not to take it further than that.
Sound Quality
Perhaps the biggest justification of the One Click's $199 price point comes down to sound quality, and there it excels. While it lacks the deep bass of the $250 UE MEGABOOM, its mids and highs are more balanced, and but for the tracks that emphasize those low-frequency notes, it is generally more enjoyable to listen to.
When played on both units, the woozy intro to MGMT's Time to Pretend sounded fuller on the UE MEGABOOM, but the rest of the song was eminently more enjoyable on the One Click, which didn't drown out Andrew VanWyngarden's vocals with the song's commanding bass line. Radiohead's Burn the Witch sounded more even on the One Click, too, though the unit distorted at a volume far lower than the MEGABOOM, a testament to UE's more powerful amplifier.
Like Bluetooth speakers from UE and others, it's possible to pair two Libratone One or Too speakers together to form a stereo pair, or merely double the output. While I didn't have a second unit to test with, it's clear Libratone has taken care to make that process as seamless as possible with its brand new iOS app, which was recently overhauled.
The App
Libratone's app used to be a dumpster fire. I used it, or attempted to, for years on an older Libratone Live AirPlay speaker, and always left feeling frustrated. These days, it's a different story, with an app that is clearly divided into its various sections. The one to which you'll have to pay the most attention is Soundspaces, which creates a visual representation of all the Libratone products on a particular network. Within, it's easy to adjust settings, and choose favorite radio stations, of which one can save up to five for immediate playback on any One Click or Zipp speakers.
Since the update, I haven't had a single issue connecting to the One Click speaker over Bluetooth and administering it over the app. Supporting the relatively new Bluetooth 4.1 standard, things seem to be as reliable as they come.
Battery Life
At 12 hours of advertised battery life, I am not too worried about the One Click's uptime. Not only is it easily charged with a micro-USB cable, but it automatically shuts off after 10 minutes of idling when on battery power. Battery levels can also be easily checked in the app.
I used the One Click for two hours in a row, and the battery only declined 12%, which appears to reinforce Libratone's 12-hour claim. It remains to be seen whether that longevity will hold up over the course of the speaker's assumed multi-year lifespan.
Modularity
One of the One Click's biggest selling features is its customizability, which comes from five removable nubs embedded within the rubberized frame. In the box, both a handle, for holding, and a clip, for affixing to a stationary object like a fence. The latter is probably best used on a case-by-case basis, since it protruded from the body and looks a bit odd when left alone, but the larger handle I left on permanently, since it doesn't mar the aesthetic nearly as dramatically.
The good thing is that neither of the accessories are necessary for the enjoyment of the One Click, and can easily be removed. I worry that I am going to lose the smaller loop at some point, though, so I may end up leaving attached to the top of the speaker, nestled under the handle.
Should you buy it? Yes
At $199, the Libratone One Click isn't cheap, but its value proposition is considerably higher than many other speakers in its price range. Not only is it attractive — loop attachment notwithstanding — but it is light, splash proof, and sounds great with almost any music. It also has something not a lot of Bluetooth speakers have, touch controls, which make it easy to play, pause and change volumes without pressing hidden buttons, or turning on the iPhone.
See at Amazon (opens in new tab)
Get the best of iMore in in your inbox, every day!
Daniel Bader is a Senior Editor at iMore, offering his Canadian analysis on Apple and its awesome products. In addition to writing and producing, Daniel regularly appears on Canadian networks CBC and CTV as a technology analyst.
Thank you for signing up to iMore. You will receive a verification email shortly.
There was a problem. Please refresh the page and try again.