LIFX vs. Philips Hue: Which multi-color HomeKit smart bulbs are best?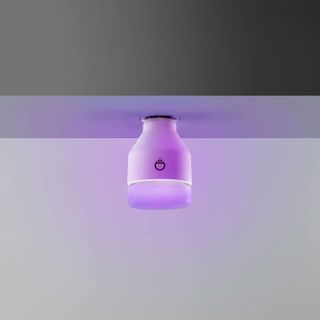 (opens in new tab)
No hub required

With excellent colors, LIFX bulbs come out of the box with support for HomeKit and Siri, as well as Alexa and Google Assistant. The bulbs connect directly to your network, and don't require a hub in order to connect to the rest of your HomeKit devices. But LIFX does miss out on some of the compatibility of the Hue ecosystem.
For
Bright, vivid colors
HomeKit support out of the box
Works with Alexa, Google Assistant, and Siri
Does not require a hub for it integrations
Lower up-front cost for connectivity
Rated for 25,000 hours of life
Against
More expensive than Philips Hue bulb-for-bulb
Not as compatible as a Hue bulb with a Bridge
(opens in new tab)
Philips Hue White & Color LED bulb
Colorful compatibility

The Philips Hue bulbs and ecosystem have been around for a long time now, and that system is compatible with pretty much every system under the sun. The main disadvantage is that in order to obtain most of this compatibility, you'll need the Hue Bridge.
For
Great colors
Compatible with HomeKit and Siri with Hue Bridge
Compatible with Alexa and Google Assistant with the Hue Bridge
More third-party support
Costs less than LIFX bulb-for-bulb
Rated for 25,000 hours of life
Against
Requires the Hue Bridge for most connectivity
Hue Bridge requirement drives up the overall cost
If you're looking for smart lights for a HomeKit setup, both the Hue and LIFX bulbs (and attendant ecosystems) are great choices, but I'd have to give it to LIFX here for out-of-the-box compatibility. But if you're just using HomeKit for now, and want greater to freedom if you think you're going to change your smart home system, Philips Hue offers greater flexibility.
Shedding some light on the differences
The trouble with comparing specific smart lights, especially those from Philips and LIFX, is that at this stage, both offer a very similar experience. Yes, the LIFX bulbs are brighter, while the Philips Hue lights enjoy support from more third-parties like Razer and Xfinity.
The biggest difference between the two lights is the hub situation. LIFX doesn't need a hub, working right away with HomeKit (and thus, Siri), Amazon Alexa, and Google Assistant. Philips Hue might enjoy increased compatibility with different smart home systems and accessories, but you'll need the Philips Hue Bridge to take advantage of most of it, and that's an additional $60 on top of whichever bulbs you're getting.
Swipe to scroll horizontally
| Header Cell - Column 0 | LIFX Bulb | Philps Hue bulb |
| --- | --- | --- |
| Bulb wattage | 11w | 10w |
| Lumen output | 1100 | 800 |
| Lifetime | 25,000 hours | 25,000 hours |
| Colors | 16 million | 16 million |
| Siri support | Yes | Yes (with Bridge) |
| Alexa Support | Value | Yes (with Bridge) |
| Google Assistant Support | Value | Yes (with Bridge) |
| SmartThings Support | Yes | Yes (with Bridge) |
When you buy a smart light bulb, it's not just the purchase of a light bulb. It's also your first step into a wider ecosystem of smart lighting and home automation. If most of what you're looking for is a bulb that changes colors and works with your voice assistant of choice, get a LIFX bulb. The colors are more vivid, light is brighter, and you don't need a hub to get it to work with Siri or Alexa.
Even if you want to go beyond simple voice control, the LIFX is still a great choice. In addition to support for HomeKit and the three major voice assistants, LIFX lights are also compatible with Microsoft's Cortana assistant, as well as SmartThings, IFTTT, and more. All of this comes without the need for a hub.
This isn't to say that Philips Hue isn't a good choice. One of the greatest strengths of the Philips Hue ecosystem is how robust it is. And not just in terms of compatibility with home automation and other services. The Hue system is vast, with a wide variety of bulbs and lighting mounts. It's also important to acknowledge that the Hue ecosystem isn't just bulbs. It also has important accessories like dimmers, switches, and motion sensors. If you're willing to plunk down the additional money that you'll need to buy the Hue Bridge, you'll gain access to a wide family of products that no other company has really matched just yet.
No hub required
(opens in new tab)
A bright, vivid smart bulb with HomeKit support

The LIFX smart bulb connects to the most popular home automation systems and voice assistants out of the box, offering brighter lights and more vivid colors than the competition, all without the hub.
A vast ecosystem
(opens in new tab)
Philips Hue White & Color LED bulb
Works with nearly any smart home system

The Philips Hue bulbs connect to most smart home systems, including HomeKit, but you'll need the Hue Bridge to connect to most of them.
Get the best of iMore in your inbox, every day!
Mikah Sargent is Senior Editor at Mobile Nations. When he's not bothering his chihuahuas, Mikah spends entirely too much time and money on HomeKit products. You can follow him on Twitter at @mikahsargent if you're so inclined.