This lock protects your packages without letting strangers into your home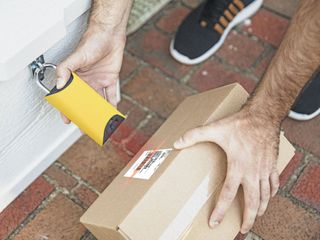 Much like Whoopi Goldberg, I don't want somebody in my house. Even if I'm present, I'm very particular about my space — I get serious anxiety when someone I don't know has to come into it, even if I summoned them there. The thought of that happening for package delivery when I'm not home? Honestly kind of nightmarish. However, as someone who has had parcels mis-delivered and stolen, I also care deeply about receiving stuff I've paid for. Enter BoxLock: a super cool weather-resistant smart lock that keeps your deliveries safe without allowing mysterious visitors to cross your threshold.
Basically, BoxLock latches onto a storage container that you leave on your porch or outside your residence. When an individual arrives to deliver a package you've ordered, all they need to do is grab the lock, point it at the tracking number on the box, and press a button to scan it. Then voilà! The lock pops open, and the deliverer can place your items safely in the storage container, closing the padlock once more when they've finished. According to BoxLock's Kickstarter page, only packages addressed to you and that are actually out for delivery that day will unlock the BoxLock.
After your parcel has been delivered, you'll receive a notification via the BoxLock app saying that your stuff is safely awaiting you outside. Once you're ready to grab your goodies, you just pull up your personal, one-of-a-kind barcode on your phone and scan it, then confirm that you're actually you using BoxLock's two-step verification process. The lock will open, and you can retrieve your purchases. In addition to all of that, BoxLock is compatible with Amazon, FedEx, UPS, and USPS shipments, so no matter where you're ordering from, you're covered.
BoxLock is Wi-Fi enabled, so you do need an internet connection in order for it to work. It also requires charging from time to time — about every 30-60 days, depending on use — so it comes with a micro USB charger to juice it up when necessary. If there's ever a time where you don't feel like using Wi-Fi to retrieve your stuff for whatever reason, you can also securely open the lock using Bluetooth Low Energy. However, this obviously won't work for your post person, and BoxLock needs to receive updates via the net, so Wi-Fi is still a must-have.
BoxLock uses encrypted HTTPS backed by RSA keys with 2048-bit modules and SHA-256, which in the most simplified layman's terms means "encrypted, then encrypted some more." So yeah, it's a pretty safe bet that nobody's going to go through the work to hack into your lock just to porch-pirate your stuff.
If you're interested in adding BoxLock to your smart home security setup, right now you can pledge $99 or more to get the lock on its own. You can also pledge $309 or more to get both BoxLock and BoxLock's specially designed storage container, PorchBox. If fully funded, BoxLock is expected to ship in August 2018.
Note: Backing crowdfunded projects involves a certain level of risk. Because this project is not yet funded, there's a chance it may never come to fruition.
Thoughts? Questions?
Would you consider BoxLock as an alternative to Amazon Key? Share your thoughts with us in the comments!
Master your iPhone in minutes
iMore offers spot-on advice and guidance from our team of experts, with decades of Apple device experience to lean on. Learn more with iMore!
Tory Foulk is a writer at Mobile Nations. She lives at the intersection of technology and sorcery and enjoys radio, bees, and houses in small towns. When she isn't working on articles, you'll likely find her listening to her favorite podcasts in a carefully curated blanket nest. You can follow her on Twitter at @tsfoulk.