T-Mobile's coverage map doesn't look more accurate to me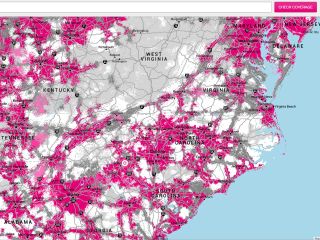 I've had T-Mobile service for about two years now. I became a T-Mobile customer after a brief dalliance with Straight Talk Wireless, back in 2013. The company had just brought the iPhone 5 online — its first iPhone.
At the time, T-Mobile was still managing a transition to 4G LTE coverage from what it had before and things were rough. I went a long time before I saw any data speeds or coverage close to what I was accustomed to as an AT&T customer. Even now, though I'm having problems. Which makes T-Mobile's new more accurate map questionable, in my eyes.
In all fairness to T-Mobile, they've improved leaps and bounds in the surrounding area since then. They've really improved data speeds and coverage, and plan to continue to do so. When I go up to Boston, about an hour and a half from where I live, I get really good service (at least when I'm outside; go into buildings and things still go pear-shaped quickly).
But in my local area, about 60 miles as the crow flies from Boston, there are still lots of areas where I'll watch my coverage go down to one or two bars, or my iPhone 6 will tell me I'm now on GPRS or EDGE.
So it was with curiosity that I read T-Mobile's press release on Monday. The company claims it is a "more transparent and accurate map showing, for example, where to expect 4G LTE, 4G, 3G or other levels of coverage."
Here's what the map looks like where I live.
I live in almost the center of this map. which is almost edge-to-edge magenta: Indicative of 4G LTE coverage. When I zoomed in closer I found plenty of points on the map to show the actual customer data they're talking about. But that's not a realistic portrayal of T-Mobile's coverage in my area at all.
The area at the top of the Mac - Sandwich, MA — has a downtown area that's almost a total dead zone for T-Mobile. I can barely make a phone call in some area, let alone get anything close to 4G LTE data speeds. It's not unusual to see "No Carrier" appear on the iPhone 6.
Driving home, I'll watch my phone jump from three or four bars of LTE — in close proximity to Route 6, what we locally call the "Mid-Cape Highway," one of the main thoroughfares tourists use to get to their vacation destinations in my area — down to GPRS in the space of less two miles. Most of the ride from there may indeed be LTE, but it's only one bar, and pretty close to useless. And that's another problem I have with this map: It doesn't tell the whole story. Just because a phone registers LTE doesn't mean that LTE actually does anything.
I understand full well that any customer-facing content a company like T-Mobile is going to put on its own web site is going to be heavily skewed to favor its own marketing message, but this announcement that the map is more accurate rubs me the wrong way.
As a tech reporter, I've gotten accustomed to getting regular PR and marketing updates from T-Mobile in my in-box. They're continuing to sink a lot of money into getting the word out about their network, and they're making a lot of noise. I truly believe that T-Mobile is causing some beneficial disruption in the American wireless market, too — some of their efforts have caused Verizon, AT&T and Sprint to change the way they do business. I hope they keep it up. Just based on my own experience, however I remain skeptical of T-Mobile's claims about the overall speed and reliability of their network. They have a long way to go before they have anything as robust as their leading competitors' networks, at least where I use them.
Despite all of my ranting about T-Mobile lying, I still remain a customer. I like their position as scrappy upstart; I admire their plain-talking (often profane) CEO John Legere, I like the perks, like using my iPhone as a hotspot, rollover data (or whatever they call it), no data charge against streaming music services like iTunes Music and more, and I still appreciate the considerably lower monthly bills my family pays for coverage through T-Mobile compared to the competition.
But I don't like being lied to. And this new map lies. T-Mobile, quit lying. It insults us both.
Master your iPhone in minutes
iMore offers spot-on advice and guidance from our team of experts, with decades of Apple device experience to lean on. Learn more with iMore!