Apple, can we please have a redesign for the Magic Mouse?
The absence of an updated Magic Mouse alongside the M3 iMac is disappointing.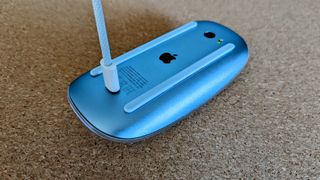 (Image credit: Future / iMore)
Apple recently announced and released a new M3 iMac, which offers a significant performance boost over the M1 version. While there are no discernible cosmetic changes, the improved benchmark scores suggest that, for some, the M3 iMac will be a big step forward over whatever their current hardware might be.
But the M3 iMac reviews were, it's fair to say, like a popular girl band from the 2010s: a little mixed. One of the major concerns was the total lack of changes to the design of the machine.
This includes Apple's decision to retain all the same ports as before, rather than updating the peripherals such as the Magic Keyboard and Magic Mouse. And for me, the Magic Mouse is arguably one of the most poorly designed Apple products I've ever used.
Magic Mouse: a potted history
The Magic Mouse made its debut way back in 2009, back in the days when disposable AA batteries were the norm. Six years later, in 2015, the Magic Mouse 2 was revealed. Out went the disposable batteries, replaced by a built-in rechargeable battery that (thankfully) can last a month or more. This battery charges via a Lightning Cable on the underside of the mouse.
The Magic Mouse 3 retained this design (the current generation) but added new gesture controls to the device.
On one hand, this makes sense from an aesthetic point of view: it means the Magic Mouse is a beautifully sleek device with a lower profile, and no visible ports to disturb its clean lines. On the other hand, if you need to charge your Magic Mouse, you have to flip it over like a stuck turtle, at which point it is unusable until it has enough charge that you can unplug your cable and resume your work.
Has it lost its magic?
Don't get me wrong; the Magic Mouse is, in many respects, still an excellent device. I've used one for years and have very few complaints to make. The trouble is, the one complaint many of us have – that peculiar decision to put the charging port on the underside – is a biggie.
The design has remained unchanged for almost a decade, and surely this isn't the first time someone has suggested that the charging port needs to move. While, yes, you can get enough charge in just a few minutes to enable you to get on with your work, the fact that you can't simply plug in your Magic Mouse and carry on with whatever you are doing, is slightly baffling.
For anyone who has had their flow interrupted because their mouse has suddenly died, they'll understand just how vexing it can be to have to plug it in and walk away for ten or fifteen minutes before you can come back and start back up again.
Add to this the fact that Apple has decided to retain the Lightning port rather than switching to USB-C, and it feels like a missed opportunity. After all, USB-C is on the new iPhone 15 and AirPods Pro. But for some reason, the Magic Mouse has been ignored.
Is it all about the Magic Trackpad?
Other than cost, it's unclear why Apple has made this decision. Yes, it would mean redesigning the Magic Mouse. Yes, it might impact the look of the device slightly, but what's more important, looks or usability?
Most of the best alternatives to the Magic Mouse are also wireless, and many have a port at the front of the mouse, which you can't see or feel while you're using it. It's a glaring problem and one that Apple doesn't seem minded to fix anytime soon.
There is another reason why Apple might be dragging its heels over this: the Magic Trackpad. As an alternative to the Magic Mouse, the Magic Trackpad provides a larger surface area for more precise gesture control, has added features such as Force Touch and pinch-to-zoom, and for many, is a more comfortable device. Crucially, you can also use it while it's charging.
While we like to imagine Tim Cook sitting in his office, twirling a fake mustache and laughing maniacally as he imagines everyone coughing up the extra cash to buy a Magic TrackPad instead of a Magic Mouse, he (probably) isn't doing this. The reality is that instead of redesigning the Magic Mouse, Apple offers an alternative device that costs a bit more, does a bit more, and may persuade users to move away from the Magic Mouse.
It feels as though because the Magic TrackPad exists, it has reduced the pressure to redesign the Magic Mouse. Whether that's right or not is speculative. But the net result is the same: an (otherwise excellent) mouse that fails to work as well as it could. And for Apple, it's a surprisingly big misstep. And we don't see it changing any time soon.
Master your iPhone in minutes
iMore offers spot-on advice and guidance from our team of experts, with decades of Apple device experience to lean on. Learn more with iMore!
Steven Shaw is a full-time freelancer, but before he changed his career at the start of 2021, he was in the retail industry, leading teams to achieve goals in selling technology products, such as smartphones, tablets, and more.
Graduating from the University of Cambridge with a Masters in Medieval History, he's always had a passion for the topic, alongside technology, and many Simpsons quotes.
You'll find him on iMore offering his knowledge of Macs, iPads, macOS, iOS, and more.
It is notable that neither the trackpad nor keyboard got USB C either. Arguably those would not be any significant redesign. There is plenty of room. The mouse on the other hand, doesn't really have a flat surface that would support either a lightning or USB C port. You'd have to make it thicker somewhere. That might even make ergonomic sense, but it is still redesign. I'm sure it will come eventually, but it will most certainly be accompanied by pundits declaring, Apple admits they were wrong all along.

Reply

I'm starting to wonder if Apple will discontinue the Magic Mouse.

They did so with the Apple Thunderbolt Display and the AirPort Wi-Fi routers after they have been left for updates for many years.

Reply